China Market Watch: Sales of Domestic Brands Excel, While China Box Office Performs Badly in Q2 2016
China Expected to Become World's Main Cruise Liner Market
China is already the second largest cruise liner market for Royal Caribbean International, and the company's chief executive, Michael Bayley, has predicted that China will soon overtake the U.S. to become the world's largest. In a bid to preempt this growing demand, Royal Caribbean International's newest ship, Ovation of the Seas, has been stationed in China's northern port city Tianjin. Weighing in at 168,666 tons and measuring 348 meters long, the new liner can accommodate up to 4,900 passengers and 1,500 crew, offering cruises to South Korea and Japan from RMB 700-1,300 per night. According to the cruise economy research institute of the Shanghai International Shipping Institute, China is expected to deliver 4.5 million passengers by 2020.
Chinese Everyday Product Brands Gain Ground Against Foreign Rivals
According to a joint report made by Bain & Co. and Kantar Worldpanel, domestic brands sales within China continued to excel compared to foreign counterparts. The report observed that domestic companies held a greater market share in 16 out of 26 categories of fast-moving consumer goods (FMCGs), with greatest advances made in toiletries such as skin care products, toothpaste, shampoo, conditioner and disposable baby diapers, whereas foreign brands excelled with products such as infant milk formula, fabric softeners, beer and instant noodles. Multinationals have been able to succeed by investing heavily in marketing, or by taking advantage of health and safety concerns of domestic products. Local brands focus on Chinese ­consumers and local needs, ­and are better able to make use of online sales and heavier investment in social and traditional media branding to boost sales. The 26 categories covered by the report account for around 80 percent of FMCG sales.
RELATED: Business Advisory Services from Dezan Shira & Associates
China Box Office Sales Down for First Time in Five Years
China's box office saw a quarterly sales decline for the first time in more than five years, with second quarter revenue falling by 4.6 percent, according to figures from EntGroup Inc. Ticket sales totaled US$1.51 billion, down from US$1.58 billion in the same period in 2015. However, this year's first quarter witnessed huge sales of nearly US$1 billion, with domestic films such as The Mermaid, Monkey King 2 and From Vegas to Macao 3 all big sellers. In the second quarter of last year, Hollywood films such as Furious 7, Avengers: Age of Ultron and Jurassic Park performed well at the box office.
China's Mobile Manufacturers Quickly Catching up with Big Names
Statistics published by Counterpoint Research show that sales of domestic Chinese telephone brands have overtaken those of multinationals.  China's leading smartphone company, Huawei, held 17.3 percent of sales in May, with Vivo, Oppo and Xiaomi in second, third and fourth place respectively. Apple, coming in at fifth place, held 10.8 percent market share. Three years ago, Samsung was the largest mobile vendor in China with 18.8 percent of market share.

About Us
Asia Briefing Ltd. is a subsidiary of Dezan Shira & Associates. Dezan Shira is a specialist foreign direct investment practice, providing corporate establishment, business advisory, tax advisory and compliance, accounting, payroll, due diligence and financial review services to multinationals investing in China, Hong Kong, India, Vietnam, Singapore and the rest of ASEAN. For further information, please email china@dezshira.com or visit www.dezshira.com.
Stay up to date with the latest business and investment trends in Asia by subscribing to our complimentary update service featuring news, commentary and regulatory insight.
 ‍
Establishing & Operating a Business in China 2016
Establishing & Operating a Business in China 2016, produced in collaboration with the experts at Dezan Shira & Associates, explores the establishment procedures and related considerations of the Representative Office (RO), and two types of Limited Liability Companies: the Wholly Foreign-owned Enterprise (WFOE) and the Sino-foreign Joint Venture (JV). The guide also includes issues specific to Hong Kong and Singapore holding companies, and details how foreign investors can close a foreign-invested enterprise smoothly in China.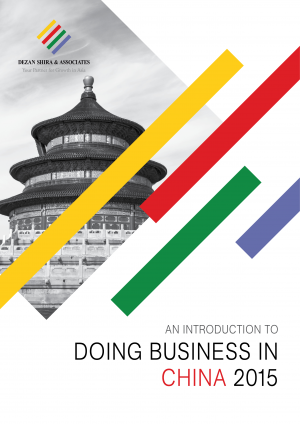 An Introduction to Doing Business in China 2015
Doing Business in China 2015 is designed to introduce the fundamentals of investing in China. Compiled by the professionals at Dezan Shira & Associates, this comprehensive guide is ideal not only for businesses looking to enter the Chinese market, but also for companies that already have a presence here and want to keep up-to-date with the most recent and relevant policy changes.
Selling, Sourcing and E-Commerce in China 2016 (First Edition)
This guide, produced in collaboration with the experts at Dezan Shira & Associates, provides a comprehensive analysis of all these aspects of commerce in China. It discusses how foreign companies can best go about sourcing products from China; how foreign retailers can set up operations on the ground to sell directly to the country's massive consumer class; and finally details how foreign enterprises can access China's lucrative yet ostensibly complex e-commerce market.