Registering a Website in China
China has the world's largest digital marketplace, and is predicted to grow three times faster than overall retail. For investors trying to sell to Chinese consumers, having a local website registered in China is critical to the success of their international business. Like in any other country, investors need to buy a domain name and get web hosting. Specific to China however, is the requirement to file the website with the Chinese Ministry of Industry and Information (MIIT). In this article, we take a look at the operational costs and the procedures for website registration in China. Meanwhile, we also include the pros and cons of using a foreign website to sell directly to the Chinese market.
Set up a Subsidiary in China
Whether to set up one's own website, or open a store presence on Chinese e-commerce platforms such as Tmall and JD.com, investors will first need to set up a subsidiary in China. A scan of the company's business license needs to be submitted when completing the website registration and filing procedures with the MIIT.
Get a Domain Name
Investors need to make sure that they are working with a domain name registrar/administrator that is approved by the MIIT. A brand new domain name costs about RMB 50 (US$7.8) a year for a ".com" domain in China. Major domain name registration companies include www.net.cn, www.west.cn and www.dns.com.cn. Notably, an application needs to be made to the domain name registrar within 30 days after the investors make any changes to the company's information.
".cn" domain name
Specifically, if the registrant is seeking to register a China Country code top level domain (ccTLD), .CN for Chinese market, they will have to work with a domain name registrar that is approved by the China Internet Network Information Center (CNNIC). Additionally, the registration procedures for a ".cn" are more complicated. After a ".cn" domain application is submitted, the domain will be under "in-auditing" status. Registrants are then required to submit the following documents to the registrar for auditing and checking within five days from the application submission date:
A completed .CN domain application form
A copy of the business License (registered in China)
A copy of the signatory's national ID. Note that the signatory must be a Chinese citizen and has a valid PRC personal ID.
A ".cn" domain name usually costs less than a ".com" domain, at about RMB 30 (US$5) per year.
RELATED: Free Baidu Tools That Can Help You Understand Your Chinese Target Audience
Web Hosting
The cost of web hosting varies widely from US$45 per year (for a shared hosting) to US$357 a year (for a virtual private server) depending on the types of web hosting. The difference between the two servers is that investors are able to get more control of the server with a virtual private server (VPS server).
ICP Filing Procedures
The Chinese government requires all the websites hosted in China, including personal websites and company websites (for profit), to be filed with the MIIT. The applicants need to log on the official website of MIIT, submit a scan of their business license/passport, and fill in the company information form. It generally takes 3 to 20 days to get the approval from the Ministry. After obtaining the approval, a unique Internet Content Provider (ICP) recording code will be assigned to the website, indicating that the website has been approved.
In addition, if investors are looking to allow third parties to use their website as an online platform (for example affiliate marketing), they need to apply for an ICP license as well. In this case, the company must have a minimum registered capital of RMB 10 million. Previously, foreign-invested companies need to have a Chinese partner to obtain the ICP license. Starting June this year, complete foreign ownership of e-commerce enterprises is permitted across the whole of China.
Specifically, investors need to get the approval from relevant departments if the online business is relevant to news, publishing, education, health care, medicine or medical devices industries.
Using a foreign website
Using a foreign website, or hosting a website outside China, means that investors don't have to set up a company in China and go through the filing procedures with the MIIT. However, the website may be completely not accessible in China. Even if the website is in Chinese, it may be hard for it to be found on Baidu, China's version of Google. Google is blocked in China, and only a small number of Chinese use VPN software to circumvent the block.
It is also not encouraged to sell goods to Chinese customers without a local presence. In this case, investors may not hire any employees in China and thus face the risks of losing control of the delivery. Shipping physical goods to China from abroad is somewhat of a grey zone. Investors may use companies like Australian Post or Fedex to send packages directly to a Chinese customer's address. There would however be the risk that the goods get held up at the Customs, if the Customs office believes the package is for commercial purposes. The Chinese customer would then have to go to the Customs Office and pay customs duty to pick up the goods.
For services, electronic goods or anything that doesn't need to be physically sent to China, it is however a feasible option, provided your website has an online payment system that accepts RMB.

About Us
Asia Briefing Ltd. is a subsidiary of Dezan Shira & Associates. Dezan Shira is a specialist foreign direct investment practice, providing corporate establishment, business advisory, tax advisory and compliance, accounting, payroll, due diligence and financial review services to multinationals investing in China, Hong Kong, India, Vietnam, Singapore and the rest of ASEAN. For further information, please email china@dezshira.com or visit www.dezshira.com.
Stay up to date with the latest business and investment trends in Asia by subscribing to our complimentary update service featuring news, commentary and regulatory insight.
 ‍
Selling to China
In this issue of China Briefing Magazine, we demystify some complexities of conducting business in China by introducing the main certification requirements for importing goods into the country; the basics of setting up a representative office; as well as the structure and culture of State-owned enterprise in China. Finally, we also summarize some of the export incentives available in several key Western countries.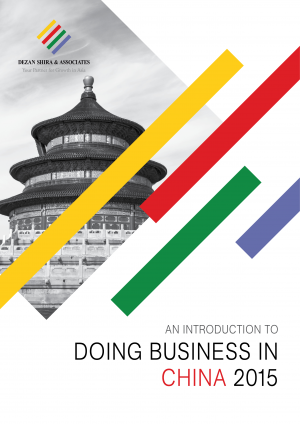 An Introduction to Doing Business in China 2015
Doing Business in China 2015 is designed to introduce the fundamentals of investing in China. Compiled by the professionals at Dezan Shira & Associates, this comprehensive guide is ideal not only for businesses looking to enter the Chinese market, but also for companies that already have a presence here and want to keep up-to-date with the most recent and relevant policy changes.
E-Commerce in China
In this issue of China Briefing Magazine, we cover the current laws pertinent to the e-commerce industry in China, as well as introduce the steps involved in setting up an online shop in the country in order to help provide foreign investors with an overview of the e-commerce landscape in China.