Understanding Brand Building in China: Lessons from the Rise of Coca-Cola
Coca-Cola has been a symbol of Western commercialism since its founding in the late 19th century, with one of the world's most highly recognizable logos. Forty years ago, it was unthinkable that Coca-Cola would ever be available in what is now one of the brand's biggest markets: Communist China. The story of its entry into China is not only inspiring, but can also still provide valuable lessons to foreign brands trying to enter the world's fastest-growing market today.
Coca-Cola's factories were nationalized in 1949 under order of Chairman Mao Zedong, who deemed the drink a 'bourgeois concoction'. After Deng Xiaoping opened the Chinese economy in the late 1970s, the company was eager to return. Its rival, PepsiCo, had just won the bid for the Soviet Union, putting pressure on Coke not to lose the world's other communist giant.
It all started when Peter Lee, now known as the first President of Coca-Cola China, received a call from former Coca-Cola Chairman J. Paul Austin asking him to try to launch the brand in China. Lee got to work right away, telexing the China National Cereals, Oils and Foodstuffs Corporation (currently known as COFCO). After a six-month wait, he was finally sent a message saying he was "welcome to come to Beijing for negotiations."
RELATED: Employer Branding in China: Attracting Chinese Employees
Once in China, Lee managed to convince his Chinese counterparts to sign an agreement under the premise that since the country was finally open to tourists from all over the world, "we have a product we believe most tourists will love." They signed the agreement on Dec. 13, 1978, though the deal was not publicized until after U.S. President Jimmy Carter announced the mutual recognition of the United States and China and the re-establishment of diplomatic ties between the two nations two days later on Dec. 15, 1978.
As the first foreign FMCG-company to enter the Chinese market, Coca-Cola faced various challenges. The company was limited to selling only to tourists with their first shipment in 1979, while under strict supervision of Chinese officials. Coca-Cola, however, wanted to reach Chinese consumers and was punished with a 12-month ban after holding an illegal street promotion in Beijing in 1980. After the restriction was eased, Coca-Cola built its first production facility on Chinese soil, which was wholly owned by COFCO. In 1988, the company had another breakthrough when it launched its first Shanghai cooperative joint venture. From then onwards, it could be said that Coca-Cola truly had entered China.
After Coca-Cola's entry to China, its subsidiary brands soon followed in its footsteps. The most successful brand was Minute Maid, which entered China in 2004 with the flavors orange and grapefruit. This decision was very deliberate: Although the Chinese didn't know Minute Maid very well, it had a strong reputation in the global beverage industry. And by positioning Minute Maid as a "global brand", it was easier to generate buying confidence among Chinese consumers.
The Coca-Cola Company started a revolution in China, as well, by focusing not on the brand name Minute Maid in commercials, but on the flavor of the product itself: "Fruit Pulp Orange." This decision to name the product benefit before the brand name turned out to be a great success: Minute Maid became the first billion-dollar brand to emerge in the Chinese market for Coca-Cola. The success of "Fruit Pulp Orange" also came at a cost—it sparked a huge number of copycats and counterfeits. The lesson learned was that the IP-holder Coca-Cola needed to keep an eye out for counterfeit products in order to protect its trademark.
Coca-Cola is a model for "first-in-market advantage." It was the first foreign brand to move into China, and is therefore ingrained in the collective Chinese memory and consumer market. This paved the way for other well-known brands: Coke's main competitor, PepsiCo, entered China in 1981. PepsiCo's current CEO, Indra Nooyi, remembers her first time in China for PepsiCo where she saw local Chinese eating Lay's potato chips with chopsticks. Nooyi believes that corporations that want to be successful in China need to behave in a way that also benefits the country. PepsiCo signed a Memorandum of Understanding with the Chinese Ministry of Agriculture in 2011 to "promote sustainable agriculture projects and accelerate the development of the Chinese countryside". In order to fulfill its promise, PepsiCo has opened eight sustainable demonstration farms in order to educate Chinese farmers how to grow sustainably. Also, they invested in partnerships with more than 10,000 rural Chinese households in the last 15 years.
RELATED: E-Commerce Brand Protection in China
In 1995, Red-Bull followed Coke's lead by forming an alliance with the Thai-Chinese Reignwood group to enter China. Today, Red-Bull has five manufacturing hubs in China: Beijing, Hubei, Jiangsu, Guangzhou and Hainan, with over 10,000 employees. Its share of the vitamin drink market is also increasing by 20 percent every year. Just like Minute Maid, Red Bull was able to leverage its global brand to make a successful launch in China. This has also come with the same problem of counterfeit products, but Red Bull maintains it is taking the problem seriously by monitoring the Chinese market attentively and checking cans regularly to protect its trademark from any infringements.
The five key lessons for building a beverage brand in China are:
 Get a 'first-mover-advantage' in your beverage category
Leverage your global brand equities
Form strategic partnerships that bring scale
Behave in a way that benefits 'China'
Get local with production facilities on Chinese soil
Coca-Cola's entry to China can serve as a model for all FMCG companies that want to enter China. Besides this, it reveals a country with a dynamic market that requires patience, expertise, and adaptability, but in exchange offers the opportunity to grow beyond a company's imagination.

About Us
The Silk Initiative specializes in food and beverage (packaged goods and retail) marketing consultancy leveraging category, consumer and trade insights to develop better brand, product, packaging and retail strategies for your business when it comes to the China market. You will find them comfortable developing brand positioning, in home visits and market (consumer and trade) safaris, new product ideation and flavor development, packaging format and full graphic design production, PR support planning and social media platform development, distribution and retailer partner development.
Please sign up for their China food & beverage newsletter here, or contact them directly at info@thesilkinitiative.com.
China Investment Roadmap: The Medical Device Industry
In this issue of China Briefing, we present a roadmap for investing in China's medical device industry, from initial market research, to establishing a manufacturing or trading company in China, to obtaining the licenses needed to make or distribute your products. With our specialized knowledge and experience in the medical industry, Dezan Shira & Associates can help you to newly establish or grow your operations in China and beyond.
Employing Foreign Nationals in China
In this issue of China Briefing, we have set out to produce a guide to employing foreign nationals in China, from the initial step of applying for work visas, to more advanced subjects such as determining IIT liability and optimizing employee income packages for tax efficiency. Lastly, recognizing that few foreigners immigrate to China on a permanent basis, we provide an overview of methods for remitting RMB abroad.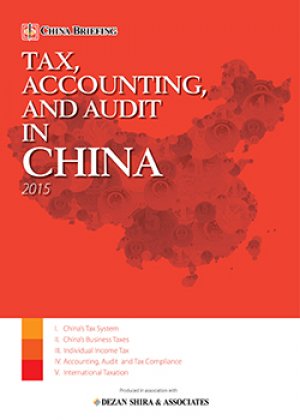 Tax, Accounting, and Audit in China 2015
This edition of Tax, Accounting, and Audit in China, updated for 2015, offers a comprehensive overview of the major taxes foreign investors are likely to encounter when establishing or operating a business in China, as well as other tax-relevant obligations. This concise, detailed, yet pragmatic guide is ideal for CFOs, compliance officers and heads of accounting who must navigate the complex tax and accounting landscape in China in order to effectively manage and strategically plan their China operations.