Using Serviced Offices for Business Registration
By Steven Elsinga
Whether setting up a Representative Office (RO) or a Foreign Invested Enterprise (FIE), every foreign investor setting up a company in China needs to have an office. It is required under Chinese law for a company to have a physical office location. While the premises can be owned or rented, it needs to have an actual, physical work space. A virtual office with just a phone number and mailing address does not suffice.
Having an office is one of the requirements for registering a company in China. You need to submit a document that shows you have office space, such as a lease contract or certificate of ownership. Only one business is allowed per office unit. While it does occur that a host of businesses are registered at one office location, this is not allowed. Doing so regardless of this is risky.
The Administration for Industry and Commerce (AIC) holds annual inspections and company visits to, among other things, ensure that businesses are in compliance with this requirement. If the AIC discovers that a company fails to meet certain requirements, it may decide to revoke a company's business license.
For most foreign investors, especially those looking to set up manufacturing facilities in China, this requirement is hardly a problem. However, for recent start-ups or foreign companies wanting to test the waters first, having to lease office space can be a burdensome commitment.
RELATED: Office Premise Requirements for Company Registration in China
To deal with this problem, a host of virtual and serviced office providers have popped up, leasing the required office space under flexible terms and at more accessible prices. While these often tiny work places can offer a solution, it is important to realize that not all of them are in compliance with the AIC's standards.
This would include the office having a separate door with independent access to the office and a desk to work on. One of the service providers that does meet these standards is Servcorp. Apart from simply being a cost-efficient way to meet the office space requirement, using a serviced office provider allows companies to use their on-demand services, such as IT packages, secretarial support and meeting rooms.
Some of these companies are more geared towards foreign companies than regular office space providers, for example by having English speaking staff. Being more familiar with foreign clients, they often also assist in dealing with government visits, inspections and other compliance matters.
While AIC inspectors will often want to meet the company's legal representative and other key staff in person, if given a mandate the service provider may at times deal with on-site inspections in its stead.
RELATED: Business Advisory Services from Dezan Shira & Associates
Especially for entrepreneurs who are frequently out of office, having someone available to deal with government requests and inspections in absence can be of tremendous importance. Unfortunately, it occurs quite often that foreign companies run into trouble because their office space provider failed to inform them of important notifications from the government.
Lastly, it is important to make sure that only one business is registered at a particular office unit. It is of course possible to have one dedicated office unit for registration purposes, and use additional office space on a shared basis.

About Us
Servcorp offers the world's finest serviced and virtual office solutions. Founded in Sydney, Australia in 1978, Servcorp now operates an international network of over 140 prestigious CBD locations throughout the world.
Asia Briefing Ltd. is a subsidiary of Dezan Shira & Associates. Dezan Shira is a specialist foreign direct investment practice, providing corporate establishment, business advisory, tax advisory and compliance, accounting, payroll, due diligence and financial review services to multinationals investing in China, Hong Kong, India, Vietnam, Singapore and the rest of ASEAN. For further information, please email china@dezshira.com or visit www.dezshira.com.
Stay up to date with the latest business and investment trends in Asia by subscribing to our complimentary update service featuring news, commentary and regulatory insight.
 ‍
Employing Foreign Nationals in China
In this issue of China Briefing, we have set out to produce a guide to employing foreign nationals in China, from the initial step of applying for work visas, to more advanced subjects such as determining IIT liability and optimizing employee income packages for tax efficiency. Lastly, recognizing that few foreigners immigrate to China on a permanent basis, we provide an overview of methods for remitting RMB abroad.
Doing Business in China
The China Briefing Business Guide to Doing Business in China is the definitive guide to one of the fastest growing economies in the world, providing a thorough and in-depth analysis of China, its history, key demographics and overviews of the major cities, provinces and autonomous regions highlighting business opportunities and infrastructure in place in each region.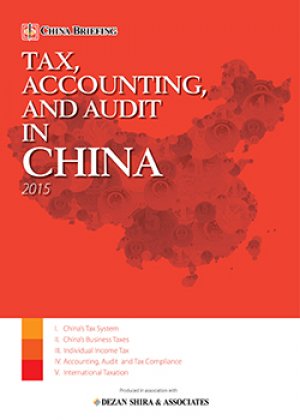 Tax, Accounting, and Audit in China 2015
This edition of Tax, Accounting, and Audit in China, updated for 2015, offers a comprehensive overview of the major taxes foreign investors are likely to encounter when establishing or operating a business in China, as well as other tax-relevant obligations. This concise, detailed, yet pragmatic guide is ideal for CFOs, compliance officers and heads of accounting who must navigate the complex tax and accounting landscape in China in order to effectively manage and strategically plan their China operations.