2015 – Guida sui Livelli minimi Salariali in Cina
Ogni anno China Briefing aggiorna i propri lettori sui livelli salariali minimi praticati nella  Repubblica Popolare Cinese. I salari influiscono direttamente sui costi di produzione, rivelandosi un aspetto chiave nella programmazione aziendale. L'obiettivo è anche quello di illustrare come i cambiamenti relativi ai salari minimi siano uno dei fattori indicativi dei trend di sviluppo interno dell'economia in Cina. I salari minimi vengono stabiliti e fissati localmente e aggiornati annualmente. Questa operazione è necessaria per assicurarsi che gli standard salariali siano decisi in relazione ai diversi standard di vita che emergono nel paese.
Tra gli indicatori che i governi locali prendono in considerazione citiamo:
Il costo medio della vita
I principali fattori di sviluppo economico dell'area
La media dei salari per industria
La media dei prezzi
I contributi previdenziali e del fondo per gli alloggi sociali pagati dai singoli dipendenti
Inoltre, l'importo del salario minimo dovrebbe essere calcolato tra il 40 e il 60 per cento della retribuzione mensile media della zona di riferimento. Il governo locale ha l'obbligo di revisionare i livelli salariali minimi almeno una volta ogni due anni. Le cifre pubblicate riportano un salario minimo mensile per i dipendenti a tempo pieno, e un orario minimo per i lavoratori a tempo parziale.
I salari minimi sono aumentati rapidamente negli ultimi dieci anni, ad un tasso medio annuo di circa 13 per cento. Ciò è dovuto principalmente alla decisione di portare avvicinare il livello dei minimi ai valori medi. Anche se il ritmo di crescita di tali standard minimi è rallentato negli ultimi anni, , l'aumento globale del costo del lavoro ha spinto gran parte delle aziende a ricollocare la produzione in paesi a manodopera piu' conveniente come India, Vietnam e Cambogia.
Confrontando i salari minimi di quest'anno con quelli del 2014, notiamo come i cambiamenti più rilevanti riguardino i salari mensili nello Shaanxi e in Tibet, con un aumento rispettivo del 16 e 17 per cento, e il salario minimo orario nella città di Guangzhou, in rialzo del 22 per cento.
Alla luce del fatto che il salario minimo è ancorato al salario medio, qualunque sviluppo o cambiamento riguardante i livelli dei minimi offre dati interessanti sulla crescita economica delle regioni cinesi, fornendo spesso una chiave di lettura anche delle realtà urbane. Ad esempio, è interessante notare che nel 2015, il salario minimo a Shanghai e Shenzhen ha raggiunto per la prima volta il valore di 2.000 RMB. Inoltre, il minimo salariale di Shenzhen (RMB 2,030) ha superato quello di Shanghai (RMB 2,020), aggiudicandosi il primato di città con il livello salariale minimo più alto in Cina.

Chi Siamo
Asia Briefing Ltd. è una controllata di Dezan Shira & Associates. Dezan Shira & Associates è una società di consulenza specializzata nell'assistenza agli investimenti diretti esteri per le società che intendono stabilire, mantenere e far crescere le loro operazioni in Asia. I nostri servizi includono consulenza pre-investimento e strategia d'ingresso, consulenza finanziaria, revisione contabile, amministrazione tesoreria, fiscalità e compliance, gestione libri paga e del personale, procedure per visti e registrazione marchi, insieme a consulenze circa le complessità che il mercato asiatico richiede. Per maggiori informazioni vi invitiamo a contattarci al seguente indirizzo: italiandesk@dezshira.com o a visitare il nostro sito: www.dezshira.com.
Per rimanere aggiornati sugli ultimi trend degli investimenti e del business in Asia, iscrivetevi alla nostra newsletter per ricevere notizie, commenti, guide e risorse multimediali.
Human Resources and Payroll in China 2015
This edition of Human Resources and Payroll in China, updated for 2015, provides a firm understanding of China's laws and regulations related to human resources and payroll management – essential information for foreign investors looking to establish or already running a foreign-invested entity in China, local managers, and HR professionals needing to explain complex points of China's labor policies.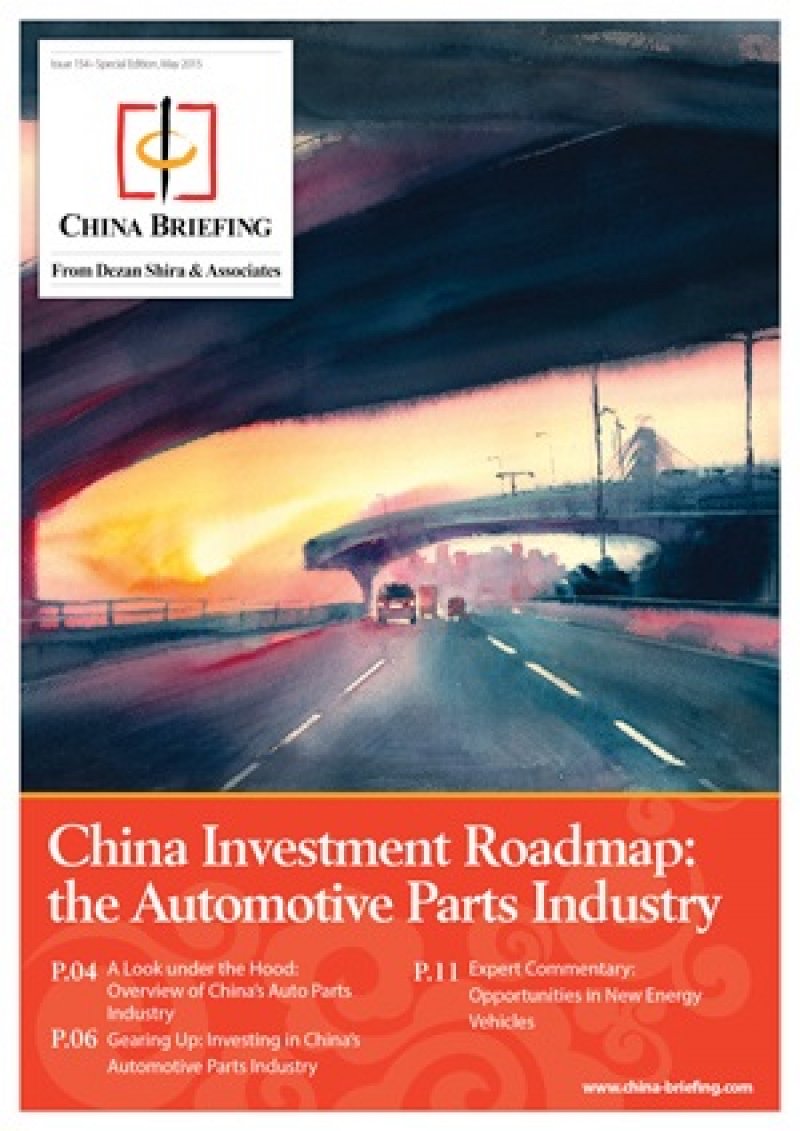 China Investment Roadmap: the Automotive Parts Industry
This issue of China Briefing presents a roadmap for investing in China's automotive industry. We begin by providing an overview of the industry, and then take a comprehensive look at key foreign investment considerations, including investment restrictions, tax incentives and manufacturing requirements. Finally, we discuss foreign investment opportunities in a part of the industry that receives substantial government support: new energy vehicles.
Employing Foreign Nationals in China
In this issue of China Briefing, we have set out to produce a guide to employing foreign nationals in China, from the initial step of applying for work visas, to more advanced subjects such as determining IIT liability and optimizing employee income packages for tax efficiency. Lastly, recognizing that few foreigners immigrate to China on a permanent basis, we provide an overview of methods for remitting RMB abroad.