Confusion over Dispute Resolution at China's New Belt and Road Courts
China has announced that it will establish Belt and Road Courts to handle disputes arising from projects carried out under the Belt and Road Initiative (BRI), to which many countries have signed up. The courts, which are to be based in Beijing, Xi'an, and Shenzhen, have been established under the authority of the Supreme People's Court of China.
The Xi'an court will manage commercial disputes for the Silk Road Economic Belt, which connects China, Central Asia, the Middle East, and Europe. The Shenzhen court will manage commercial cases for the Maritime Silk Road, which connects China, Southeast Asia, Africa, and Europe. Media reports state that Beijing will seek to promote the courts to resolve disputes that emerge in the BRI. Observers noted that the courts appear similar to the International Commercial Court in Singapore and the International Finance Centre Courts in Dubai.
It is unclear over which authority the Chinese have claimed jurisdiction over BRI disputes. There are existing mechanisms to deal with such matters, ranging from existing bilateral investment treaties (Dezan Shira & Associates maintains a library of these, available here) to multilateral agreements such as those ASEAN has with China, the 2012 "Agreement on Dispute Settlement Mechanism of the Framework Agreement on Comprehensive Economic Cooperation".
Most bilateral treaties and the ASEAN treaty provide for similar conflict resolution processes: consultation, followed by mediation, followed by arbitration by an ad-hoc arbitration tribunal, with no preset venue or choice of law, either procedural or substantive.
Beijing's move to establish BRI-specific courts seems to alter that position, and move jurisdiction specifically to China. The Memorandum of Understanding (MoU) China has signed off with over 70 nations concerning cooperation on BRI projects also does not appear to suggest any differing mechanisms for dealing with disputes, other than the usual terminology referring to "friendly consultations", though these may differ from case to case. The question concerning China's establishment of the BRI courts therefore revolves around the question of how this mechanism was agreed to between China and the BRI nations with which it has signed agreements.
There are other existing alternatives to accepting arbitration in China. These include an agreement reached in September last year between the Singapore International Mediation Centre and the China Chamber of International Commerce Mediation Centre (CCOIC), who entered into an MoU to resolve BRI cross-border disputes, while Hong Kong's justice department has also been developing eBRAM.hk, an online dispute resolution tool for major BRI infrastructure projects.
Given these existing platforms, it could be argued that the Chinese government is trying to force other sides to accept Chinese mediation and arbitration through its proposal to have these three courts rule on all BRI disputes.
China's top legal body has been in the process of "internationalizing" its domestic court system and the three new courts are supposed to be modeled after the established ones in Singapore or Dubai.
Despite these steps by China, the choice of arbitration venue and law, both procedural and substantive, should be left to negotiation between the concerned parties. As a general rule of thumb, third party jurisdictions with established rules and an experienced body of jurists are always preferable to those jurisdictions affiliated with one or the other of the parties to a contract.
It remains to be seen how successful China will be in bringing Belt & Road disputes to courts in China. Meanwhile, legal counsel would be advised to look at exactly what was agreed upon when signing the MoU with China for Belt & Road cooperation.

About Us
China Briefing is published by Asia Briefing, a subsidiary of Dezan Shira & Associates. We produce material for foreign investors throughout Asia, including ASEAN, India, Indonesia, Russia, the Silk Road, and Vietnam. For editorial matters please contact us here, and for a complimentary subscription to our products, please click here.
Dezan Shira & Associates is a full service practice in China, providing business intelligence, due diligence, legal, tax, IT, HR, payroll, and advisory services throughout the China and Asian region. For assistance with China business issues or investments into China, please contact us at china@dezshira.com or visit us at www.dezshira.com
Silk Road Briefing is designed to monitor investment and infrastructure developments and potential opportunities for foreign investors to participate along the "One Belt, One Road" scheme. With the OBOR covering over 60 countries, this ambitious portal brings a snapshot of what is going on and where, as well as introducing the emerging trade routes that are developing as a result. The website draws on our considerable first hand experience dealing with FDI into and from China, Russia, India and South-East Asia, and is researched and written by professionals at Dezan Shira & Associates – Emerging Asia's primary professional services practice.
---
Establishing and Operating a Business in China 2018
China's foreign investment landscaped changed significantly in 2017, where strategic investors will find that their options have broadened significantly. Establishing and Operating a Business in China 2018 is designed to explore the establishment procedures for the Representative Office (RO), and two types of Limited Liability Companies – the Wholly Foreign-owned Enterprise (WFOE) and the Sino-foreign Joint Venture (JV) – along with related business considerations that decision-makers should examine at the pre-investment, setup, and operational stages of the expansion cycle.
---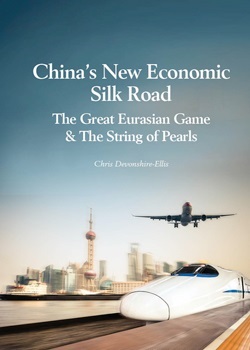 China's New Economic Silk Road

This unique and currently only available study into the proposed Silk Road Economic Belt examines the institutional, financial and infrastructure projects that are currently underway and in the planning stage across the entire region. Covering over 60 countries, this book explores the regional reforms, potential problems, opportunities and longer term impact that the Silk Road will have upon Asia, Africa, the Middle East, Europe and the United States.
---
Dezan Shira & Associates