Obtaining a Certificate of Origin in China: Application Procedure and Administrative Measures
By Dezan Shira & Associates
Editor: Jake Liddle
A Certificate of Origin (CO) is a shipping document attesting that export goods in a shipment are wholly obtained, produced, manufactured or processed in a particular country – it reassures consumers of the origins of the commodity being purchased. Enterprises lawfully established in China and those which enjoy the right to engage in foreign trade are eligible to apply for a CO from the General Administration of Quality Supervision, Inspection and Quarantine of the People's Republic of China (AQSIQ).
Application Procedure
Applicants should apply to relevant issuing authorities at either the location of the applicant, place of manufacturing of goods, or location of exit customs for a CO prior to the shipment of goods. Preliminarily, the following materials are required when applying for a CO for the first time:
A completed Registration Form;
Business Licence;
Foreign Trade Operator Registration Form or any other foreign trade qualification certificate;
Organization Code Certificate;
A Power of Attorney for Declaration Personnel of Certificate of Origin and the relevant information of the declaration personnel;
Formatting of the Mark of Origin;
An application form for the Certificate of Origin (Non-preferential) of the People's Republic of China;
A Certificate of Origin (Non-preferential) of the People's Republic of China filled in pursuant to the provisions;
Commercial invoice of exports;
For goods manufactured at a foreign location, the place-of-origin investigation results issued by the issuing authorities of Certificates of Origin are also required for submission;
For goods manufactured in two or more countries, a Breakdown of Product Costs is also required for submission;
For electronic applications, an Application Form for Electronic Issuance of Certificate of Origin and a Letter of Undertaking for Electronic Issuance of Certificate of Origin are required for submission.
Examination should be completed within two working days from the acceptance of an application for the issuance of a certificate; where the application passes examination, a certificate will be issued.  A CO is valid for one year from the date of issuance. The validity period of a revised or re-issued certificate accords to the period of validity of the original certificate.
Where a commodity is processed or assembled in any way involving imported raw materials or components, or foreign goods re-exported from China, and a Certificate of Origin cannot be applied to, it is possible for an exporter to apply for a Certificate of Processing or Certificate of Re-Export with the China Council for the Promotion of International Trade (CCPIT)
Preferential Certificate of Origin
A Preferential Certificate of Origin helps to improve an export's competitive edge by making it eligible for preferential tariff treatment. The AQSIQ and CCPIT have separate certification systems in place through their respective online applications:
Applying with the CCPIT
Complete the product record-filing procedure using the online system, providing relevant information of the exporter, manufacturer and product. The information will then be submitted to the certificate institution for inspection
After obtaining approval of the certification institution for the product, the applicants may submit an application for the preferential certificate of origin through the online system
Applicants may collect the certificate from the local certification institution in person. Commercial invoices, packing lists, and the company's stamp need to be provided upon collection
Applying with the AQSIQ
Applicants should first register the product and company information using the online system and submit a scan of its business license, organization code certificate and other relevant documents. The AQSIQ may ask the company to assist with the product origin inspection
Prepare for goods delivery and obtain the certificate with the local AQSIQ certificate issuing institution
It is important for an exporter to know the requirements of the target country in order to avoid obstacles when exporting goods. Certificates of origin only need to be issued when they are actually required – for example, to meet customs requirements, to meet statistical needs imposed by the importing country, or to comply with the banking or trade finance requirements.

About Us
Asia Briefing Ltd. is a subsidiary of Dezan Shira & Associates. Dezan Shira is a specialist foreign direct investment practice, providing corporate establishment, business advisory, tax advisory and compliance, accounting, payroll, due diligence and financial review services to multinationals investing in China, Hong Kong, India, Vietnam, Singapore and the rest of ASEAN. For further information, please email china@dezshira.com or visit www.dezshira.com.
Stay up to date with the latest business and investment trends in Asia by subscribing to our complimentary update service featuring news, commentary and regulatory insight.
 ‍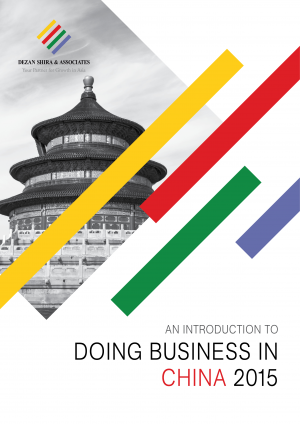 An Introduction to Doing Business in China 2015
Doing Business in China 2015 is designed to introduce the fundamentals of investing in China. Compiled by the professionals at Dezan Shira & Associates, this comprehensive guide is ideal not only for businesses looking to enter the Chinese market, but also for companies that already have a presence here and want to keep up-to-date with the most recent and relevant policy changes.
Selling, Sourcing and E-Commerce in China 2016 (First Edition)
This guide, produced in collaboration with the experts at Dezan Shira & Associates, provides a comprehensive analysis of all these aspects of commerce in China. It discusses how foreign companies can best go about sourcing products from China; how foreign retailers can set up operations on the ground to sell directly to the country's massive consumer class; and finally details how foreign enterprises can access China's lucrative yet ostensibly complex e-commerce market.
Importing and Exporting in China: a Guide for Trading Companies
In this issue of China Briefing, we discuss the latest import and export trends in China, and analyze the ways in which a foreign company in China can properly prepare for the import/export process. With import taxes and duties adding a significant cost burden, we explain how this system works in China, and highlight some of the tax incentives that the Chinese government has put in place to help stimulate trade.