China's Enterprise Salary Guidelines: Useful Roadmap or Glaring Misdirection?
By Jake Liddle
So far this year, 11 regions in China have published their respective 'Salary Guidelines for Enterprises'. Formulated by provincial and local level governments according to the year's economic development, the guidelines are published annually and are intended to provide a reference for wage increases by percentage over base salary levels.
When comparing with percentage increases from 2015, salary standards for 2016 have noticeably dropped, reflecting the slower economic growth levels that have spread across China. Below, we detail the reference base line across each of the 11 regions released so far, as well as their recommended "upper" and "lower" guideline.
This drop in salary levels – a trend which started in 2014 – can be seen in both the reference base line and in the upper guidelines. The only increase was made by Beijing in its lower guideline, from 3.5 percent to 4.
Problems
The Salary Guidelines for Enterprises have come under much criticism, with commentators pointing out that actual salary levels do not reflect the guidelines, and many workers not even reaching the lower guidelines for their region. Governmental departments also widely consider it as existing in name only, with little bearing in practice.

RELATED: Payroll and Human Resource Services
It is stipulated that the guidelines should be published by local governments before the end of March every year to allow enterprises time to make adjustments to salaries. However, some provinces are late to publish. Chengdu, for instance – the first city to pilot the salary guidelines in 1994 – has never once published before the end of March. Its publishing dates have been random each year, and guidelines were not published at all in 2012.
Comparison with Singapore and Hong Kong
China used Singapore's salary guidelines as inspiration for its own, which were published by the city-state's National Wages Council in conjunction with employees and employers up until 1986. From 1987 onwards, however, the decision was left to enterprises and trade unions to decide their own standards.
Hong Kong also deals with its salary guidelines in a similar way, but these are mainly aimed at civil servants. HR organizations such as the Talent Management Association will annually publish a neutral standpoint salary survey and related suggestions. Some organizations will take into account increase rates of GDP and CPI, while also looking to see if corporate executives have added bonuses to their salary, and will suggest an increase to lower level workers' wages in order to keep a balance.
Key Takeaways
The issue of raising salaries should take into consideration many factors, such as economic performance, productivity growth, employment, international competitiveness, and labor market conditions. It is evident from cases like Singapore and Hong Kong how important consulting employers and workers is when calculating salary increases – something China lacks in its Enterprise Salary Guidelines.
The Salary Guidelines serve mainly as a means for state owned enterprises to manage wage amounts. In more cases than not, the rate of salary increase is decided by individual enterprises themselves, and not by the state. This gives cause for many to question the use of publishing the guidelines.

About Us
Asia Briefing Ltd. is a subsidiary of Dezan Shira & Associates. Dezan Shira is a specialist foreign direct investment practice, providing corporate establishment, business advisory, tax advisory and compliance, accounting, payroll, due diligence and financial review services to multinationals investing in China, Hong Kong, India, Vietnam, Singapore and the rest of ASEAN. For further information, please email china@dezshira.com or visit www.dezshira.com.
Stay up to date with the latest business and investment trends in Asia by subscribing to our complimentary update service featuring news, commentary and regulatory insight.
Human Resources and Payroll in China 2015
This edition of Human Resources and Payroll in China, updated for 2015, provides a firm understanding of China's laws and regulations related to human resources and payroll management – essential information for foreign investors looking to establish or already running a foreign-invested entity in China, local managers, and HR professionals needing to explain complex points of China's labor policies.

Tax, Accounting, and Audit in China 2016
This edition of Tax, Accounting, and Audit in China, updated for 2016, offers a comprehensive overview of the major taxes that foreign investors are likely to encounter when establishing or operating a business in China, as well as other tax-relevant obligations. This concise, detailed, yet pragmatic guide is ideal for CFOs, compliance officers and heads of accounting who must navigate the complex tax and accounting landscape in China in order to effectively manage and strategically plan their China-based operations.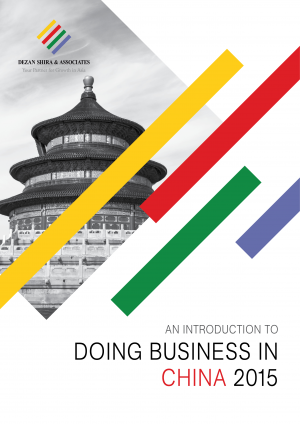 An Introduction to Doing Business in China 2015
Doing Business in China 2015 is designed to introduce the fundamentals of investing in China. Compiled by the professionals at Dezan Shira & Associates, this comprehensive guide is ideal not only for businesses looking to enter the Chinese market, but also for companies that already have a presence here and want to keep up-to-date with the most recent and relevant policy changes.