China Implements New Unified Work Permit Pilot Scheme
By Winnie Jin
On September 9, 2016, the State Administration of Foreign Experts Affairs' (SAFEA) made an announcement that the existing Foreign Expert Permit and Alien Employment License will be merged into a single permit. The new permit will introduce a tiered classification system for foreign workers as well as a streamlined online application and tracking system in order to attract more high-level foreign talent.
Before the new foreign work permit is rolled out nationwide on April 1, 2017, the government will test the system by implementing a pilot scheme in select regions starting on October 1, 2016. Foreign workers in Beijing, Shanghai, Tianjin, Anhui, Guangdong, Hebei, Shandong, Sichuan, Ningxia, and potentially other regions will be included in the pilot program.
Current System
China's current foreign employment system includes two foreign work permits: the Alien Employment Permit (Z-visa) and the Foreign Expert Permit (R-visa). While the Alien Employment Permit is issued for general employment, the Foreign Expert Permit is issued to "high-level" talent or candidates whose skills are urgently needed in China's labor market. The two permits are issued by different government entities, with Ministry of Human Resources and Social Security managing the Alien Employment License and the SAFEA controlling the Foreign Expert Permit.

RELATED: Payroll and Human Resource Services
Under the current system, it is sometimes unclear which permit candidates should apply for. The application system is also largely paper-based and highly bureaucratic, resulting in months-long turnaround times. Full details on the current application procedure can be seen here. To avoid deterring high-quality foreign candidates from working legally in China with these issues, the government has prioritized streamlining the foreign employment system from the application process to the permits themselves.
New System
Under the new system, there will be one single work permit document, which will likely take the form of an ID card. Each applicant will be assigned a unique ID number that does not change, regardless of permit renewal or change of employer. The Chinese government aims to optimize service quality and efficiency in managing these new foreign work permits.
Application Procedure
Instead of submitting paper applications, an online application system will be implemented and documentation requirements will be reduced by nearly 50 percent, with submissions like personal CVs and application letters no longer required.
RELATED: Business Advisory Services from Dezan Shira & Associates
Tiered Classification
To evaluate which candidates qualify for the new work permit, SAFEA has introduced a points-based, three-tiered classification system for foreign workers. Points are assigned to applicants based on their education background, salary level, age, time spent working in China, and Chinese language level. Candidates applying to work in less developed areas may receive additional points. Applicants placed in the "A" tier with 85 points and over are eligible for service through a "green channel", which offers a pre-entry visa, paperless verification, expedited approval and other facilitation measures. The tiers and their eligibility requirements are structured as follows:
Implications for Employers and Foreign Workers
The restructure of the foreign work permit system should mean a simpler, clearer and less time consuming application process. Not only will applicants need to provide fewer materials, but SAFEA appears to be showing more transparency in its evaluation process and criteria. Foreign employees with existing work permits can choose to either retain their documents or apply for the new permit when it becomes available. However, the tier system may facilitate tighter admissions standards, as China has become more selective about foreign workers coming to China, especially in tier 1 cities like Beijing and Shanghai where there are higher concentrations of foreign employees.

About Us
Asia Briefing Ltd. is a subsidiary of Dezan Shira & Associates. Dezan Shira is a specialist foreign direct investment practice, providing corporate establishment, business advisory, tax advisory and compliance, accounting, payroll, due diligence and financial review services to multinationals investing in China, Hong Kong, India, Vietnam, Singapore and the rest of ASEAN. For further information, please email china@dezshira.com or visit www.dezshira.com.
Stay up to date with the latest business and investment trends in Asia by subscribing to our complimentary update service featuring news, commentary and regulatory insight.
Human Resources and Payroll in China 2015
This edition of Human Resources and Payroll in China, updated for 2015, provides a firm understanding of China's laws and regulations related to human resources and payroll management – essential information for foreign investors looking to establish or already running a foreign-invested entity in China, local managers, and HR professionals needing to explain complex points of China's labor policies.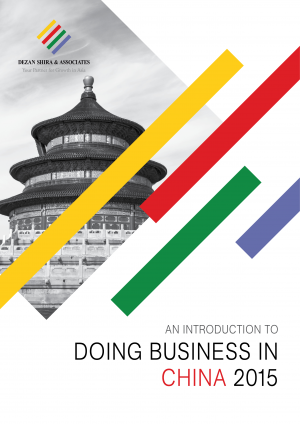 An Introduction to Doing Business in China 2015
Doing Business in China 2015 is designed to introduce the fundamentals of investing in China. Compiled by the professionals at Dezan Shira & Associates, this comprehensive guide is ideal not only for businesses looking to enter the Chinese market, but also for companies that already have a presence here and want to keep up-to-date with the most recent and relevant policy changes.
Establishing & Operating a Business in China 2016
Establishing & Operating a Business in China 2016, produced in collaboration with the experts at Dezan Shira & Associates, explores the establishment procedures and related considerations of the Representative Office (RO), and two types of Limited Liability Companies: the Wholly Foreign-owned Enterprise (WFOE) and the Sino-foreign Joint Venture (JV). The guide also includes issues specific to Hong Kong and Singapore holding companies, and details how foreign investors can close a foreign-invested enterprise smoothly in China.