China Investment Roadmap: the Education Sector – New Issue of China Briefing Magazine
The latest issue of China Briefing Magazine, titled "China Investment Roadmap – the Education Sector", is out now and available to subscribers as a complimentary download in the Asia Briefing Bookstore through the month of August.
Contents
Knowledge is Power: Understanding the Education Market in China
Investing in China's Education Industry
China's New NGO Law and its Impact on FDI into the Higher Education Industry
China's massive education industry has not lacked for publicity in recent years. Spurred by its explosive growth and the strikingly high test scores that come out of the country, education in the Middle Kingdom has both been a model that foreign governments have attempted to emulate, and a sector that foreign companies have been eager to invest in – and with good reason. Although China undeniably has a strong domestic base for education that is the envy of many other countries, there are numerous niche sub-sectors that overseas educators are well placed to tap into and a great appetite for foreign expertise.
But while there are various gaps in China's education market that foreign education providers could fill, the industry has consistently remained one of the country's most restrictive for foreign direct investment (FDI) since its opening up period in the late 1970s. In China's Catalogue for Foreign Investment, FDI into education can alternately be defined as encouraged, restricted, or prohibited depending on the area of investment, highlighting how sensitive the industry is still considered by the Chinese Communist Party.
In this issue of China Briefing, we navigate through China's regulatory framework for investment into education, presenting a roadmap for best practices in the industry. We examine the key market information that has driven the industry's growth, analyze the different investment models that are available for foreign companies, and finally discuss the effect that China's recently released NGO law will have on foreign investment into education.
There are an abundance of opportunities for foreign involvement in China's education industry, but a return on investment can only be realized with a firm prior understanding of the market environment and the selection of an appropriate investment vehicle. We hope that this issue of China Briefing will help put your company on the right path.

About Us
Asia Briefing Ltd. is a subsidiary of Dezan Shira & Associates. Dezan Shira is a specialist foreign direct investment practice, providing corporate establishment, business advisory, tax advisory and compliance, accounting, payroll, due diligence and financial review services to multinationals investing in China, Hong Kong, India, Vietnam, Singapore and the rest of ASEAN. For further information, please email china@dezshira.com or visit www.dezshira.com.
Stay up to date with the latest business and investment trends in Asia by subscribing to our complimentary update service featuring news, commentary and regulatory insight.
 ‍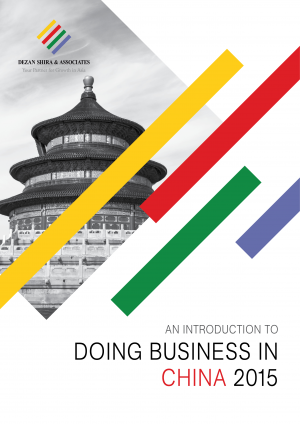 An Introduction to Doing Business in China 2015
Doing Business in China 2015 is designed to introduce the fundamentals of investing in China. Compiled by the professionals at Dezan Shira & Associates, this comprehensive guide is ideal not only for businesses looking to enter the Chinese market, but also for companies that already have a presence here and want to keep up-to-date with the most recent and relevant policy changes.
Establishing & Operating a Business in China 2016
Establishing & Operating a Business in China 2016, produced in collaboration with the experts at Dezan Shira & Associates, explores the establishment procedures and related considerations of the Representative Office (RO), and two types of Limited Liability Companies: the Wholly Foreign-owned Enterprise (WFOE) and the Sino-foreign Joint Venture (JV). The guide also includes issues specific to Hong Kong and Singapore holding companies, and details how foreign investors can close a foreign-invested enterprise smoothly in China.
Tax, Accounting, and Audit in China 2016
This edition of Tax, Accounting, and Audit in China, updated for 2016, offers a comprehensive overview of the major taxes that foreign investors are likely to encounter when establishing or operating a business in China, as well as other tax-relevant obligations. This concise, detailed, yet pragmatic guide is ideal for CFOs, compliance officers and heads of accounting who must navigate the complex tax and accounting landscape in China in order to effectively manage and strategically plan their China-based operations.