City Spotlight: Investing in Dongguan
By Dezan Shira & Associates
Editor: Dominik Grossalber
The Dongguan of old, focused on the manufacturing of cheap, low-tech products, is currently transforming into a new, modern hub for the production of higher value goods. As this is happening, many established light manufacturing companies, sometimes present in the city for over 20 years, are moving away. This is part of a China-wide trend as the country seeks to move up the manufacturing value chain.
In 2015, Dongguan's high tech manufacturing industry grew by 10.2 percent and automobile manufacturing grew by 8.5 percent, reflecting the growth of value-added manufacturing in the city. Meanwhile, textiles decreased by 4.3 percent and household electrical appliance manufacturing grew by just 2.4 percent, as lower value-added industries witnessed comparatively sluggish performance.
The Dongguan government has promised to support the shift to manufacturing higher value-added products and has targeted several strategic industries as a part of this effort, including high-end electronics, biotechnology, new-generation internet, and 3D printing. Additionally,  Dongguan is seeking to become China's center of robotics and automated manufacturing technology, positioning itself as a crucial spot of the changing landscape of Chinese manufacturing. While Dongguan's new economic strategy is taking form, it is also interesting to look at why low-tech manufacturing is leaving in the first place and where it is going.
RELATED: Handling Mass Layoffs in China's Manufacturing Sector
Factors Shaping Dongguan's Manufacturing Transition
There are several reasons for factories being shut down in Dongguan and opening up shop elsewhere. Chief among them is a shortage of affordable unskilled labour, stemming from China's aging population and increasing levels of education in the workforce. Additionally, migrant workers have less incentive to leave their home region and move to Dongguan, as the interior of the country is developing a larger industrial base and they will not have to face the difficulties of the restrictive hukou system if they stay in their home province. As there are fewer and fewer migrant workers available, they are realizing their value and demanding higher salaries. Furthermore, the government has adopted a policy of enforcing social insurance and work time limitations much more strictly than in previous years, further increasing costs for factories that previously skirted labor laws.
Low-cost Manufacturing Alternatives
In light of these developments, many low-tech manufacturers are moving their operations elsewhere. Some are moving towards inland provinces in China or, increasingly, to cheaper countries in Southeast Asia. Vietnam for example, though still less advanced than China in terms of infrastructure, has been quite successful in capturing investment in light manufacturing that is leaving China and especially Guangdong province in recent years. Apart from its proximity, Vietnam is also attracting factories with its lower taxes, lower wages, and an increasing number of Free Trade Agreements (FTAs), including one with China. Additionally, the recently signed Trans Pacific Partnership (TPP) treaty has vastly accelerated this process. As China is moving up the value chain towards more sophisticated products, it is in some cases even encouraging light manufacturing to leave in order to free up much needed real estate.
RELATED: Business Advisory Services from Dezan Shira & Associates
However, winding down a factory and setting it up elsewhere can be daunting task for any company. Even if the economic benefits are substantial, firms can easily find themselves entangled in a number of legal problems when trying to dissolve their operations and letting go of their workforce. This can result in significant costs for companies trying to relocate. Further, if companies decide to move to a cheaper country such as Vietnam, there is a host of local regulations and laws to consider before going ahead with the investment, slowing down the process. Firms need to thoroughly examine the pros and cons before making a final decision.
The changes Dongguan is currently undergoing are necessary for the city to remain competitive as an integral part of the 'factory of the world' in its new context. Moving towards higher value added goods, relying on robotics and automatization to combat labor shortages, and freeing up factory space by winding up light manufacturing companies should ensure that the city continues to thrive economically. The development towards a more modern city is also reflected in the government's expansion of local infrastructure such as the new metro line, which is poised to improve transport and mobility within the city. These are exciting times for Dongguan indeed.

About Us
Asia Briefing Ltd. is a subsidiary of Dezan Shira & Associates. Dezan Shira is a specialist foreign direct investment practice, providing corporate establishment, business advisory, tax advisory and compliance, accounting, payroll, due diligence and financial review services to multinationals investing in China, Hong Kong, India, Vietnam, Singapore and the rest of ASEAN. For further information, please email china@dezshira.com or visit www.dezshira.com.
Stay up to date with the latest business and investment trends in Asia by subscribing to our complimentary update service featuring news, commentary and regulatory insight.
 ‍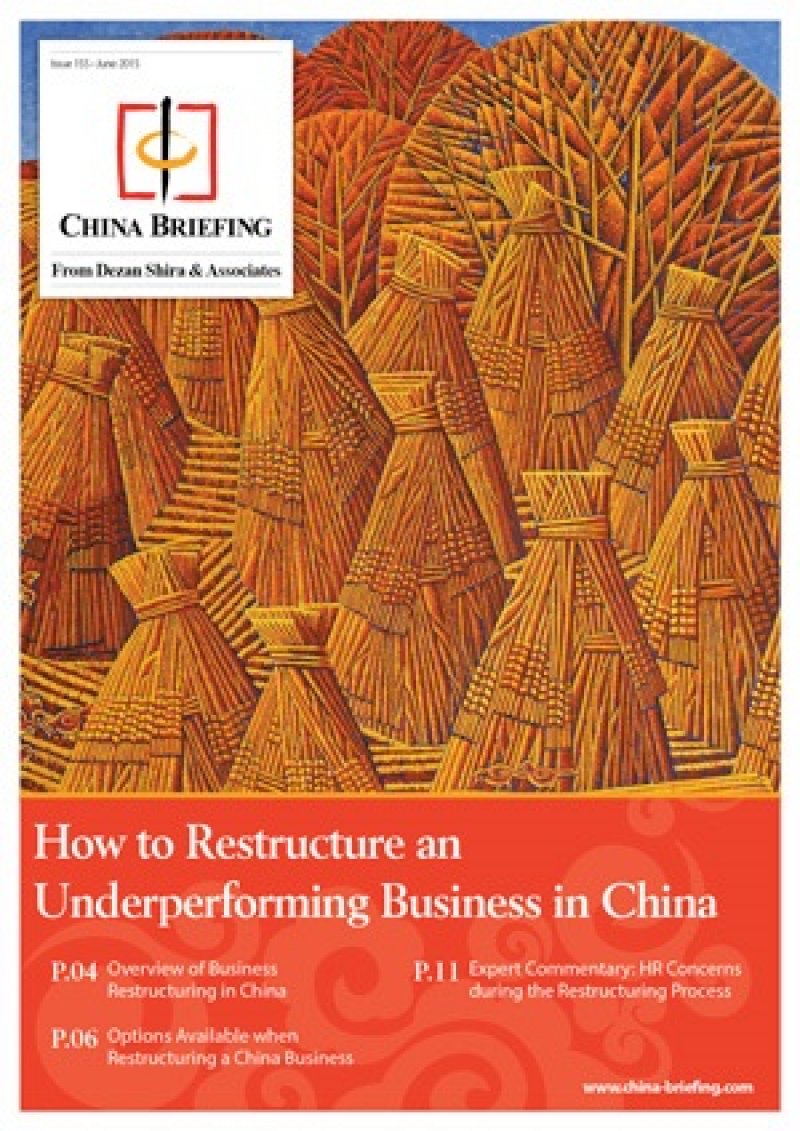 How to Restructure an Underperforming Business in China
In this issue of China Briefing magazine, we explore the options that are available to foreign firms looking to restructure or close their operations in China. We begin with an overview of what restructuring an unprofitable business in China might entail, and then take an in-depth look at the way in which a foreign company can go about the restructuring process. Finally, we highlight some of the key HR concerns associated with restructuring a China business.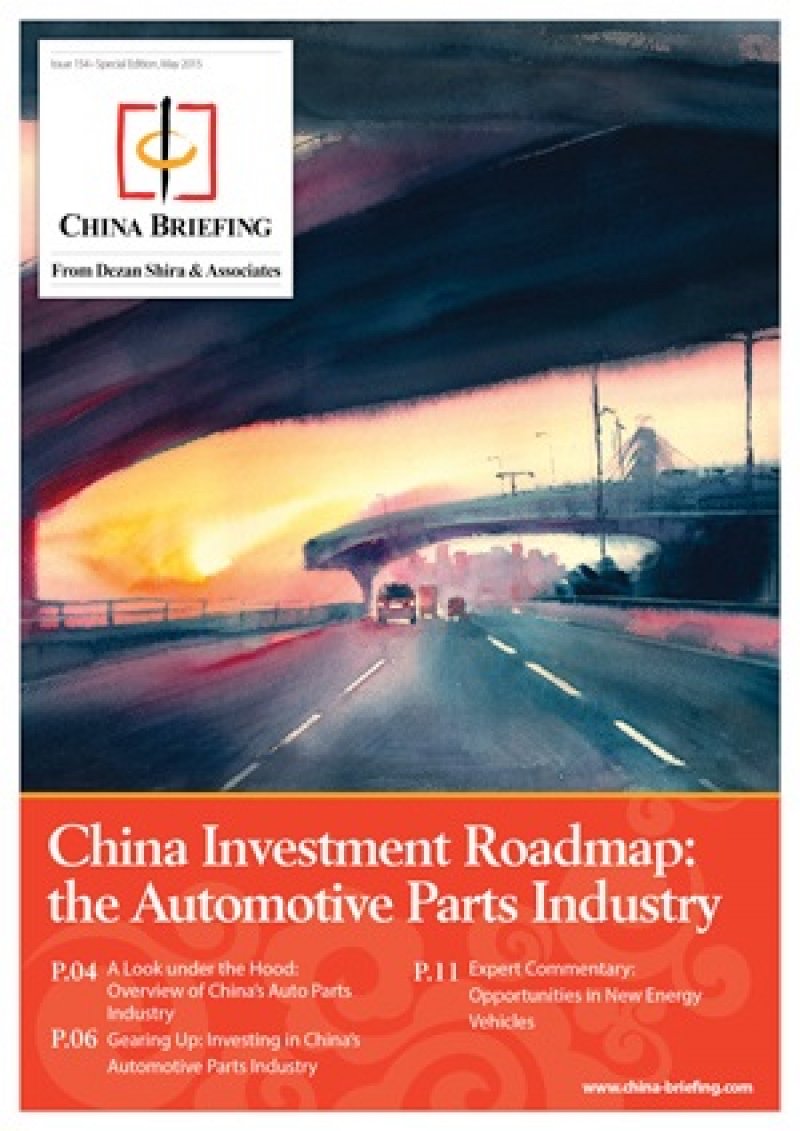 China Investment Roadmap: the Automotive Parts Industry
This issue of China Briefing presents a roadmap for investing in China's automotive industry. We begin by providing an overview of the industry, and then take a comprehensive look at key foreign investment considerations, including investment restrictions, tax incentives and manufacturing requirements. Finally, we discuss foreign investment opportunities in a part of the industry that receives substantial government support: new energy vehicles.

Adapting Your China WFOE to Service China's Consumers
In this issue of China Briefing Magazine, we look at the challenges posed to manufacturers amidst China's rising labor costs and stricter environmental regulations. Manufacturing WFOEs in China should adapt by expanding their business scope to include distribution and determine suitable supply chain solutions. In this regard, we will take a look at the opportunities in China's domestic consumer market and forecast the sectors that are set to boom in the coming years.