China Market Watch: Telecom Roaming Fees and the Launch of 7 New FTZs
Chinese Telecom Providers to Scrap Domestic Roaming Fees
This July, China Telecom, China's third biggest telecom provider, announced that it would cancel all domestic roaming fees. The country's largest provider, China Mobile, as well as China Unicom followed suit shortly after. This move is expected to increase competition in the market, and drive telecom fees down, ending the monopoly that the three big telecom providers have consistently maintained in recent years. Currently, consumers are charged RMB 0.6-0.8 per minute for roaming services within the PRC outside of their local service area, double the standard charges, accounting for 10 percent of the company's net profit. The ability to provide free roaming services stems from technological improvements, but also pressure from the industry regulator, the Ministry of Industry and Information Technology (MIIT).
Chinese Manufacturers Increased Spending on Internet of Things
Manufacturers' expenditure on the Internet of Things is expected to grow by an annual average rate of 14.7 percent, reaching US$ 127.5 billion by 2020. Included in the 13th Five Year Development Plan, the 'Internet of Things', which allows electronic objects and devices to interact with each other via means of the internet, is a strategic emerging industry in China. Many Chinese manufacturers are already starting to utilize the Internet of Things in order to improve production efficiency and also to evolve their business models, and will continue to grow.
China Establishes a Further 7 Pilot Free Trade Zones
The Central Party Committee (CPC) and the State Council have approved plans to establish seven more pilot free trade zones in Liaoning, Zhejiang, Henan, Hubei, Chongqing, Sichuan and Shaanxi, bringing the total number in China to 11. This expansion comes three years after the first free trade zone in Shanghai was launched. They will be able to utilize their own unique geographical and industrial advantages to further progress with wider reforms. Work will be done to launch the new free trade zones after relevant procedures have been completed, but a timeframe has not been provided.
China Soon to Top US for Australian Wine Imports
China's food and wine culture is evolving, mainly due to the rise of the middle class, and demand for foreign wine has thus increased over recent years. In particular, Australian wine has seen a steep increase in popularity, with a 50 percent increase from 2015 to 2016 to AU$ 419 million (RMB 2.1 billion) Alibaba's Tmall.com is to launch a wine store, featuring Australian wines, and is expected to further boost the popularity of Australian wines because of the reach Tmall has in China.

About Us
Asia Briefing Ltd. is a subsidiary of Dezan Shira & Associates. Dezan Shira is a specialist foreign direct investment practice, providing corporate establishment, business advisory, tax advisory and compliance, accounting, payroll, due diligence and financial review services to multinationals investing in China, Hong Kong, India, Vietnam, Singapore and the rest of ASEAN. For further information, please email china@dezshira.com or visit www.dezshira.com.
Stay up to date with the latest business and investment trends in Asia by subscribing to our complimentary update service featuring news, commentary and regulatory insight.
Establishing & Operating a Business in China 2016
Establishing & Operating a Business in China 2016, produced in collaboration with the experts at Dezan Shira & Associates, explores the establishment procedures and related considerations of the Representative Office (RO), and two types of Limited Liability Companies: the Wholly Foreign-owned Enterprise (WFOE) and the Sino-foreign Joint Venture (JV). The guide also includes issues specific to Hong Kong and Singapore holding companies, and details how foreign investors can close a foreign-invested enterprise smoothly in China.
Tax, Accounting, and Audit in China 2016
This edition of Tax, Accounting, and Audit in China, updated for 2016, offers a comprehensive overview of the major taxes that foreign investors are likely to encounter when establishing or operating a business in China, as well as other tax-relevant obligations. This concise, detailed, yet pragmatic guide is ideal for CFOs, compliance officers and heads of accounting who must navigate the complex tax and accounting landscape in China in order to effectively manage and strategically plan their China-based operations.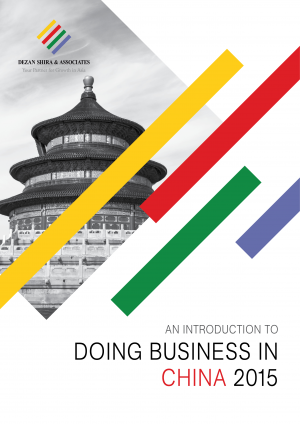 An Introduction to Doing Business in China 2015
Doing Business in China 2015 is designed to introduce the fundamentals of investing in China. Compiled by the professionals at Dezan Shira & Associates, this comprehensive guide is ideal not only for businesses looking to enter the Chinese market, but also for companies that already have a presence here and want to keep up-to-date with the most recent and relevant policy changes.