China Market Watch: Infant Formula Market and Industrial Overcapacity Struggle
Chinese Infant Formula Market: Study Calls Foreign Brands 'Less Suitable' for Chinese Babies
A recent study conducted by the state run China Central Television has called on parents to buy domestically produced infant formula over foreign brands, due to levels of certain nutrients which do not meet the specific needs of Chinese babies. The study found that eight out of 19 popular foreign infant formulas from seven different countries contained varying amounts of nutrients were inconstant with that of Chinese nutritional standards, and that if an infant were to consume such formulas over a long length of time, could develop certain health problems. Findings concluded that these problems were based on differing nutritional standards of different nations, and urged parents to consider domestic brands. The study comes after an increasing amount of parents buying infant formula overseas via online retail sites, while domestic dairy farms are suffering significant losses.
Chinese Firms Sitting on Billions, Too Scared to Invest as Economy Slows
Chinese firms have reported an 18 percent increase of cash holding in the last quarter, the largest growth in six years. Analysts have put this down to a lack of market confidence and dwindling investment opportunities. China's RMB 800 trillion stockpile increased at a faster rate than that of the EU, U.S. and Japan. In the past, corporate risk-taking was somewhat rewarded in China, but with economic growth dropping further below seven percent, compared to double digits a few years ago, risk-taking has come to a standstill.
RELATED: Business Advisory Services from Dezan Shira & Associates
Government Still Struggling with Industrial Overcapacity
Much has been reported about the government's plans to reduce industrial capacity, especially in the coal and steel industries, but recent official reports have showed how slow progress has been in retiring obsolete manufacturing capacity, and has been branded as 'unsatisfactory'. Efforts to reduce coal and steel overcapacity have been seen as a crucial step towards mending the slowing economy; however the report reveals that less than half of the goals set out to do so were met so far this year. It is also regarded as a means to deflect criticism from overseas of China's dumping of industrial products. It made note of how regional manufacturers were reluctant to address the problems due to worries about its impact on the local economy, and how some have only started making efforts, and others yet to initiate at the end of the year. Such power struggles between national and provincial level governments will be resolved by means of inspection teams who will be dispatched to oversee the initiation of overcapacity reduction.
Chinese Firm Reports Record-breaking Fibre Optic Transmission
Wuhan's FiberHome has reported the development of an optic fiber which is capable of transmitting 400 terabytes of data per second, which would allow for simultaneous phone calls by 4.8 billion people and the transmission of around 40,000 blue-ray high definition films in one second. This record breaking feat is accomplished on multi-core mono-mode optic fiber, the division of optic fiber into multiple paths to increase transmission capacity. This is a welcomed development of transmission capacity, as China became the world's largest consumer of optical fiber preform, needing 6,167 tons in 2015, which is 56.0 percent of the world's total. The Chinese optical fiber preform market is still marked by a supply shortage, but as local production capacity is continuously boosted, optical fiber preform is expected to be self-sufficient by 2017.

About Us
Asia Briefing Ltd. is a subsidiary of Dezan Shira & Associates. Dezan Shira is a specialist foreign direct investment practice, providing corporate establishment, business advisory, tax advisory and compliance, accounting, payroll, due diligence and financial review services to multinationals investing in China, Hong Kong, India, Vietnam, Singapore and the rest of ASEAN. For further information, please email china@dezshira.com or visit www.dezshira.com.
Stay up to date with the latest business and investment trends in Asia by subscribing to our complimentary update service featuring news, commentary and regulatory insight.
 ‍
Establishing & Operating a Business in China 2016
Establishing & Operating a Business in China 2016, produced in collaboration with the experts at Dezan Shira & Associates, explores the establishment procedures and related considerations of the Representative Office (RO), and two types of Limited Liability Companies: the Wholly Foreign-owned Enterprise (WFOE) and the Sino-foreign Joint Venture (JV). The guide also includes issues specific to Hong Kong and Singapore holding companies, and details how foreign investors can close a foreign-invested enterprise smoothly in China.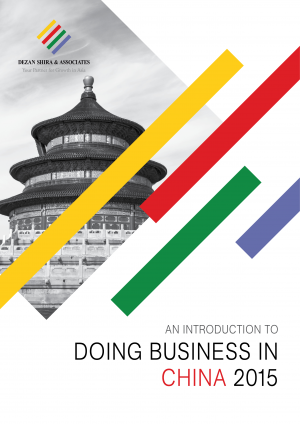 An Introduction to Doing Business in China 2015
Doing Business in China 2015 is designed to introduce the fundamentals of investing in China. Compiled by the professionals at Dezan Shira & Associates, this comprehensive guide is ideal not only for businesses looking to enter the Chinese market, but also for companies that already have a presence here and want to keep up-to-date with the most recent and relevant policy changes.
Selling, Sourcing and E-Commerce in China 2016 (First Edition)
This guide, produced in collaboration with the experts at Dezan Shira & Associates, provides a comprehensive analysis of all these aspects of commerce in China. It discusses how foreign companies can best go about sourcing products from China; how foreign retailers can set up operations on the ground to sell directly to the country's massive consumer class; and finally details how foreign enterprises can access China's lucrative yet ostensibly complex e-commerce market.