China Market Watch: Slowing Trade Growth, and Adjustment of China's GDP Calculation Method
China Exports and Imports Fall in June Signalling Further Slowing Demand
China's exports made a further decline last month, partially due to diminished demand overseas, falling by 4.8 percent from the same period last year, after falling by 4.1 percent in May. Imports were also down by 8.4 percent, after falling by 0.4 percent in May, according to the General Administration of Customs. Trade surplus reduced to US$48.1 billion in June from May's US$50 billion. Demand from abroad is expected to remain weak, especially after the UK's departure from the European Union. However, things may look more hopeful in the second half because of a weaker yuan and increasing demand from emerging markets.
Didi Chuxing Provides Jobs for Over One Million Former Heavy Industry Workers
Didi Chuxing, the ride-hailing company headquartered in Beijing, has claimed in a self-published report that it has provided over a million jobs to former heavy industry workers across the country. The study revealed that there are now 3.89 million employed from 17 industry heavy provinces across China, with 530,000 of those hailing from provinces that are undergoing a restructure in their coal and steel sectors. The company also claims that it represents over 60 percent of the government's one year re-employment target for redundant heavy industry workers, and 29.4 percent of its five-year target. This report follows the announcement that 1.8 million steel and coal workers will be laid off in an effort to reduce industrial overcapacity in those sectors. Didi can provide flexible work opportunities and better livelihoods for those made recently redundant from such sectors.
RELATED: Business Advisory Services from Dezan Shira & Associates
China Adjusts GDP Calculation Adding Worth of US$130 billion
China's National Bureau of Statistics announced an adjustment to the way it calculates the size of the economy, which has revised up China's gross domestic product (GDP) for last year by around US$ 130 billion. The adjustment newly included spending on research and development in the formula to make calculations consistent with UN standards. The revision was made with an aim to reflect better growth from innovation. However, the adjustment has only made a 0.04 percent change in estimate figures. The accuracy of China's official statistics have been subject to questioning, after GDP figures were previously found to be drastically overestimated.
8.6 Percent Output Drop Reported by China's largest power producer
Huaneng Power, China's largest power producer, has reported that power production in the first half of the year fell by 8.6 percent. Power generation in the second quarter dropped by 10.06 percent compared to the same period last year. 8.35 percent less electricity was sold by Huaneng in the first half compared to 2015, while the average price of electricity decreased by 12.37 percent. The company put this overall decrease down to heavy rainfall earlier this year, which increased hydroelectricity output by 16.7 percent and led to the reduction of the need for coal fired power plants. Furthermore, an increase of cross regional power transmission has reduced the demand for coal fired power plants located in eastern and southern China, areas where Huaneng's plants are concentrated.

About Us
Asia Briefing Ltd. is a subsidiary of Dezan Shira & Associates. Dezan Shira is a specialist foreign direct investment practice, providing corporate establishment, business advisory, tax advisory and compliance, accounting, payroll, due diligence and financial review services to multinationals investing in China, Hong Kong, India, Vietnam, Singapore and the rest of ASEAN. For further information, please email china@dezshira.com or visit www.dezshira.com.
Stay up to date with the latest business and investment trends in Asia by subscribing to our complimentary update service featuring news, commentary and regulatory insight.
 ‍
Establishing & Operating a Business in China 2016
Establishing & Operating a Business in China 2016, produced in collaboration with the experts at Dezan Shira & Associates, explores the establishment procedures and related considerations of the Representative Office (RO), and two types of Limited Liability Companies: the Wholly Foreign-owned Enterprise (WFOE) and the Sino-foreign Joint Venture (JV). The guide also includes issues specific to Hong Kong and Singapore holding companies, and details how foreign investors can close a foreign-invested enterprise smoothly in China.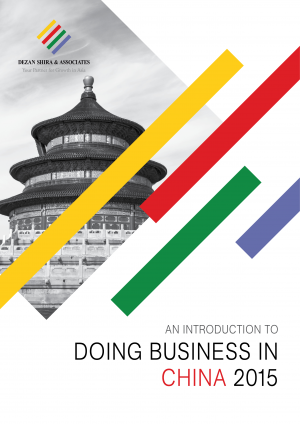 An Introduction to Doing Business in China 2015
Doing Business in China 2015 is designed to introduce the fundamentals of investing in China. Compiled by the professionals at Dezan Shira & Associates, this comprehensive guide is ideal not only for businesses looking to enter the Chinese market, but also for companies that already have a presence here and want to keep up-to-date with the most recent and relevant policy changes.
Selling, Sourcing and E-Commerce in China 2016 (First Edition)
This guide, produced in collaboration with the experts at Dezan Shira & Associates, provides a comprehensive analysis of all these aspects of commerce in China. It discusses how foreign companies can best go about sourcing products from China; how foreign retailers can set up operations on the ground to sell directly to the country's massive consumer class; and finally details how foreign enterprises can access China's lucrative yet ostensibly complex e-commerce market.