Cross Border e-Commerce in China – New Issue of China Briefing Magazine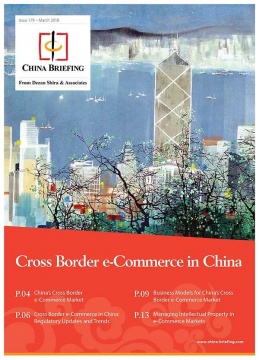 The latest issue of China Briefing Magazine, titled "Cross Border e-Commerce in China", is out now and currently available to subscribers as a complimentary download from the Asia Briefing Publication Store.
In this issue:
China's cross border e-commerce Market
Cross border e-commerce in China: Regulatory Updates and Trends
Business Models for China's cross border e-commerce Market
Managing Intellectual Property in e-Commerce Markets
The incredible scale and growth of China's e-commerce market is not news to businesspeople familiar with the country. Driven by 772 million internet users, China spent over US$1.13 trillion on e-commerce purchases in 2017, accounting for about 40 percent of the global e-commerce market.
Among the fastest growing subsectors of China's e-commerce market is CBEC – the purchase of overseas products via e-commerce platforms. China's CBEC sales hit the US$100 billion mark in 2017, and are expected to reach US$144 billion by 2021, according to data from eMarketer.
CBEC is an attractive channel for foreign businesses to sell to China, as it allows them to access the world's largest e-commerce market without the costs and commitment of establishing a formal presence there.
However, overseas sellers often underestimate the difficulties posed by CBEC, which include a fluid regulatory environment, logistical headaches, and a lack of brand visibility, among others. Misunderstandings over how CBEC in China works frequently end in costly disappointments and retreats from the market despite its vast size and growth prospects.
In this issue of China Briefing magazine, we offer foreign investors a practical guide to selling to China through CBEC. We begin by introducing the market landscape, before diving in to the sector's legal and regulatory framework. We then compare the advantages and disadvantages of different CBEC business models. Finally, we consider how to protect intellectual property in China when selling online.
About Us
China Briefing is published by Asia Briefing, a subsidiary of Dezan Shira & Associates. We produce material for foreign investors throughout Asia, including ASEAN, India, Indonesia, Russia, the Silk Road, and Vietnam. For editorial matters please contact us here, and for a complimentary subscription to our products, please click here.
Dezan Shira & Associates is a full service practice in China, providing business intelligence, due diligence, legal, tax, accounting, IT, HR, payroll, and advisory services throughout the China and Asian region. For assistance with China business issues or investments into China, please contact us at china@dezshira.com or visit us at www.dezshira.com