Foreign Investment Bound: China's Railways on Track for Growth
By Dezan Shira & Associates
Editor: Elizabeth Leclaire
Spanning a total length of over 12 thousand kilometers, China's high-speed railway network is the longest in the world, dwarfing the world's second longest network of high speed trains, located in Spain, by almost four fold. In 2013, traffic on Chinese high-speed railways surpassed 214 billion passengers per kilometer, more congested than that of the rest of the world's high speed networks combined.
With the nation's accelerated urbanization and intensifying environmental crisis, China has sought to increase its dependence on public transportation. Within the first three years of the implementation of China's 12th Five Year Plan (2011-2013), which pledged to develop the country's railway network, the industry secured US$310 billion in investment. This reflects an investment increase of over 200 percent from the first three years of China's 11th Five Year Plan. In addition to receiving greater government support, China's railway industry has also significantly deregulated to provide substantial market entrance opportunities for foreign investors.
Foreign Investment Opportunities
In the past, foreign involvement in China's railway industry was extremely limited. Companies were permitted to manufacture small railway parts such as overhead conductors or bearings but were denied access to a majority share in the construction or operation of complete train line networks. As of April of this year, however, China's release of the 2015 revision of the Catalogue of Industries for Guiding Foreign Investment decidedly broadened foreign investor power in the railway sector.
In addition to manufacturing railway parts, foreign companies may now independently construct and operate intercity, urban, and suburban railways. Furthermore, foreign enterprises hoping to construct and operate branch railway or local railway lines are no longer required to first establish a Sino-foreign equity or a contractual joint venture. Railway related bridges, tunnels, and station facilities are also open to wholly foreign construction and operation. Foreign enterprises may oversee comprehensive maintenance of high speed railway line, passenger railway line, and intercity railway line infrastructure. Previously, foreign companies could only provide this form of maintenance with a Chinese national as the controlling shareholder of the operation.
It is important to note that foreign companies do still face regulations and limitations in China's railway industry. For example, in order to establish a railway passenger train transport company or construct and operate a trunk railway line, foreign enterprises must still depend on a Chinese national as the controlling shareholder. Additionally, foreign companies are required to establish a Sino-foreign equity or a contractual joint venture if hoping to manufacture track transportation equipment.
RELATED: Longest Railway in the World Now Connects China to Southern Europe
Industry Growth
Multiple factors have contributed to the substantial growth in China's railway sector in the recent years. With the surge in China's middle class, a rising number of people rely on intercity railways for business and recreational travel purposes. China Railway Corporation (CRC), a major state run railway enterprise, experienced a 5.5 percent annual increase in customers from 2009 to 2013. From April to October of 2014, over 2.9 billion passengers rode a high speed train.
The Chinese government has also advocated for the growth in China's railways as a means to develop China's Silk Road Economic Belt. In 2014, China announced plans to connect all cities with a population of over 500,000 by railways that can travel a minimum speed of 160 kilometers per hour. Last year, the government also declared its intentions to increase fixed asset investment in railways to roughly US$177 billion, 78 percent of which will be put toward railway construction in China's less developed central and western regions.
As a result of government support of and increased reliance on railways, the industry is currently amidst a period of accelerated growth. Railway freight from CRC totaled 3.6 billion tonnes in 2013, an annual increase of six percent.  Passenger and trade railway trips together surpassed 672 million in 2013, up over 550 million trips from 2008.
In addition to the developments in China's high speed passenger and freight rail sector, China has looked to expand its suburban railways as well. Suburban railway trains, which have a maximum speed of approximately 160 kilometers per hour, are an increasingly popular choice of transportation for suburban residents commuting into the overpopulated cities. In 2014, only 77 kilometers of suburban railways crossed through Beijing, but the government has since announced plans to construct an additional 3,000 kilometers. China currently boasts less than 300 kilometers of operating suburban lines, leaving a large window of opportunity for investors looking to enter the market.

About Us
Asia Briefing Ltd. is a subsidiary of Dezan Shira & Associates. Dezan Shira is a specialist foreign direct investment practice, providing corporate establishment, business advisory, tax advisory and compliance, accounting, payroll, due diligence and financial review services to multinationals investing in China, Hong Kong, India, Vietnam, Singapore and the rest of ASEAN. For further information, please email china@dezshira.com or visit www.dezshira.com.
Stay up to date with the latest business and investment trends in Asia by subscribing to our complimentary update service featuring news, commentary and regulatory insight.
 ‍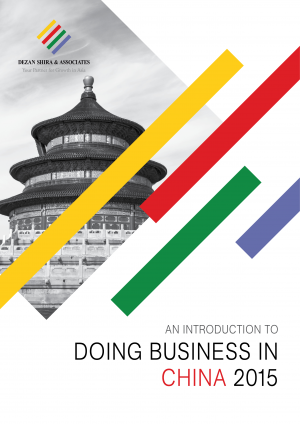 An Introduction to Doing Business in China 2015
Doing Business in China 2015 is designed to introduce the fundamentals of investing in China. Compiled by the professionals at Dezan Shira & Associates, this comprehensive guide is ideal not only for businesses looking to enter the Chinese market, but also for companies that already have a presence here and want to keep up-to-date with the most recent and relevant policy changes.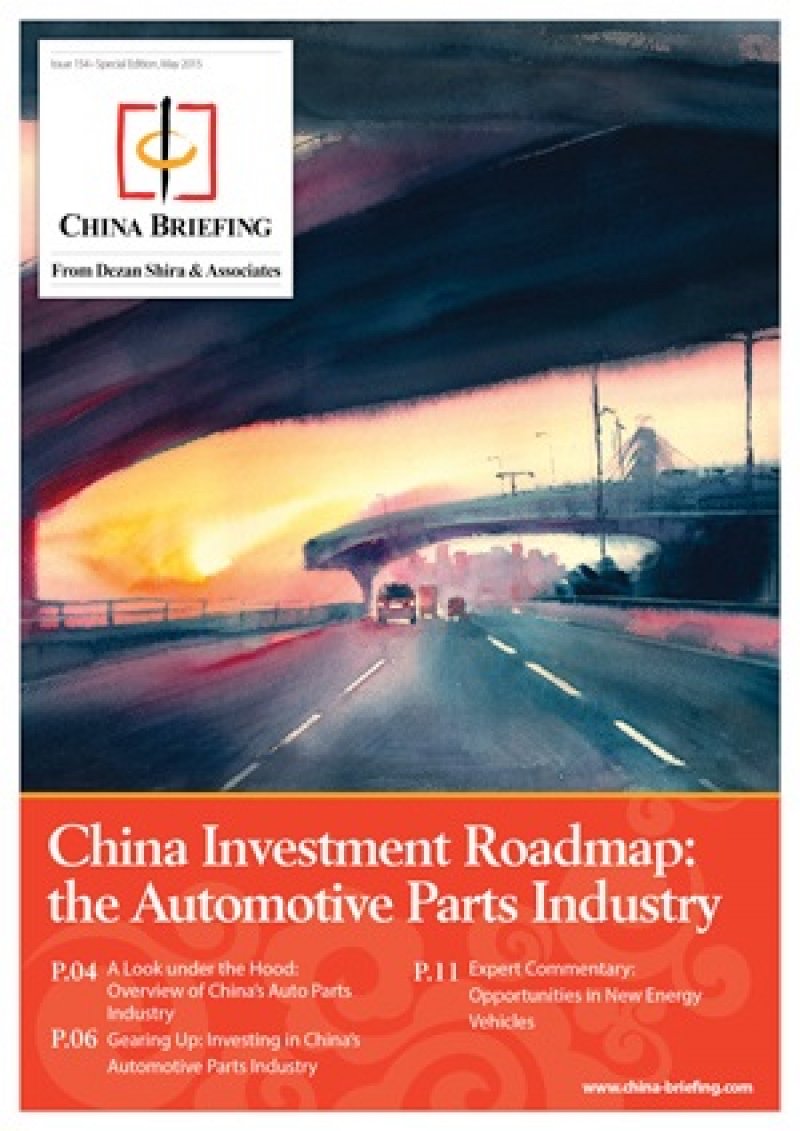 China Investment Roadmap: the Automotive Parts Industry
This issue of China Briefing presents a roadmap for investing in China's automotive industry. We begin by providing an overview of the industry, and then take a comprehensive look at key foreign investment considerations, including investment restrictions, tax incentives and manufacturing requirements. Finally, we discuss foreign investment opportunities in a part of the industry that receives substantial government support: new energy vehicles.

Adapting Your China WFOE to Service China's Consumers
In this issue of China Briefing Magazine, we look at the challenges posed to manufacturers amidst China's rising labor costs and stricter environmental regulations. Manufacturing WFOEs in China should adapt by expanding their business scope to include distribution and determine suitable supply chain solutions. In this regard, we will take a look at the opportunities in China's domestic consumer market and forecast the sectors that are set to boom in the coming years.