New Issue of Asia Briefing: Are You Ready for ASEAN 2015?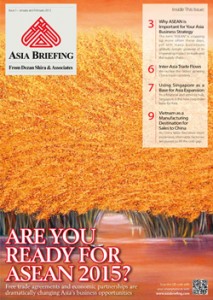 Jan. 14 – The first issue of Asia Briefing Magazine, titled Are you Ready for ASEAN 2015?, is out now and will be temporarily available as a complimentary PDF download on the Asia Briefing Bookstore through the months of January and February 2013.
Although both China and India have recently signed free trade agreements with ASEAN, many businesses still seem blissfully unaware of the free trade agreements and economic partnerships that are dramatically changing Asia's business opportunities. These are agreements that do away with customs duties and tariffs on thousands of products. In this first issue of the bi-monthly Asia Briefing magazine, we focus on the new dawn that ASEAN free trade brings to the entire region, as well as the dramatic added impact of pan-Asian free trade agreements such as the Regional Comprehensive Economic Partnership.
ASEAN – the Association of Southeast Asian Nations – comprises 10 Asian countries (Brunei, Cambodia, Indonesia, Laos, Malaysia, Myanmar, Philippines, Singapore, Thailand and Vietnam) as an economic trade bloc. That means reduced or zero customs duties across a space that includes the 10 ASEAN nations, and includes additional agreements, still under negotiation, that are expected to link in China, India, Australia, New Zealand, Japan and South Korea with the same ASEAN bloc.
Collectively, ASEAN represents a market of some 600 million people, with a combined GDP of about US$1.8 trillion. If ASEAN were a country, in economic terms it would be the ninth largest in the world. The emergence of free trade across the region through the numerous ASEAN FTAs will have a profound effect on China, India and Asia, let alone the global players that do business in the region.
Is your company prepared?
In this issue:
Why ASEAN is Important for Your Asia Business Strategy
Inter-Asia Trade Flows
Using Singapore as a Base for Asia Expansion
Vietnam as a Manufacturing Destination for Sales to China
Are You Ready for ASEAN 2015? is out now and immediately available as a complimentary PDF download on the Asia Briefing Bookstore.
Dezan Shira & Associates is a specialist foreign direct investment practice, providing corporate establishment, business advisory, tax advisory and compliance, accounting, payroll, due diligence and financial review services to multinationals investing in emerging Asia. Since its establishment in 1992, the firm has grown into one of Asia's most versatile full-service consultancies with operational offices across China, Hong Kong, India, Singapore and Vietnam as well as liaison offices in Italy and the United States.
For further details or to contact the firm, please email asia@dezshira.com, visit www.dezshira.com, or download the company brochure.
You can stay up to date with the latest business and investment trends across Asia by subscribing to The Asia Advantage, our complimentary update service featuring news, commentary, guides, and multimedia resources.
Other New Releases this Month
China Briefing Magazine: Annual Compliance, License Renewals & Audit Procedures
In this issue of China Briefing Magazine, we discuss annual compliance requirements for China foreign-invested entities and detail the full audit processes for representative offices, wholly foreign owned enterprises, and joint ventures in China. We also discuss IIT liability for expatriates in China, IIT rates and calculation methods, permissible tax deductions, and how working for a permanent establishment can change tax liabilities.
Vietnam Briefing Magazine: Annual Compliance and Audit
In this issue of Vietnam Briefing Magazine, we address a number of annual compliance topics relevant to foreign investors in Vietnam. Namely, annual reporting for foreign-owned enterprises and representative offices, as well as annual tax finalization (corporate income tax and personal income tax), and annual financial statements (structure, general accounting treatments, deductible expenditures, submission).
U.S. Commercial Service China Business Handbook for 2013
The U.S. Commercial Service has just published the third edition of the popular China Business Handbook for the year 2013, with chapters contributed by selected foreign investment firms, including Dezan Shira & Associates.