An Overview of China's Elderly Care Industry
By Dezan Shira & Associates
Editors: Jake Liddle and Zhou Qian
A myriad of factors have contributed to a rise in need for elderly care services in China. The Middle Kingdom's gender imbalance, low birth rate and average increase in life expectancy, combined with a series of family planning regulations, have created a rapidly aging population. Data provided by the National Statistics Bureau show that China's over 60 population – the age at which it classifies an elderly person – reached 222 million in 2015, accounting for 16.1 percent of the overall population. This rate is now predicted to grow by three percent year on year, resulting in the proportion of elderly citizens exceeding that of those aged 14 and under by 2030, and one in three people in China being aged over 65 by 2050.
These projections have been further exacerbated by China's now recently abolished one-child policy, which created what is referred to as the "4: 2: 1" problem and heaped pressure on the country's traditional family-centric model of elderly care. The 4: 2: 1 problem is a common occurrence in China wherein four grandparents and two parents are cared for by a single person, or eight grandparents and four parents are cared for by a couple. Maintaining care only within the family is especially unfeasible for China's urbanizing citizens, who on average leave 50 percent of their family in the rural areas that they move from.
Largely as a result of this situation, China's attitude towards elderly care services is changing, with more elderly citizens willing to live in elderly care centers. When considered alongside China's rising per capita disposable income levels, which have increased on average from RMB 10493 in 2005 to RMB 31195 in 2015, the market for elderly care services has become particularly attractive. Elderly care is expected to surpass real estate as China's largest industry within 13-15 years, and is estimated to be worth RMB 1.8 trillion by 2020 and RMB 7.6 trillion by 2050.
That said, China's elderly care industry is still in its infancy and lacks the experience, expertise and infrastructure that exists in other more developed economies. Statistics show that an additional 3.4 million nursing homes will be needed in the next five years to keep pace with growing demand. Government funded elderly care services are unable to provide for this increase, with state institutions currently only able to service two percent of China's elderly population and 18 percent of its disabled elders. The private sector comprises the majority of premium elderly care facilities in urban China, dominating the majority of recent growth in the industry, but there are only around 42,000 facilities operating in China, and waiting lists are very long.
A massive gap therefore exists in China's urban high end market for elderly care, and it is this gap that foreign investment is best placed to fill.
This article is an excerpt from the May issue of China Briefing, titled "China Investment Roadmap: the Elderly Care Industry",  in which we present a roadmap for investing in China's elder care industry. We provide the latest market research, detail the procedures and benefits for foreign direct investment, and examine the main barriers and risks that foreign companies are likely to encounter when entering the market.
Establishing & Operating a Business in China 2016
Establishing & Operating a Business in China 2016, produced in collaboration with the experts at Dezan Shira & Associates, explores the establishment procedures and related considerations of the Representative Office (RO), and two types of Limited Liability Companies: the Wholly Foreign-owned Enterprise (WFOE) and the Sino-foreign Joint Venture (JV). The guide also includes issues specific to Hong Kong and Singapore holding companies, and details how foreign investors can close a foreign-invested enterprise smoothly in China.
China Investment Roadmap: the Commercial Real Estate Sector
In this issue of China Briefing, we explore the latest trends in commercial real estate in China, and discuss how foreign companies can benefit from China's massive construction boom. We provide a guide to how firms can sell construction materials in China, and finally detail how foreign architects can most effectively enter and take advantage of China's rapid urbanization.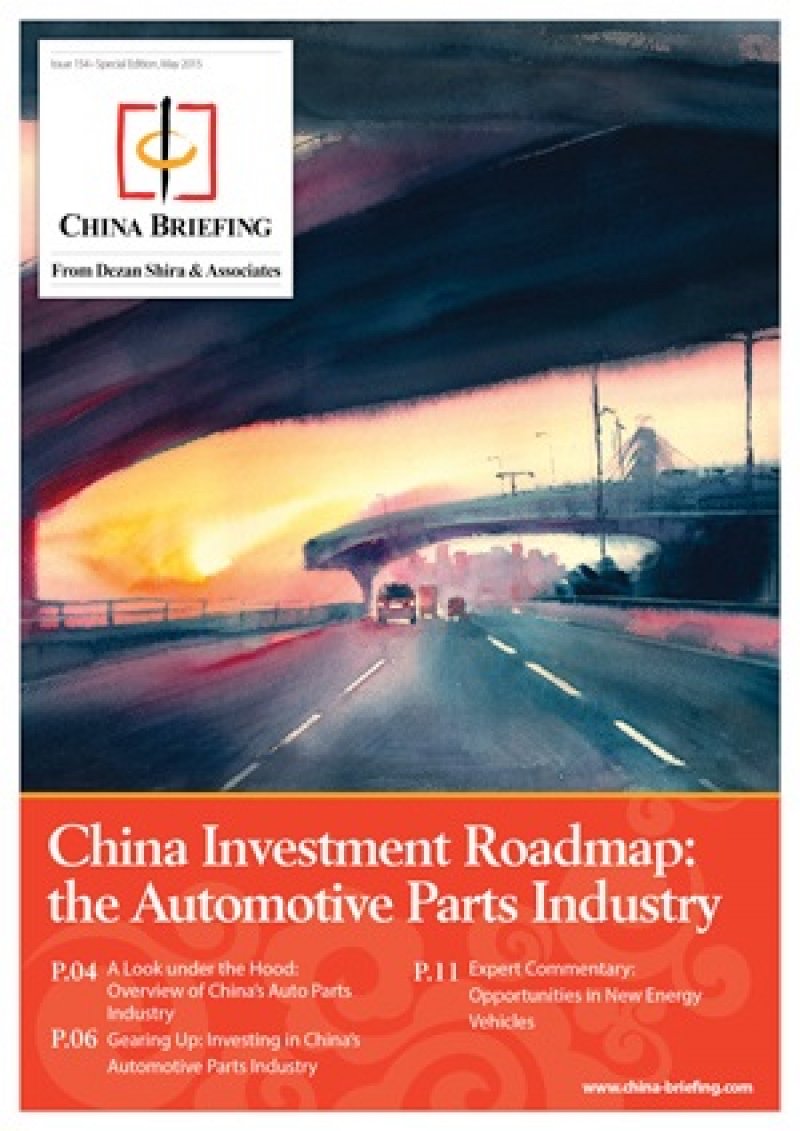 China Investment Roadmap: the Automotive Parts Industry
This issue of China Briefing presents a roadmap for investing in China's automotive industry. We begin by providing an overview of the industry, and then take a comprehensive look at key foreign investment considerations, including investment restrictions, tax incentives and manufacturing requirements. Finally, we discuss foreign investment opportunities in a part of the industry that receives substantial government support: new energy vehicles.