The Adoption of Advanced Robotics in Manufacturing: A Reality Today, or a Revolution for the Future?
By Emerging Strategy
Enormous breakthroughs in advanced robotics are making a new industrial revolution a fast-approaching reality. Advanced robotics is introducing a new generation of machines capable of executing dexterous and delicate tasks: recognizing, computing and acting on information, and even collaborating and learning from humans. These advancements offer reduced labor costs and increased efficiency, generating new competition for the traditional bastions of low cost manufacturing.
As technology continues to progress, manufacturers in industries historically reticent to the use of industrial machines are increasingly adopting advanced robotics and altering their production methods in kind. However, the present-day practical use of advanced robotics varies by industry, and the high costs and technical obstacles involved in remodeling manufacturing processes can be prohibitive. Nevertheless, the question ultimately isn't whether or not manufacturers should adopt advanced robotics, but when.
Technological Advancements and the Learnability of Robots
Robotics has been used in manufacturing processes and assembly lines for decades, particularly in the automotive industry. While technological advancements, such as image processing to identify the orientation and features of objects, have increased the utility and efficacy of these robotics, they have generally functioned as stationary and predictable machines performing repetitive and monotonous tasks. Recent progress in advanced robotics, however, is fundamentally reshaping the way in which products are created and factories operate.
Robots are increasingly being designed to perform a wide variety of jobs. While traditional robots are typically fixed assets with a single distinct role, advanced robots have the flexibility to execute multiple functions and even learn new ones. With additional sensory proficiency to recognize variability in objects and the environment, and the dexterity to handle items of various shapes and sizes, robots are more and more flexible and mobile. New tasks that robots are now more capable of performing include picking and packaging, testing and inspecting products, and assembling miniscule devices incorporating innumerable components, such as microchips.
As they are connected to the Industrial Internet of Things (IIoT) – a subject that Emerging Strategy is set to release a whitepaper on in June – robotics can learn from humans and other machines to continually add to their capabilities and enable decision-making. A physical demonstration by a human can teach a robot how to perform a simple task, which it then repeats at high speed and shares with other robots. Data accumulated through performance and experience and programmable artificial intelligence hone precision and allow for the application of logic. Human feedback ensures quality control and improves robots' aptitude to make independent decisions. The flexibility and learnability of robots allow them to become independent assistants and collaborators with humans, rather than machines working mostly separately from other human workers.
The new functions introduced by advanced robotics do not simply provide manufacturers with tools to produce goods faster and more efficiently, but will eventually alter the very composition of factories and the way they produce goods. Technological changes are influencing spending habits, as consumers increasingly expect customization and input into the products they purchase with a rapid turnaround. For example, a shopper might design their own shoe of a certain brand on that company's website, which would automatically be transmitted to robots on the production line, and then quickly shipped to the customer. The ability of robots to compute information and their flexibility to create variations of a single product allow for the manufacturing of individualized goods at comparable speeds to traditional repetitive mass production.
RELATED: Business Advisory Services from Dezan Shira & Associates
Falling Costs of Advanced Robotic Provides for New Sectors of Investment
The greater flexibility and intelligence of advanced robotics sets the stage for their proliferation across industries where they have traditionally been seldom used. According to a study by the Boston Consulting Group, transportation equipment, electronics, machinery, and electrical equipment, appliances, and components will represent three quarters of all robotic installations over the next decade. However, robotics will also increasingly be deployed in food and beverage, consumer goods, pharmaceuticals, and metals, among other industries.
The diffusion of advanced robotics into new sectors is not only due to growing capabilities, but also their newfound affordability. The price of a single unit once cost several hundreds of thousands of dollars, whereas several types are now available for below US$50,000. These prices are expected to drop another 20 percent over the next decade, while their performance is poised to increase by five percent annually.
Lower prices also benefit small and medium sized enterprises (SMEs), who are often shut out from extensive adoption of robotics due to prohibitive costs. While SMEs with lower operating budgets would often be hesitant to commit to an expensive robot that performs a single task, there is less risk investing in advanced robotics capable of learning and executing multiple jobs. These features further benefit SMEs in particular, as their operations are often characterized by alternating products and producing small batches.
Despite these advantages, larger companies continue to dominate the purchasing of advanced robotics. Although prices have sharply decreased, many are still wary of the costs involved, which also include substantial installation, software, and maintenance fees – sometimes tripling the base unit price.
The Possibility of Advanced Robotics Replacing Traditional Human Labor
The potential for advanced robotics to replace unskilled human labor is a hotly debated issue. As robots become faster, more precise, and more intelligent, they will eventually become a more effective and lower cost alternative to human labor in many industries. By 2025, approximately 25 percent of all manufacturing tasks are expected to be done by robots, up from 10 percent in 2015. Oxford University estimates that 47 percent of American workers hold jobs that could eventually be replaced by computerized technology.
The Cambridge Industries Group in Shanghai, for example, boldly aims to replace 2,000 out of its 3,000 workers with machines in the short term, with the goal to eventually become nearly completely automated. Such operations are termed "dark factories", as robots can produce goods 24/7 with the lights off, drastically limiting direct human involvement in manufacturing. While these transformations will create demand for high-skilled workers such as engineers, computer scientists, and data analysts, it is unlikely that a significant portion of existing low-skilled labor will be able to transition to these positions.
This technology is a threat to manufacturing powerhouses such as China, where increasing wages and transportation costs lessen the attractiveness of offshore manufacturing in the wake of advanced robotics. Many speculate about the "reshoring" of production away from low-cost countries to smaller localized factories close to a company's end market, as robots cost the same regardless of location.
Several countries are aiming to capitalize on the potential for recalibration of comparative manufacturing advantages, while others are lagging behind. China, Germany, Japan, South Korea, and the U.S. account for approximately 80 percent of all industrial advanced robotics purchases, while much of Western Europe lags behind. Forward-looking policies – such as Germany's ambitious Industry 4.0 campaign – labor law flexibility, and access to capital are key determinants of a country's embrace of advanced robotics.
It is not a surprise to see that most countries adopting advanced robotics are highly developed post-industrial economies characterized by greater capital and expensive human labor. China, and to a lesser extent Thailand, stand out as less developed countries that are investing in advanced robotics to transition from their traditional reliance on cheap labor. The International Federation of Robotics predicts that China will be responsible for over a third of global industrial robot installations by 2018. However, due to the country's incredible size, the number of robots per worker will still be significantly lower than in many developed economies. While China and Thailand are making efforts to adopt advanced technology, many other developing countries whose economies rely on cheap labor are at risk of exposure if developed economies are increasingly reshoring production through advanced robotics.
Adopting Advanced Robotics Presents Many Challenges to Investors
The efforts of companies such as the Cambridge Industries Group to aggressively replace human labor with advanced robotics demonstrates the belief that advanced robotics already offer a tangible ROI and can outperform humans in certain tasks. Mass adoption of advanced robotics, however, is a long term process that is sure to involve unexpected hurdles and technical challenges as companies fundamentally restructure their manufacturing processes. For example, Foxconn CEO Terry Gou stated in 2011 that he wanted a million robots in the company's factories by 2014, but fell well short of that goal with only a few tens of thousands installed by that time.
Progress in advanced robotics presents the potential to revolutionize manufacturing from a model reliant primarily on cheap labor to a more efficient and productive alternative centered on intelligent and programmable machines. The speed of innovation presents many challenges to investors, however. Investing too early might make investors lose out on vastly higher quality robotics and introduce technical headaches, while investing too late might leave them behind their competitors. As such, it is essential for investors to monitor the state of adoption within their industry and to create a long term transition plan. For work that is highly dexterous, unpredictable, and requires critical thinking, human labor remains a stronger option and should continue to be for many years. Although advanced robotics are not currently ideally suited to every industry, technological advancements are fundamentally disrupting longstanding methods of manufacturing and have the potential to transform the global economy.
About Emerging Strategy
Emerging Strategy is the leading provider of customized market intelligence in the education industry. Their work in this industry focuses on bringing cutting-edge content, technologies, language learning, skill training and assessments in front of institutional and retail customers. For more information on Emerging Strategy and our services, please contact us at info@emerging-strategy.com.
 ‍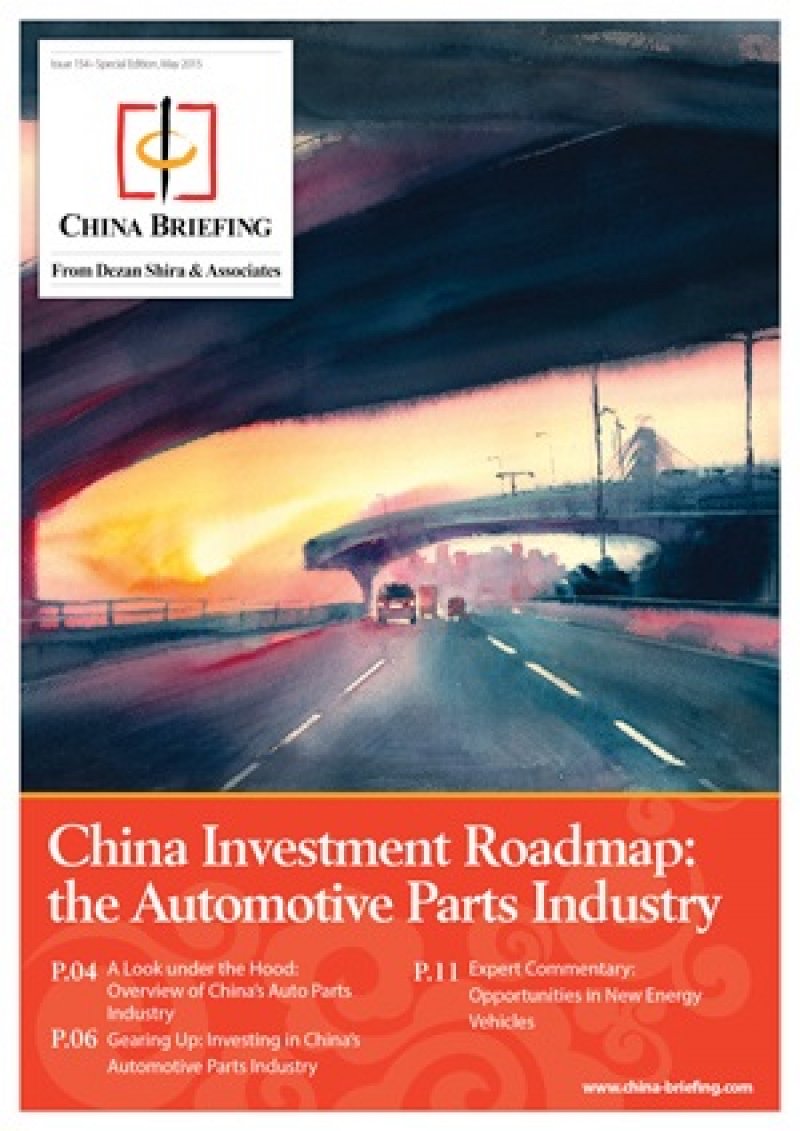 China Investment Roadmap: the Automotive Parts Industry
This issue of China Briefing presents a roadmap for investing in China's automotive industry. We begin by providing an overview of the industry, and then take a comprehensive look at key foreign investment considerations, including investment restrictions, tax incentives and manufacturing requirements. Finally, we discuss foreign investment opportunities in a part of the industry that receives substantial government support: new energy vehicles.

Adapting Your China WFOE to Service China's Consumers
In this issue of China Briefing Magazine, we look at the challenges posed to manufacturers amidst China's rising labor costs and stricter environmental regulations. Manufacturing WFOEs in China should adapt by expanding their business scope to include distribution and determine suitable supply chain solutions. In this regard, we will take a look at the opportunities in China's domestic consumer market and forecast the sectors that are set to boom in the coming years.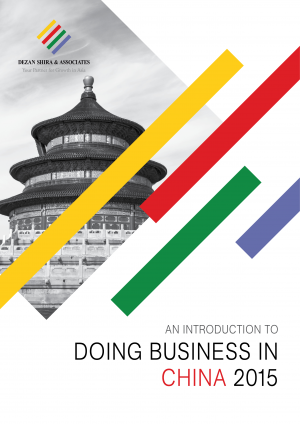 An Introduction to Doing Business in China 2015
Doing Business in China 2015 is designed to introduce the fundamentals of investing in China. Compiled by the professionals at Dezan Shira & Associates, this comprehensive guide is ideal not only for businesses looking to enter the Chinese market, but also for companies that already have a presence here and want to keep up-to-date with the most recent and relevant policy changes.