Accessing China's Third Party Mobile Payments Market: A Comparison of WeChat and Alipay
By Dezan Shira & Associates
Editor: Jake Liddle
The Chinese Central Bank has announced significant regulatory change to the operation of online payments, widely affecting service providers and their millions of users in China. From July 1, 2016, third party online payment service providers must ensure that all user accounts bear the real name of the account holder. In addition, accounts will be categorized into three types based on security requirements, capped with maximum annual payments. The policy was created with an aim to prevent large deposits of money into third party payment accounts unprotected from bank deposit insurance.
The following table outlines the details of these account categories:
In 2015, the size of China's third party mobile payments market reached RMB 9.31 trillion, up 57.3 percent from 2014. Analysts expect that the industry will continue to grow at a fast rate in the coming years, reaching RMB 52.11 trillion by 2018.
Mobile payments have become an extremely useful tool for companies to optimize in their China market strategy. Here, we examine the two largest third party online payment platforms used in the country: Alipay and WeChat.
RELATED: Information Technology-based Solutions from Dezan Shira & Associates
Alipay
With around 50 percent of the market share, Alipay is by far the largest payment option in China. A subsidiary of Alibaba Holding Group Ltd., Alipay serves Alibaba's B2B e-commerce network much in the way that PayPal operates for eBay and Amazon. Alipay cooperates with VISA and around 65 other banks, including the Bank of China, China Construction Bank, the Agricultural Bank of China, and the Industrial and Commercial Bank of China. On top of being the primary payment method for Taobao and Alibaba.com, it also serves over 500,000 external merchants, covering online retail, gaming, communications, air tickets, commercial services and utility bill payments.
Alipay Global is the international version of Alipay, which processes payments in RMB and automatically converts them to the merchant's currency of choice. Alipay Global currently supports 12 currencies, with exchange rates decided by either the Bank of China or China Construction Bank. Alipay Global's transaction fee is two to three percent.
To set up a service account with Alipay China, a company must first register an account and provide company information for verification. Once approved, an application can be made and a QR code will be issued. The following materials are required to make an application:
Business license;
ID card information of applicant;
Public bank account;
If the application is not the company's legal representative, they are required to provide power of attorney.
WeChat Pay
WeChat Payment, operated by Tencent Holdings, was launched in 2013. It operates differently to Alipay in that it serves as both a payment platform and an instant messaging service. It also differs from Tencent's TenPay, which operates in the same way as Alipay. WeChat Pay can be used to pay in stores, on websites, WeChat shops and third-party apps, and its payment procedure is easier and simpler for both customer and company alike. Being able to pay through WeChat has revolutionized how retailers and customers interact, and has the potential to reach, and make its payment method essential for, a huge number of customers because of their dependency on its social media and instant messenger service. It is therefore a very useful and effective marketing tool.
To set up a service account, a company will need to first register an official WeChat account. It is then necessary to specify reasons for the application and supply the category or type of company. The following documentation will be required in the application:
Full name of the contact person, phone number and email address
Website address of the company (not necessary for non-IT companies)
Full company name
Description of the product
Customer service number
Company bank account information
In order for non-financial entities such as Alibaba and Tencent to provide third party online and mobile payment services in China,  a payment business license must first be obtained. Regulations stipulate that the business scope, qualifications and contribution ratio of foreign invested institutions applying for the license will be decided by the People's Bank of China and State Council separately.
Third Party Payment Business License
Despite the opaqueness of China's regulatory framework and its exclusion of foreign companies, Apple Pay has recently entered the China market, launching on February 18 this year by partnering with China UnionPay and around 19 other Chinese banks. In its first two days of operation, more than three million bank cards were linked to its service, which utilizes Near Field Communication (NFC) contactless payments as opposed to QR codes, which are used by Alipay and WeChat Pay. Apple Pay, along with Edenred and Sodexo, is among the very few foreign invested companies in possession of a Chinese payment business license.
Applicants of the license must be companies established in the People's Republic of China and must  submit the following materials to a local branch of the People's Bank of China:
Written application, specifying the name, domicile, registered capital and setup of organizational structure of the applicant, payment business to be applied for, etc;
A copy of the company's business license (duplicate);
Articles of association;
Verification certification;
Financial and accounting reports audited by an accounting firm;
Feasibility study report on payment business;
Acceptance materials on anti-laundering measures;
Certification on technical safety testing and authentication;
Resume materials of senior management personnel;
Certification that the applicant and the senior management personnel thereof are free of any criminal records;
Relevant materials of major capital contributors; and
Authenticity statement of application materials.
Entry into China's lucrative third party online payments can unlock huge market potential. However, applicants should consider carefully whether or not they fulfill the above strict requirements, as the application process and approval is by no means simple. In comparison, the process for obtaining an online payment QR code is relatively straightforward, but the recent restrictions imposed on payment account types and security checks might change both the way third party online payment platforms operate and consumer behavior.

About Us
Asia Briefing Ltd. is a subsidiary of Dezan Shira & Associates. Dezan Shira is a specialist foreign direct investment practice, providing corporate establishment, business advisory, tax advisory and compliance, accounting, payroll, due diligence and financial review services to multinationals investing in China, Hong Kong, India, Vietnam, Singapore and the rest of ASEAN. For further information, please email china@dezshira.com or visit www.dezshira.com.
Stay up to date with the latest business and investment trends in Asia by subscribing to our complimentary update service featuring news, commentary and regulatory insight.
 ‍
How IT is Changing Payroll Processing and HR Admin in China
In this edition of China Briefing magazine, we examine how foreign multinationals can take better advantage of IT in the gathering, storing, and analyzing of HR information in China. We look at how IT can help foreign companies navigate China's nuanced payroll processing regulations, explain how software platforms are becoming essential for HR, and finally answer questions on the efficacy of outsourcing payroll and HR in China.

Internet Challenges & Solutions When Doing Business in China
In this special edition of China Briefing magazine, we highlight how and why foreign companies will be negatively affected by China's internet, and provide methods to help solve these problems. We discuss ISP selection, internet connection types, CDNs and VPNs, and internal control systems. Finally, we examine the importance of network security in China and how it can help augment a company's internet connection.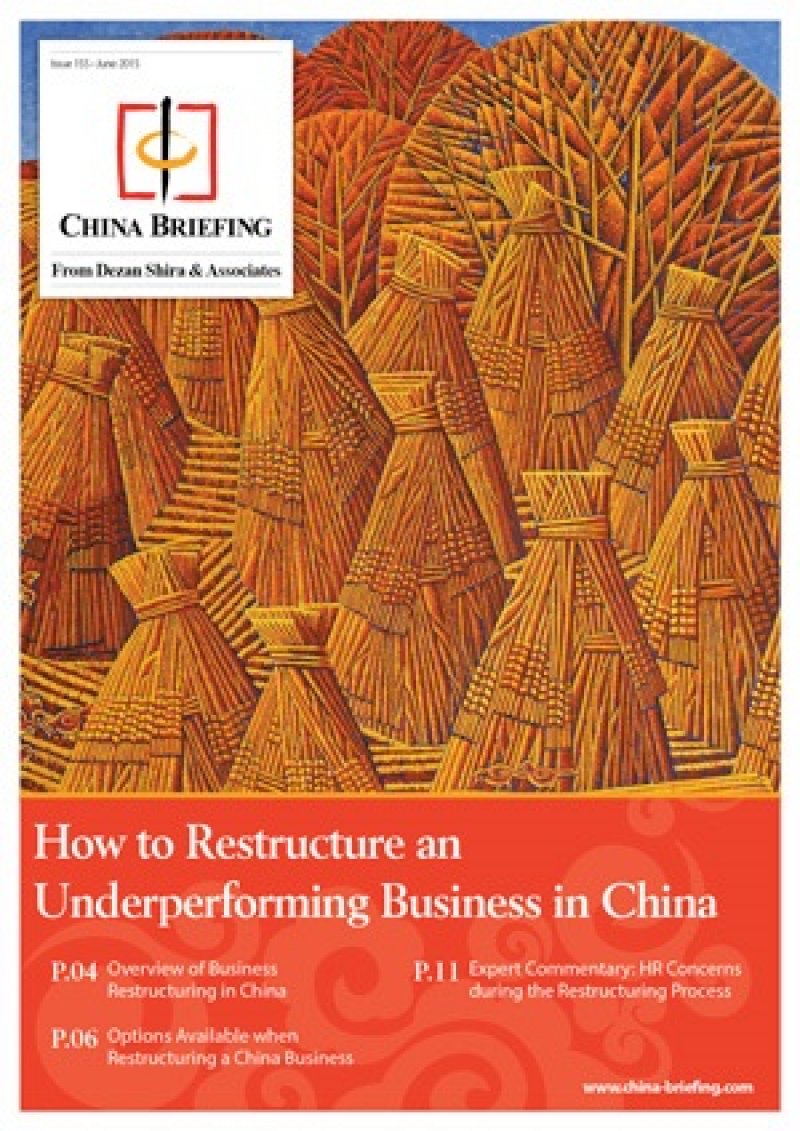 How to Restructure an Underperforming Business in China
In this issue of China Briefing magazine, we explore the options that are available to foreign firms looking to restructure or close their operations in China. We begin with an overview of what restructuring an unprofitable business in China might entail, and then take an in-depth look at the way in which a foreign company can go about the restructuring process. Finally, we highlight some of the key HR concerns associated with restructuring a China business.