Perplessità in merito alla risoluzione delle dispute presso le "New Belt and Road Courts" Cinesi
A cura dell'Italian Desk di Dezan Shira & Associates
La Cina ha annunciato che verranno istituiti appositi tribunali Belt and Road (Belt and Road Courts) per gestire le controversie derivanti dai progetti realizzati nell'ambito dell'iniziativa Belt and Road (BRI), a cui molti Paesi hanno aderito. I tribunali, che avranno sede a Pechino, Xi'an e Shenzhen, sono stati istituiti sotto l'autorità della Suprema Corte del Popolo cinese.
Il tribunale di Xi'an gestirà le dispute commerciali in merito alla Silk Road Economic Belt, che collega la Cina, l'Asia centrale, il Medio Oriente e l'Europa. Il tribunale di Shenzhen gestirà le decisioni in materia commerciale per la Maritime Silk Road, che collega la Cina, il Sud-est asiatico, l'Africa e l'Europa. I media affermano che Pechino cercherà di promuovere i tribunali per risolvere le controversie che emergono nel BRI. Gli osservatori hanno notato che i tribunali presentano somiglianze con l'International Commercial Court di Singapore e con le International Finance Centre Courts di Dubai.
Non è del tutto chiaro quale sia il principio di autorità sulla base della quale i cinesi abbiano rivendicato la giurisdizione sulle controversie BRI. Per gestire tali dispute vi sono infatti procedure predefinite, che spaziano dai vigenti trattati bilaterali in materia di investimenti (Dezan Shira & Associates mantiene una documentazione di questi, disponibile qui) agli accordi multilaterali, come quelli esistenti tra i Paesi dell'ASEAN e la Cina, tra i quali l'"Agreement on Dispute Settlement Mechanism of the Framework Agreement on Comprehensive Economic Cooperation" del 2012.
La maggior parte dei trattati bilaterali e il trattato dell'ASEAN prevedono processi analoghi di risoluzione dei conflitti: consultazione, seguita da mediazione, seguita a sua volta da arbitrato a cura di un tribunale arbitrale ad hoc, senza che vi sia alcuna sede prefissata o alcuna scelta di legge, sia procedurale che sostanziale.
La mossa di istituire tribunali BRI, da parte di Pechino, pare che cerchi di modificare quella posizione e di spostare la giurisdizione a riguardo specificamente verso la Cina. Il Memorandum d'Intesa (Memorandum of Understanding, MoU), che la Cina ha firmato con oltre 70 nazioni per quanto riguarda la cooperazione sui progetti BRI, non sembra comunque suggerire procedure differenti dalla solita terminologia che si riferisce alle "consultazioni amichevoli", sebbene possano differire di caso in caso, per affrontare le controversie,. La questione relativa all'istituzione da parte della Cina dei tribunali BRI ruota quindi intorno all'interrogativo di come questa procedura sia stata concordata, tra la Cina e le nazioni BRI, con cui ha firmato gli accordi sovra citati.
In precedenza l'arbitrato e' gia' stato contemplato in precedenti accordi. . Tra queste, un accordo raggiunto a settembre dello scorso anno tra il Singapore International Mediation Centre e il China Chamber of International Commerce Mediation Centre (CCOIC), che stipulava un MoU per risolvere le controversie transfrontaliere BRI, mentre il dipartimento di giustizia di Hong Kong ha anche sviluppato eBRAM.hk, uno strumento di risoluzione delle dispute online relative ai principali progetti di infrastrutture BRI.
Considerate queste piattaforme esistenti, si potrebbe sostenere che il governo cinese stia cercando di costringere le altre parti ad accettare la mediazione e l'arbitrato cinesi tramite la sua proposta di far sì che questi tre tribunali regolino tutte le dispute BRI.
L'ente giuridico principale cinese è stato sottoposto a un processo di "internazionalizzazione" del suo sistema giudiziario interno e i tre nuovi tribunali dovrebbero essere realizzati su modello delle corti istituite a Singapore o a Dubai.
Nonostante l'adozioe di queste misure da parte della Cina, la scelta della sede arbitrale e della legge da seguire, sia procedurale che sostanziale, dovrebbe essere lasciata alla negoziazione tra le parti interessate. Del resto, affidare la risoluzione delle dispute a parti terze, attraverso un sistema di regole predefinite e' sicuramente preferibile rispetto al principio di giurisdizione connesso alla "vicinanza" di una delle parti secondo la fonte contrattuale.
Resta da vedere quanto successo avrà la Cina nel portare le controversie in merito alla Belt & Road ai tribunali in Cina. Nel frattempo, i consulenti legali necessiterebbero di consulenza allo scopo di conoscere esattamente cosa sia stato concordato al momento della firma del MoU con la Cina per la cooperazione Belt & Road.

Chi Siamo
Asia Briefing Ltd. è una controllata di Dezan Shira & Associates. Dezan Shira & Associates è una società di consulenza specializzata nell'assistenza agli investimenti diretti esteri per le società che intendono stabilire, mantenere e far crescere le loro operazioni in Asia. I nostri servizi includono consulenza legale e strategica all'investimento, costituzione e registrazioni societarie, tenuta contabile con redazione di bilanci periodici ed annuali, consulenza fiscale e finanziaria, due diligence, revisione contabile, gestione tesoreria, libri paga e personale, transfer pricing, consulenza IT, sistemi gestionali, deposito marchi e servizio visti. Per maggiori informazioni vi invitiamo a contattarci al seguente indirizzo: italiandesk@dezshira.com o a visitare il nostro sito: www.dezshira.com.
Per rimanere aggiornati sugli ultimi trend degli investimenti e del business in Asia, iscrivetevi alla nostra newsletter per ricevere notizie, commenti, guide e risorse multimediali.
Silk Road Briefing is designed to monitor investment and infrastructure developments and potential opportunities for foreign investors to participate along the "One Belt, One Road" scheme. With the OBOR covering over 60 countries, this ambitious portal brings a snapshot of what is going on and where, as well as introducing the emerging trade routes that are developing as a result. The website draws on our considerable first hand experience dealing with FDI into and from China, Russia, India and South-East Asia, and is researched and written by professionals at Dezan Shira & Associates – Emerging Asia's primary professional services practice.
---
Establishing and Operating a Business in China 2018
China's foreign investment landscaped changed significantly in 2017, where strategic investors will find that their options have broadened significantly. Establishing and Operating a Business in China 2018 is designed to explore the establishment procedures for the Representative Office (RO), and two types of Limited Liability Companies – the Wholly Foreign-owned Enterprise (WFOE) and the Sino-foreign Joint Venture (JV) – along with related business considerations that decision-makers should examine at the pre-investment, setup, and operational stages of the expansion cycle.
---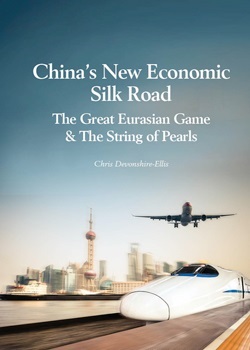 China's New Economic Silk Road

This unique and currently only available study into the proposed Silk Road Economic Belt examines the institutional, financial and infrastructure projects that are currently underway and in the planning stage across the entire region. Covering over 60 countries, this book explores the regional reforms, potential problems, opportunities and longer term impact that the Silk Road will have upon Asia, Africa, the Middle East, Europe and the United States.
---
Dezan Shira & Associates