Missing the Mark: The Importance of Trademark Registration in China
By Dezan Shira & Associates
Editor: Jake Liddle
Apple has recently been involved in a few IP infringement cases in China that it has lost.  Earlier this month, there was a case where sales of all models in Apple's iPhone 6 series were to be suspended by the Beijing Municipal Bureau of Intellectual Properties due to alleged infringement of appearance design patent of Shenzhen Baili's 100C model mobile phone. Earlier this year, Apple lost a trademark case with a Beijing company, Xintong Tiandi, a leather goods firm which used the word 'IPHONE' on leather wallets. Some foreign companies are still under the assumption that because they have registered their trademark in the country of origin, it will be protected in China. This is not the case. China's State Administration for Industry and Commerce (AIC) does not recognize trademark registrations overseas.
These sorts of IP disputes would be unthinkable in the West, but happen in China because of its 'first to file' system. This is a system whereby the rights to a trademark are awarded to the first party to apply, rather than the first to use it, even if the trademark is already registered in other countries. This gives rise to the common problem of 'trademark squatting', where companies in China look out for well-known trademarks and register them before companies come and claim them. Many of these trademark squatters wait for these companies to enter the China market and sell the trademark to them. This happened to Tesla Motors, the American electronic automotive company, when it decided to enter China. A Guangzhou-based man had acquired the rights to the Tesla trademark in China in 2009.
With this in mind, it is obvious that China's IP legal environment is perilous to even the largest of foreign investors, and registering a trademark within China is of upmost importance.
RELATED: Business Advisory Services from Dezan Shira & Associates
Registration Process
A company must first check that no similar or identical trademarks exist or have already be registered in order to start procedures. The following materials are required for an application, filled out only in Chinese, signed and stamped with the company's official seal:
Trademark registration form (or Power of Attorney if applying via an agency) ;
A copy of the company's certificate of incorporation;
The company's name and address supplied in English and Chinese;
Company director's signature;
Six copies of printed digital version of proposed trademark;
Category of proposed trademark and 10 auxiliary categories*;
Trademark explanation.
*A company will need to specify the category of the product to designate the trademark to. There are 45 classes for goods and services according to the World Intellectual Property Organization's Nice classification. However, unique to China, these 45 classes are divided into further sub-classes.
Eligibility and completeness of the application will be overseen by the China Trademark Office. If the application is accepted, the AIC will issue a preliminary approval, and publish the trademark in the China Trademark Gazette, where other companies have the period of three months in which to oppose the registration of the trademark. If there is no opposition during this period, the AIC will approve the trademark registration. This approval will be published as a notification in the Gazette.
The overall trademark registration process can take from around 12 to 18 months, and a trademark is valid for 10 years.
Key Takeaways
With such a long processing period, it is important for a foreign company to plan well ahead before entering the China market. Without the protection of trademark, products sold in China will be left open to abuse or squatting. It goes to show that even the biggest of multinational companies are not immune to trademark disputes, and cannot always settle them in their favor. A trademark is essential for a businesses' recognition and identity among competitors that already hold the rights to their names and logos.

About Us
Asia Briefing Ltd. is a subsidiary of Dezan Shira & Associates. Dezan Shira is a specialist foreign direct investment practice, providing corporate establishment, business advisory, tax advisory and compliance, accounting, payroll, due diligence and financial review services to multinationals investing in China, Hong Kong, India, Vietnam, Singapore and the rest of ASEAN. For further information, please email china@dezshira.com or visit www.dezshira.com.
Stay up to date with the latest business and investment trends in Asia by subscribing to our complimentary update service featuring news, commentary and regulatory insight.
 ‍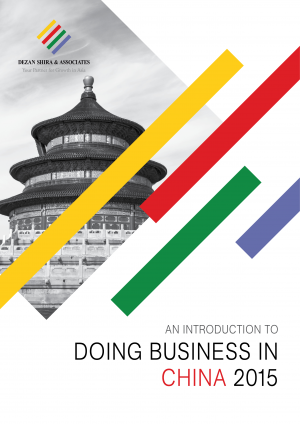 An Introduction to Doing Business in China 2015
Doing Business in China 2015 is designed to introduce the fundamentals of investing in China. Compiled by the professionals at Dezan Shira & Associates, this comprehensive guide is ideal not only for businesses looking to enter the Chinese market, but also for companies that already have a presence here and want to keep up-to-date with the most recent and relevant policy changes.
Selling, Sourcing and E-Commerce in China 2016 (First Edition)
This guide, produced in collaboration with the experts at Dezan Shira & Associates, provides a comprehensive analysis of all these aspects of commerce in China. It discusses how foreign companies can best go about sourcing products from China; how foreign retailers can set up operations on the ground to sell directly to the country's massive consumer class; and finally details how foreign enterprises can access China's lucrative yet ostensibly complex e-commerce market.
Establishing & Operating a Business in China 2016
Establishing & Operating a Business in China 2016, produced in collaboration with the experts at Dezan Shira & Associates, explores the establishment procedures and related considerations of the Representative Office (RO), and two types of Limited Liability Companies: the Wholly Foreign-owned Enterprise (WFOE) and the Sino-foreign Joint Venture (JV). The guide also includes issues specific to Hong Kong and Singapore holding companies, and details how foreign investors can close a foreign-invested enterprise smoothly in China.