The U.S. TPP "Yarn Forward" Program and Implications for China & Vietnam
The Trans-Pacific Partnership (TPP) trade deal was signed off last month and is about to be ratified by the member states. An important element of this trade bloc arrangement has very specific implications for China, Vietnam and Malaysia.
The TPP was finally agreed in Washington on October 5, with documentation being prepared and translated for presentation to participating countries. Some, such as Australia, will require debate and ratification through their Parliamentary process, which may mean the agreement finally comes into effect from mid-late 2016.  
The TPP currently includes Australia, Brunei, Canada, Chile, Japan, Malaysia, Mexico, New Zealand, Peru, Singapore, the U.S. and Vietnam, and effectively updates and arguably improves U.S. FTAs (such as the NAFTA agreement) that currently deal with many U.S. import & export issues.
Contained within the TPP provisions is the "Yarn Forward" agreement – a component part of the Textiles & Apparel section of the TPP. Under this provision, only yarn made by TPP members may be sold onto the TPP markets, which includes producers and consumers such as the United States and Japan. The textiles manufacturing businesses across the TPP are something of a mixed bunch. Countries such as the U.S. and Japan are capable of producing very fine luxurious products; others such as Vietnam have largely been dependent on sourcing lower quality products from China and integrating them into finished items. 
The Yarn Forward scheme therefore has very specific implications for both countries. As the U.S. Association of Importers of Textiles & Apparel (ITA) put its view of the TPP:
"The USA-ITA notes that it is essential to provide "cumulation" among the TPP participants and encourages the U.S. negotiators to consider expanding cumulation to allow integration of resources among all regional yarn and fabric suppliers who have preferential access to the U.S. market. Specifically, the United States should link the TPP to all of the FTAs the United States has in the Western Hemisphere, not just to Peru and Chile. Such a cumulation provision is essential to creating an FTA that encourages integration of existing resources in East Asia and in this hemisphere."
This provision has numerous implications.
RELATED: Business Advisory Services from Dezan Shira & Associates
Vietnam
Vietnam can provide low cost manufacturing at an equivalent current productivity ratio of about 70 percent of that achievable in China. However, its textiles industry relies heavily on cheap Chinese imports of yarn. In order to take advantage of the TPP agreement and sell onto the lucrative markets of Japan and the United States, it will need to change its sourcing habits across the entire textiles industry. Suppliers could include the United States and Japan for high quality items, and Malaysia, Mexico and Peru for lower quality production. Obvious and significant trade routes have opened up in this area assuming Vietnamese manufacturing can be upgraded to ensure quality sustainability. This alone may drive U.S. investors to Vietnam to assist with machinery upgrades via joint ventures and U.S. owned factories.
Malaysia, Mexico & Peru 
Each of these countries may gain spin off benefits by seeing investment in their textiles industries to support trade with the U.S. and to upgrade existing facilities.
United States
The TPP agreement also contains significant aspects concerning the upgrading of IP protection and the enforcement of this – good news for the American fashion industry, long frustrated with copycats in China.  
By bypassing Chinese production, the U.S. has opened a window for trade in the form of raw yarn to be exported, finished elsewhere under more secure conditions available in China, then re-exported back to the U.S. consumer. Accessing cheap yet well organized labor is part of this opportunity; Vietnam and Mexico both offer solutions.
China  
The TPP Yarn Forward provision is obviously bad news for China's textiles and apparel manufacturers. Unfortunately they may now be paying the price for decades of combining official production capabilities with pirating goods as well. The Chinese yarn manufacturing industry is now effectively limited to China's domestic market and those of the ASEAN agreement. China is also about to lose the entire Vietnamese market in addition to being effectively cut off from U.S. trade. While this sounds draconian, in actual fact the Chinese industry has been in decline for a number of years, losing much of its base to Bangladesh and, to some extent, India. However, the message for foreign investors in China's textiles and apparel markets is clear – it is now time to seriously look at investing in Vietnam as an alternative.
For Washington, it is tempting to think of the fashion industry having finally put one over the pirates. For China, it is the legacy of not cracking down on counterfeit products sufficiently.
The TPP agreement contains multiple provisions that will redirect global supply chains for certain products, as well as upgrade and enhance IP protection. This has very specific implications for American and other foreign investors throughout the region. We will be examining these in detail on China Briefing, Vietnam Briefing and our other Asia publications over the coming weeks. To obtain a complimentary copy of our weekly Asia investment focused bulletin, please click here. 

Chris Devonshire-Ellis is the Founding Partner of Dezan Shira & Associates – a specialist foreign direct investment practice providing corporate establishment, business advisory, tax advisory and compliance, accounting, payroll, due diligence and financial review services to multinationals investing in emerging Asia. Since its establishment in 1992, the firm has grown into one of Asia's most versatile full-service consultancies with operational offices across China, Hong Kong, India, Singapore and Vietnam, in addition to alliances in Indonesia, Malaysia, Philippines and Thailand, as well as liaison offices in Italy, Germany and the United States. For further information, please email china@dezshira.com or visit www.dezshira.com.
Chris can be followed on Twitter at @CDE_Asia.
Stay up to date with the latest business and investment trends in Asia by subscribing to our complimentary update service featuring news, commentary and regulatory insight.

The Cost of Doing Business in ASEAN Compared with China
In this issue of Asia Briefing magazine, we provide a comprehensive overview of the cost of doing business in China compared with the Association of Southeast Asian Nations (ASEAN). We analyze some of the key considerations that will impact upon the profits of an Asia-based business, including labor costs, social welfare, and industrial land prices. In addition, we take a look at how ASEAN's export volume and GDP per capita currently compares with China.
Import & Export in Vietnam: Key Industries & Free Trade Agreements
In this issue of Vietnam Briefing magazine, we discuss the key aspects of Vietnam's import and export landscape, focusing on textiles, telephones and computer products, and automotive parts. We then analyze opportunities for Vietnam among its inclusion in multilateral regional trade blocs, before examining the European Union-Vietnam Free Trade Agreement in detail. Finally, we give an overview of the requirements for establishing a trading company in Vietnam.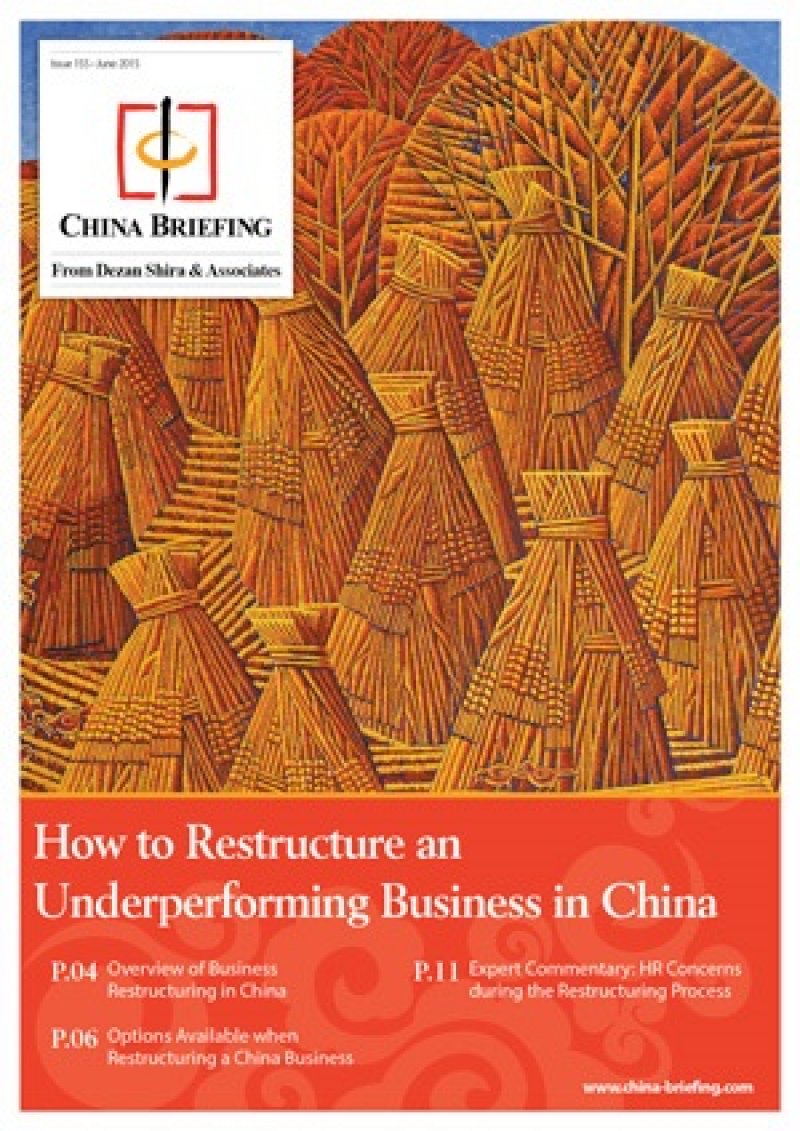 How to Restructure an Underperforming Business in China
In this issue of China Briefing magazine, we explore the options that are available to foreign firms looking to restructure or close their operations in China. We begin with an overview of what restructuring an unprofitable business in China might entail, and then take an in-depth look at the way in which a foreign company can go about the restructuring process. Finally, we highlight some of the key HR concerns associated with restructuring a China business.