Using Virtual Offices to Save Operational Costs in China
By: Servcorp
With the rising cost of office space in China, many foreign companies are finding it increasingly challenging to find office premises that are affordable and that make a positive impression upon their clients and partners. In response to this challenge, an increasing number of businesses are opting for virtual offices.
A virtual office is an office solution which allows companies to establish a presence in a city — without a dedicated office space. A typical virtual office package includes a local telephone number with receptionist service, a mailing address and access to meeting facilities and boardrooms.
The flexibility of being able to use different services when we need them and not having a big, expensive office location that we can't utilize all the time has helped our steady growth in the region" commented Graeme Faulkner, Regional Director, China of Competitive Capabilities International (CCI), a global consulting company with a focus on operations and supply chain improvements.
CCI entered the Chinese market ten years ago to better serve their multinational clients and chose to establish a virtual office with Servcorp, a premium virtual office provider. For companies that don't often use their office space, like consultants, it is ideal to have such arrangement to save the operational costs. Servcorp pioneered the idea of virtual offices three decades ago and leads the industry with its premier office spaces in 140 locations worldwide, such as the Bund in Shanghai or Canary Wharf in London.
RELATED: Outsourced Secretarial Services for New Entrants to the Chinese Market
"We have been provided with an absolute top-rate office location, close to our clients," further commented Mr. Faulkner. "The image your office projects is very important, not just for showing to the clients, but also for the employees- they feel quite proud that they are part of a company that has top-class office space."
Servcorp has developed a host of IT solutions that enable clients to book offices and boardrooms on-the-go, as well as stay in contact with their clients and partners around the world. "I am based in Shanghai, but when I visit Hong Kong, I use a virtual office there to arrange the meetings with my business partners."
A virtual office package also provides substantial cost savings over traditional long-term office lease options, with monthly rent of a virtual office space averaging a quarter the cost of a traditional lease. "Instead of having a 150 square foot office, we book the larger meet­ing rooms two days a month when we get the team together, which is a very big cost saving, especially in Shanghai."
The receptionist and secretarial services provided by the company, such as call forwarding and document translation, also provide further cost and time savings benefits for busy businesses focused on client relations and product development.
"It's like having your own staff, but only paying when you need them. They process visas for our visitors. They also help us set up for meetings and will print documents as we need them- everything you would expect from an internal administrative manager. They do everything so you can get on to work, saving you time and stress."
A traditional alternative to virtual offices for corporate gatherings is the ubiquitous hotel convention center or meeting room. While cost effective, these locations do not provide the same quality of experience for clients and cannot rival the professional ambiance of a virtual office solution.
RELATED: Business Advisory Services from Dezan Shira & Associates
"We have multiple business partners from around the region and world, so we use our virtual offices to coordinate our meetings with them. If we didn't have the virtual office space, we would need to book a hotel to host these events. Hotels come with additional costs and we find that Servcorp is by far a superior value," remarked Mr. Faulkner. "Having an office location also shows to your prospective clients that you will be in the market for the long run, which is something that a hotel won't convey to them. An office is also more conducive to professional presentation and it puts people more in the mind-set of business, rather than leisure, and helps facilitate business proceedings, such as contract signings."
Market entry and expansion can be a difficult and complex process, further complicated by long-term lease contracts and their associated costs. In many cases, a virtual office solution is the most strategic and economical option for companies looking to establish a presence in China or Asia with a top-quality, professional image.

About Us
This article was researched and written by Servcorp.
Servcorp offers the world's finest serviced and virtual office solutions. Founded in Sydney, Australia in 1978, Servcorp now operates an international network of over 140 prestigious CBD locations throughout the world. For a free 30 day virtual office trial: 
Phone: 86 400 689 6855
Website: servcorp.com.cn
Email: charissa.gong@servcorp.com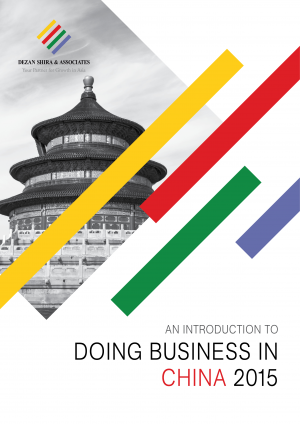 An Introduction to Doing Business in China 2015
Doing Business in China 2015 is designed to introduce the fundamentals of investing in China. Compiled by the professionals at Dezan Shira & Associates, this comprehensive guide is ideal not only for businesses looking to enter the Chinese market, but also for companies that already have a presence here and want to keep up-to-date with the most recent and relevant policy changes.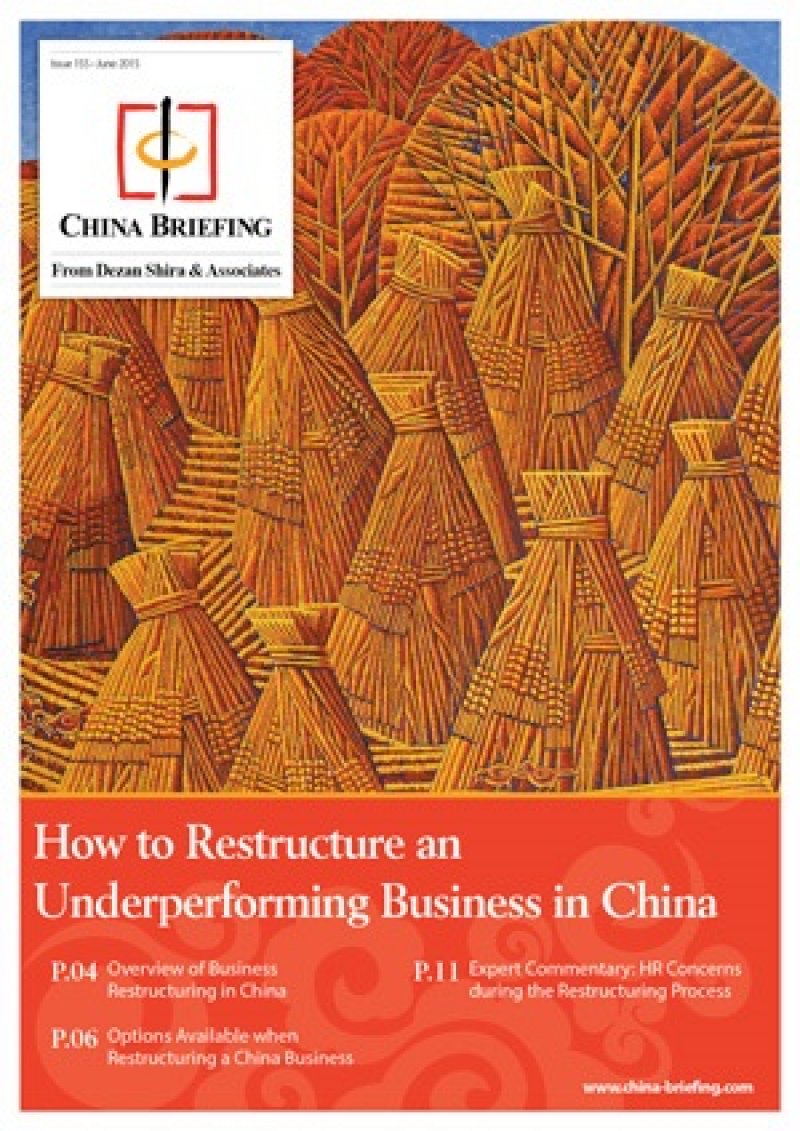 How to Restructure an Underperforming Business in China
In this issue of China Briefing magazine, we explore the options that are available to foreign firms looking to restructure or close their operations in China. We begin with an overview of what restructuring an unprofitable business in China might entail, and then take an in-depth look at the way in which a foreign company can go about the restructuring process. Finally, we highlight some of the key HR concerns associated with restructuring a China business.
Employing Foreign Nationals in China
In this issue of China Briefing, we have set out to produce a guide to employing foreign nationals in China, from the initial step of applying for work visas, to more advanced subjects such as determining IIT liability and optimizing employee income packages for tax efficiency. Lastly, recognizing that few foreigners immigrate to China on a permanent basis, we provide an overview of methods for remitting RMB abroad.