Up in Smoke: Why China has Banned Foreign Investment in the Tobacco Industry
By Alexander Chipman Koty
China's Ministry of Industry and Information Technology (MIIT) recently announced regulations barring foreign investment in the country's enormous tobacco industry, blocking foreign invested enterprises and individual businesses from participating in tobacco wholesale, retail, and alternative forms of trading. These new restrictions come on the heels of various government efforts to reduce China's rampant tobacco use, with middling results to date.
There are over 320 million smokers in China, making it the world's largest producer and consumer of tobacco products. While the Middle Kingdom comprises about 20 percent of the world's population, it is responsible for 45 percent of all cigarettes consumed globally. With an ageing population, a shrinking work force, and an increasingly prosperous society with higher quality of life demands, China faces mounting pressure to look after its people's well-being – which comes at a significant price.
Tobacco cessation products and health care services stand to benefit from growing supervision of the tobacco industry. Although China is moving toward regulation, wavering government commitment stemming largely from the industry's huge profitability and deep-seated use within society stand in the way of stamping out tobacco's pervasive presence. The country remains a challenging market for tobacco cessation products and services.
Tobacco Use in China
Tobacco use is firmly entrenched in Chinese society, with applications ranging from day-to-day use to deeper cultural practices. Usage is starkly divided between the sexes – 68 percent of Chinese men smoke, compared to only 3.2 percent of women. However, all are exposed to the negative health effects of smoking. Less than effective smoking restrictions in indoor and public places such as restaurants and offices means there are about 740 million Chinese exposed to secondhand smoke. As a result of widespread tobacco use and the country's well-known issues with pollution, China has the most lung cancer diagnoses and fatalities in the world.
Social pressure for men to smoke is significant, and those who refuse cigarettes are often met with curious looks while making the one who offers lose face. In China, offering cigarettes is a symbolic way of establishing trust and forming relationships, particularly among strangers. Similarly to the deep-rooted drinking culture among business people, expensive cigarettes and tobacco products are commonly presented as gifts, and there is often pressure to smoke with coworkers and business partners. Compounded with these practices are ill-informed myths and misconceptions about tobacco, including beliefs that Asians are less susceptible to tobacco's negative health effects, that it is easy to quit, and that smoking is an ancient part of Chinese culture, according to the Lancet medical journal.
Government Involvement in the Tobacco Industry
The enormous Chinese tobacco market is dominated by the China National Tobacco Corporation (CNTC), a state-owned enterprise (SOE) that is responsible for 98 percent of all cigarettes sold in China. The CNTC owns over 900 brands, from large ones such as Hong Shuangxi, Yun Yan, and Zhongnanhai, to smaller regional brands and derivatives. The CNTC's state monopoly has made the penetration of foreign brands largely unsuccessful, and only a small number of them have been historically manufactured in China. Foreign companies are only able to manufacture and sell their tobacco products through a joint venture with the CTNC. For example, Marlboro, one of the world's largest tobacco brands, only started manufacturing in China in 2008 after coming to an agreement with the CNTC to promote Chinese brands overseas.
Government restriction of foreign competition is largely explained by tobacco's extraordinary profitability. Further, restricting foreign companies' access to China increases the CNTC's leverage to access international markets and compete with established brands. An incredible 7-10 percent of all government revenue is through tobacco sales, giving the State Tobacco Monopoly Administration (STMA) vast amounts of power. Chinese Premier Li Keqiang's younger brother headed the STMA until February 2015, demonstrating its stature. While the long term costs of medical services and premature losses of workers is higher than immediate profits, it is difficult for the government to jettison a steady source of revenue by committing to tobacco dissuasion at a time when other streams are slowing.
The uneven implementation of recent reforms points to this reluctance. The government issued a draft law for public consultation in late 2014 banning smoking in all indoor places and some outdoor ones, as well as restricting advertising, and in 2015 raised taxes on wholesale cigarettes from five to 11 percent. However, the government ultimately backtracked on many of its initial proposals, allowing restaurants, bars, hotels, and airports to have smoking sections and allowing smoking in individual offices. Combined with infrequent enforcement of existing restrictions, the laws do little to dissuade smoking.
The Tobacco Cessation Market
Government efforts to discourage smoking, however halfhearted, combined with China's massive smoking population offer immense but difficult to grasp potential for tobacco cessation products.
Tobacco cessation products encounter a variety of challenges attempting to penetrate the Chinese market. Nicotine patches are the most popular cessation product in China; other products with varying degrees of scientific credibility that are also used include e-cigarettes, toothpaste, cigarette holders, and Chinese medicines, among others. Product use is low, however. In 2014, Johnson & Johnson stopped selling its leading Nicorette product due to poor sales. Other companies like Pfizer and Novartis have entered the Chinese market calculating a long timeframe before costs can be recovered. Despite the lack of profits, foreign pharmaceutical companies face relatively little competition, as Venturepharm is the only Chinese company producing tobacco cessation medication.
Although e-cigarettes are often marketed as an anti-smoking product, many dispute this, arguing that they are just as bad, or even worse than regular cigarettes. Regardless, there is little awareness of e-cigarettes in China, and those who use them generally do so as a fashion statement. While about 90 percent of the world's e-cigarettes are made in the southern city of Shenzhen, almost all are exported to foreign markets. The e-cigarette industry is currently unregulated by the government, though the National Health and Family Planning Commission has stated their intent to regulate production, sale, and use of e-cigarettes.
The disappointing performance of tobacco cessation products is in part explained by high costs. E-cigarettes in China are decidedly more expensive than regular cigarettes, and a full round of medication costs upwards of RMB 2,000. The deeper cause of the tobacco cessation industry's poor performance, however, is the lack of awareness and desire for smokers to quit in the first place.  Fewer than 25 percent of Chinese adults understand the specific health hazards of tobacco use. Additionally, fewer than 10 percent of Chinese smokers quit by choice, in comparison to over 50 percent in many high income countries where there are more ex-smokers than smokers.
RELATED:An Overview of China's Elderly Care Industry
Observations
China is slowly addressing its entrenched tobacco problem. In 2015, cigarette sales in China declined for the first time in two decades, demonstrating some success in smoking dissuasion. However, this is mostly due to higher taxes curtailing frequent use, rather than actually reducing the number of individual smokers.
As is commonplace for foreign investors doing business in emerging economies, the specter of SOEs such as the CNTC often complicates doing business. Vested interests ranging from pure profits to sprawling bureaucracies and payrolls to corruption in the form of kickbacks from issuing contracts make it difficult for foreign companies to compete with SOEs who benefit from preferential treatment. This phenomenon has tragic consequences in China's tobacco industry, where the state's lucrative monopoly hinders efforts to curb tobacco use, resulting in exploding cancer rates and premature deaths.
While China presents an enormous opportunity for tobacco cessation products, success will be difficult to achieve without genuine government efforts to spread awareness of tobacco's adverse health effects. With growing healthcare costs and productivity losses, however, China is gradually moving towards tighter control of tobacco use. Although China is not yet primed for tobacco cessation products, it is a question of time before the public comes to grips with the ramifications of its smoking habit, making it essential for producers to create an entry strategy for this vast market.

About Us
Asia Briefing Ltd. is a subsidiary of Dezan Shira & Associates. Dezan Shira is a specialist foreign direct investment practice, providing corporate establishment, business advisory, tax advisory and compliance, accounting, payroll, due diligence and financial review services to multinationals investing in China, Hong Kong, India, Vietnam, Singapore and the rest of ASEAN. For further information, please email china@dezshira.com or visit www.dezshira.com.
Stay up to date with the latest business and investment trends in Asia by subscribing to our complimentary update service featuring news, commentary and regulatory insight.
 ‍
Importing and Exporting in China: a Guide for Trading Companies
In this issue of China Briefing, we discuss the latest import and export trends in China, and analyze the ways in which a foreign company in China can properly prepare for the import/export process. With import taxes and duties adding a significant cost burden, we explain how this system works in China, and highlight some of the tax incentives that the Chinese government has put in place to help stimulate trade.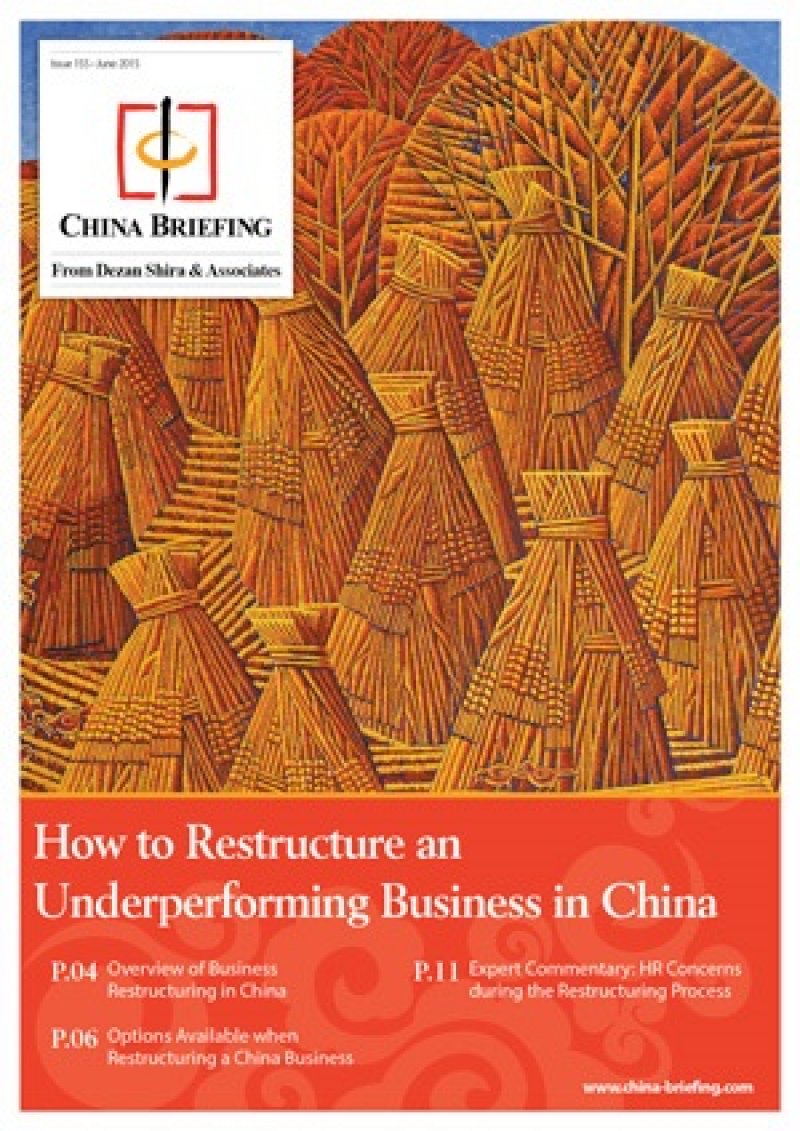 How to Restructure an Underperforming Business in China
In this issue of China Briefing magazine, we explore the options that are available to foreign firms looking to restructure or close their operations in China. We begin with an overview of what restructuring an unprofitable business in China might entail, and then take an in-depth look at the way in which a foreign company can go about the restructuring process. Finally, we highlight some of the key HR concerns associated with restructuring a China business.
Selling, Sourcing and E-Commerce in China 2016 (First Edition)
This guide, produced in collaboration with the experts at Dezan Shira & Associates, provides a comprehensive analysis of all these aspects of commerce in China. It discusses how foreign companies can best go about sourcing products from China; how foreign retailers can set up operations on the ground to sell directly to the country's massive consumer class; and finally details how foreign enterprises can access China's lucrative yet ostensibly complex e-commerce market.