By Rainy Yao
China's Zhongshan city, named after the nation's famous revolutionary and political leader Dr. Sun Yat-sen (Sun Zhongshan), is located in the southern part of Guangdong Province and a stone's throw away from Macau and Hong Kong. Given its geographic advantage, the city serves as an international trading hub and one of the biggest manufacturing bases in China. Though being a small prefecture-level city in Guangdong, Zhongshan's economy ranks fifth in the province and its industrial production growth has ranked first in the Pearl River Delta for three years in a row.
 Economic Overview
In 2014, Zhongshan's GDP reached RMB 232.8 billion, up eight percent from the previous year. The city's primary industry contributed RMB 7.09 billion of its total GDP, and its secondary industry RMB 156 billion, accounting for more than 63 percent of the economy. International trade and investment is a major economic engine for Zhongshan. In 2014, the total trade volume of the city reached US$37 billion. Among this, exports to the U.S. reached US$4.78 billion, up 10 percent from the previous year. The city's economy is currently dominated by foreign investment and township and village enterprises (TVE). 
Zhongshan National Torch High-Tech Industrial Development Zone (Zhongshan Torch HIDZ)
Zhongshan Torch HIDZ, located in the eastern part of Zhongshan, was approved as a state-level development zone by the State Council in 1991. It covers an area of 90 sq km and consists of seven nation-level industrial bases, namely, the National Health Technology Industrial Base, China Packaging and Printing Industrial Base, China Electronics (Zhongshan) Base, the National Hi-tech Products Exporting Base, China Hi-tech Industrial Base, Zhongshan (Linhai) Equipment Manufacturing Base, and China Green Food Industrial Base. 
Today, over 1,000 enterprises from more than 20 countries have been established within the zone. In 2014, the zone's GDP reached RMB 40.69 billion (8.8 percent growth). Major industries in the zone include electronic information technology, biotechnology and pharmacy, packaging and printing, chemical industry and auto parts, equipment manufacturing, energy saving and new energy, micro-electronics & communication, and bio-technology. Compared with those development zones in Shenzhen and Guangzhou, the Zhongshan Torch HIDZ provides investors with cheaper labor and manufacturing costs. 
RELATED: Update: Latest Guidance Catalogue for Foreign Investment Industries Released
Manufacturing Towns
Different from other cities and regions in China, Zhongshan's economy is largely based on the development of its small manufacturing towns. Each of these manufacturing towns is specialized in one manufacturing sector, which has transformed Zhongshan into China leader in light manufacturing industries. Zhongshan's main manufacturing towns include: 
Guzhen Town for Lighting Fitting Products
Dachong Town for Rosewood Furniture Industry 
Dongfeng Town for Electric Household Appliance
Xiaolan Town for Locks & Hardware Industry and Electronic Acoustics Products 
Huangpu Town for Food Industry
Investment Opportunities
Zhongshan encourages foreign investment into its high-end manufacturing industry, modern service, infrastructures, modern agriculture and five strategic emerging industries including new materials, new energy, environmental protection, pharmaceutical products and electronic information industries. The local government offers certain preferential policies and tax incentives to companies that engage in the above-mentioned industries on a case-by-case basis. 
Special Funds for Small Technology-based Companies
The Zhongshan government offers financial support (ranging from 50 percent to 100 percent) for eligible companies that are 1) registered in the Zhongshan HIDZ, 2) have a paid-up registered monetary capital of more than RMB 300,000 and 3) engage in the development of high-tech products.
Simplified Business Registration Procedures
Starting September 1, 2015, investors seeking to set up a company in Zhongshan city will be able to complete the registration procedures and get the business license in only three work days. The business registration procedure generally takes more than one month in other regions of China. The Zhongshan local Administration for Industry and Commerce (AIC) has implemented a new business license with a unified "business registration code" to replace the current three codes (i.e., tax registration code, national organization code and business code) for company registration. This means investors will no longer need to go through registration procedures with the tax bureau and the Quality and Technology Supervision Bureau.
Dezan Shira & Associates maintains an office in Zhongshan, assisting foreign investors with business establishment, tax and operational and research issues. Please contact the firm at zhongshan@dezshira.com for assistance.

About Us
Asia Briefing Ltd. is a subsidiary of Dezan Shira & Associates. Dezan Shira is a specialist foreign direct investment practice, providing corporate establishment, business advisory, tax advisory and compliance, accounting, payroll, due diligence and financial review services to multinationals investing in China, Hong Kong, India, Vietnam, Singapore and the rest of ASEAN. For further information, please email china@dezshira.com or visit www.dezshira.com.
Stay up to date with the latest business and investment trends in Asia by subscribing to our complimentary update service featuring news, commentary and regulatory insight.
 ‍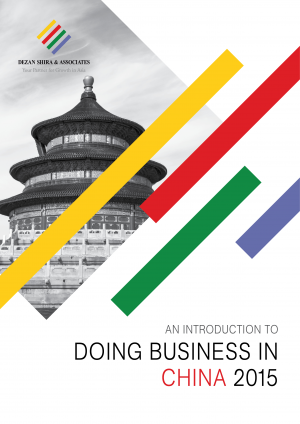 An Introduction to Doing Business in China 2015
Doing Business in China 2015 is designed to introduce the fundamentals of investing in China. Compiled by the professionals at Dezan Shira & Associates, this comprehensive guide is ideal not only for businesses looking to enter the Chinese market, but also for companies that already have a presence here and want to keep up-to-date with the most recent and relevant policy changes.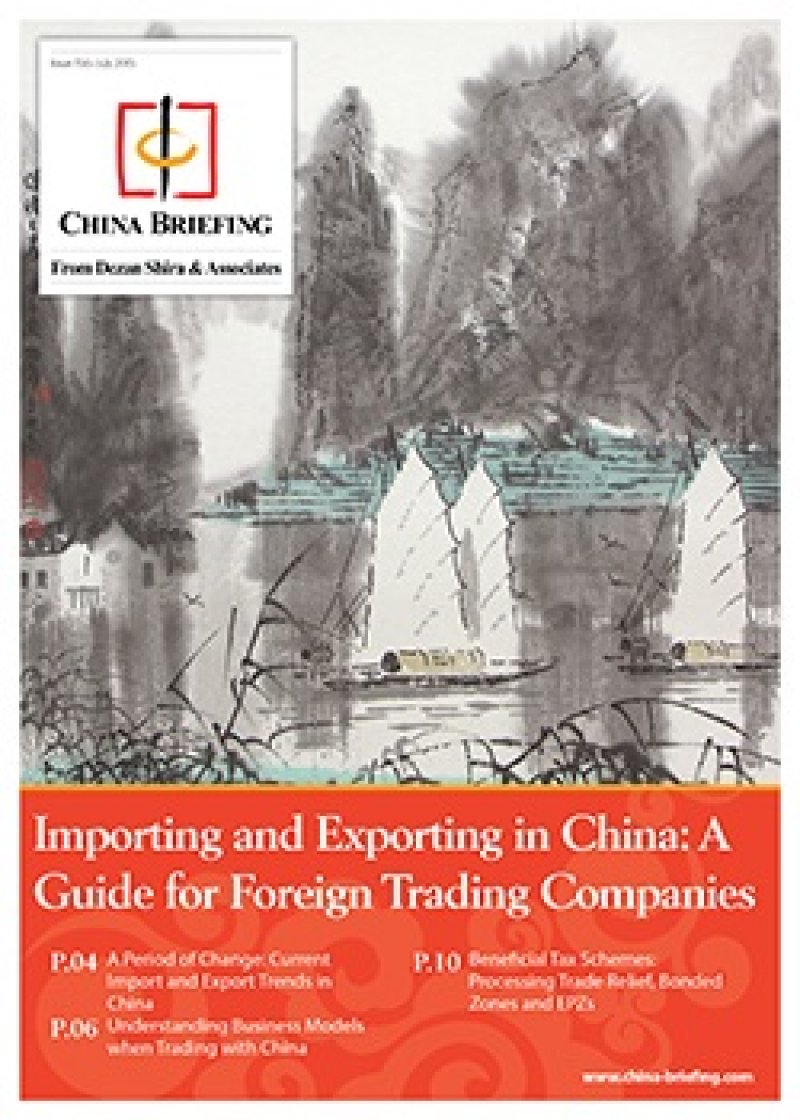 Importing and Exporting in China: a Guide for Trading Companies
In this issue of China Briefing, we discuss the latest import and export trends in China, and analyze the ways in which a foreign company in China can properly prepare for the import/export process. With import taxes and duties adding a significant cost burden, we explain how this system works in China, and highlight some of the tax incentives that the Chinese government has put in place to help stimulate trade.

Adapting Your China WFOE to Service China's Consumers
In this issue of China Briefing Magazine, we look at the challenges posed to manufacturers amidst China's rising labor costs and stricter environmental regulations. Manufacturing WFOEs in China should adapt by expanding their business scope to include distribution and determine suitable supply chain solutions. In this regard, we will take a look at the opportunities in China's domestic consumer market and forecast the sectors that are set to boom in the coming years.