By Omar Khan
International Business Advisory
Dezan Shira & Associates
Found at the central divergence of the Pearl River Delta, the Nansha New Area is one of three pre-existing development zones that came together to form the current Guangdong Free Trade Zone. With various export shipping routes and financial hub Hong Kong within the vicinity, it is worthwhile exploring the various facets of the Nansha New Area.
In this article, we look at some of the features outlining this development zone including a basic overview, major services, and finally, the objectives and mandates that the Nansha New Area intends to accomplish. Not only does this area have great potential to serve businesses within its proximity, but also has future potential to render itself a focal point of the 21st Century Maritime Silk Road.
Basics
Only 38 and 41 nautical miles away from Hong Kong and Macau, respectively, the Nansha New Area is positioned to be Guangzhou's (and Guangdong's) main gateway to sea-based trade. A vital transportation hub linking the above locations enables it to connect the PRD region as a whole. The actual Nansha area has a resident population of 720,000 within its 803 square kilometer space, with 60 square kilometers a part of the Guangdong Free Trade Zone. Nansha developed well in 2014 – area-wide GDP exceeded RMB 100 billion; industrial output value above designated scale reached RMB 270.6 billion, and the industrial output value of 50 key industrial enterprises grew by 14.53 percent.
Clusters
Seven major clusters make up the Nansha New Area, which are subsequently grouped into three categories with focused aims:
International Shipping Development and Cooperation Cluster
The zone will serve as a test bed for the pilot implementation of reform in international shipping services and customs clearance. 
Financial and Commercial Development Experiment Cluster
Efforts will be made to promote Guangdong-Hong Kong-Macau cooperation in financial services, as well as explore ways to experiment with Renminbi convertibility under the capital account.
Guangdong-Hong Kong-Macau Integrated Development Experiment Cluster
Action will be taken to build a Guangdong-Hong Kong-Macau producer services development base, and to explore economic integration between the mainland, Hong Kong and Macau.
International Education and Health Care Cooperation Experiment Cluster
The zone will also take the lead in experimenting in-depth opening up of the education and medical sectors to Hong Kong, Macau and international players.
Guangdong-Hong Kong-Macau Scientific and Technological Innovation and Cooperation Cluster
Efforts will be made to create new modes of cooperation in scientific and technological R&D between Guangdong, Hong Kong and Macau.
Overseas Investment Service Cluster
Steps will be taken to assist Hong Kong and Macau SMEs in tapping the mainland market as well as give support to mainland SMEs in developing the international market.
Processing Trade Transformation and Upgrading Service Cluster
Efforts will be made to build public service platforms to facilitate the transformation and upgrade of processing trade enterprises, covering technology R&D, industrial design, intellectual property and other issues.
With Phase 3 of developments set to be fully realized, the completion of three 150,000 ton container berths are to be put into operation with an estimated annual handling capacity reaching 18.5 million TEUs.
Transportation & Network
An expansive network of transport and transit are currently under construction, including both highways and rail. Twenty planned rail transit lines stretching 200 kilometers will cover the area, with two lines having already been completed. Vehicles will be serviced with an equally sizeable traffic system spanning 200 kilometers and comprising eight expressways, five being already completed. For linkage with Hong Kong, the current twelve passenger lines in operation take one hour and forty-five minutes from one destination to the other. The planned Guangzhou-Shenzhen-Hong Kong high-speed railway line will seek to cut this by a large margin, reducing the trip to a mere half hour (set to be operational in late 2015 and onward).
Business Environment
Some unique aspects feature in the Nansha New Area. For businesses setting up and operating within the area, no minimum registered capital will be necessary, though this is simply an eased and removed restriction for those entering the market. Issues that arise within the FTZ are to be heard before an FTZ-based arbitration and resolution center. Land will also be cheaper as prices range around RMB 1,800 per meter squared.
Corporate income tax is pinned at 15 percent with accompanying E-taxation services and procedures allowing 24-hour self-service tax ATM locations. Here, the declaration of tax and purchase invoices takes on a digital concept of E-invoices, allowing for a smoother and less tedious process. Corporate income tax will also be eligible for up to 95 percent in rebates of local portion covering five years onward.
Moreover, immediate VAT refunds on exports and immediate VAT GTP applications are digitalized. Businesses are able to file their applications online for the issue of invoices and then can proceed to have them delivered by post OR obtained through the E-taxation ATMs. Personal income tax will also have a rebate covering the gap between local and native individual income tax.
Shipping and cargo have an enhanced, sped up process with all incoming cargo inspected in a specific area. This reduces time by 50 percent, rendering the initiating formalities to commence before the ship docks at the port instead of the previous and non-FTZ formalities of only starting once docked. A 24-hour service is provided and automated to ensure all processing is done swiftly.
Objectives
Further Developing Guangdong-Hong Kong-Macau
Stronger links promoting the already established Mainland and Hong Kong Closer Economic Partnership Agreement (CEPA) are ongoing targets enabling service, trade and business liberalization. Hong Kong and Macau investors already enjoy the benefits of this agreement and have removed barriers when conducting business within China. The Nansha New Area will build on this with continued promotion to Hong Kong and Macau firms. Having the choice to utilize the existing partnership arrangement or the FTZ's facilitation measures and bonded agreements, Hong Kong firms will have even greater preferential enticement to do business in the area. Ultimately, the goal is a deepened and more liberalized co-operation.
This proximity will be of mutual benefit to both the Mainland, Hong Kong and Macau investors. Cross-border Renminbi business and further developing Hong Kong as a destination for offshore Renminbi will attract Chinese firms to use this as a going-out stepping stone. Internationalizing the Renminbi by means of this process will target Guangdong enterprises to strategically move towards Hong Kong.
Scientific collaborations, such as international telecommunication channels geared toward Hong Kong and Macau, and major Hong Kong universities have been cooperating within the zone. Increased cross-border mobility for qualified professionals from Hong Kong and Macau will allow the Nansha New Area to continue to attract foreign talents.
Open Economic System
Based on previous pilot reforms, the economic system of the Guangdong FTZ and the Nansha New Area will seek to be operational and fully implemented over a span of three to five years. Creating advantages on an international scale will include the establishment of a free trade park with a regulated environment. Supervision will come in a new form of a market-oriented administration and management system to increase efficiency and solidify a platform of 'low entry threshold, high control standards'. As with other FTZs, the negative list implemented in the zone will reduce and remove access restrictions on foreign invested firms, thereby increasing openness and transparency.
Financially, lower entry requirements exist for foreign equity funds doing business in sectors of investment and fund management and capital settlement. Multi-currency industrial investment funds and potential issuing of multi-currency land trust funds are being analyzed on the basis of feasibility and implementation. Leasing options will also enjoy reforms as the area hopes to achieve uniform market access requirements for finance lease management and innovation.
As mentioned before, importing into the area from overseas is much easier, with some speculation that goods may not need to be checked. Nevertheless, preferential measures of expediting declaration and reduced fees are in place. E-commerce as well will allow individuals and firms to make orders with goods arriving in the zone with the applicable taxation laws levied.
RELATED: A Closer Look at China's Free Trade Zones
Final Remarks
Overall, the Nansha New Area has multiple advantages and a comprehensive set of policies to support future development – financial innovation as an international hub; custom clearance convenience that streamlines trade; cross-border e-commerce; and an expedited commercial registration process. With China continuing to experiment and implement Free Trade Zones throughout the coast, investors and firms will see an increase in the ease of doing business in the country. Regardless of the timing of future developments, the Guangdong FTZ and its accompanying three areas will be pivotal to developing the future goals of China's economic and global outlook.

About Us
Asia Briefing Ltd. is a subsidiary of Dezan Shira & Associates. Dezan Shira is a specialist foreign direct investment practice, providing corporate establishment, business advisory, tax advisory and compliance, accounting, payroll, due diligence and financial review services to multinationals investing in China, Hong Kong, India, Vietnam, Singapore and the rest of ASEAN. For further information, please email china@dezshira.com or visit www.dezshira.com.
Stay up to date with the latest business and investment trends in Asia by subscribing to our complimentary update service featuring news, commentary and regulatory insight.
 ‍
Selling, Sourcing and E-Commerce in China 2016 (First Edition)
This guide, produced in collaboration with the experts at Dezan Shira & Associates, provides a comprehensive analysis of all these aspects of commerce in China. It discusses how foreign companies can best go about sourcing products from China; how foreign retailers can set up operations on the ground to sell directly to the country's massive consumer class; and finally details how foreign enterprises can access China's lucrative yet ostensibly complex e-commerce market.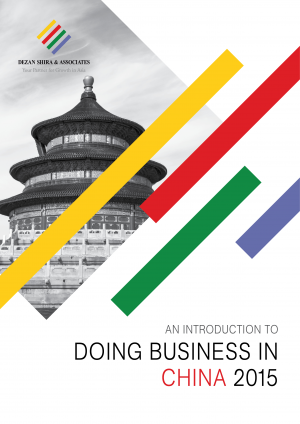 An Introduction to Doing Business in China 2015
Doing Business in China 2015 is designed to introduce the fundamentals of investing in China. Compiled by the professionals at Dezan Shira & Associates, this comprehensive guide is ideal not only for businesses looking to enter the Chinese market, but also for companies that already have a presence here and want to keep up-to-date with the most recent and relevant policy changes.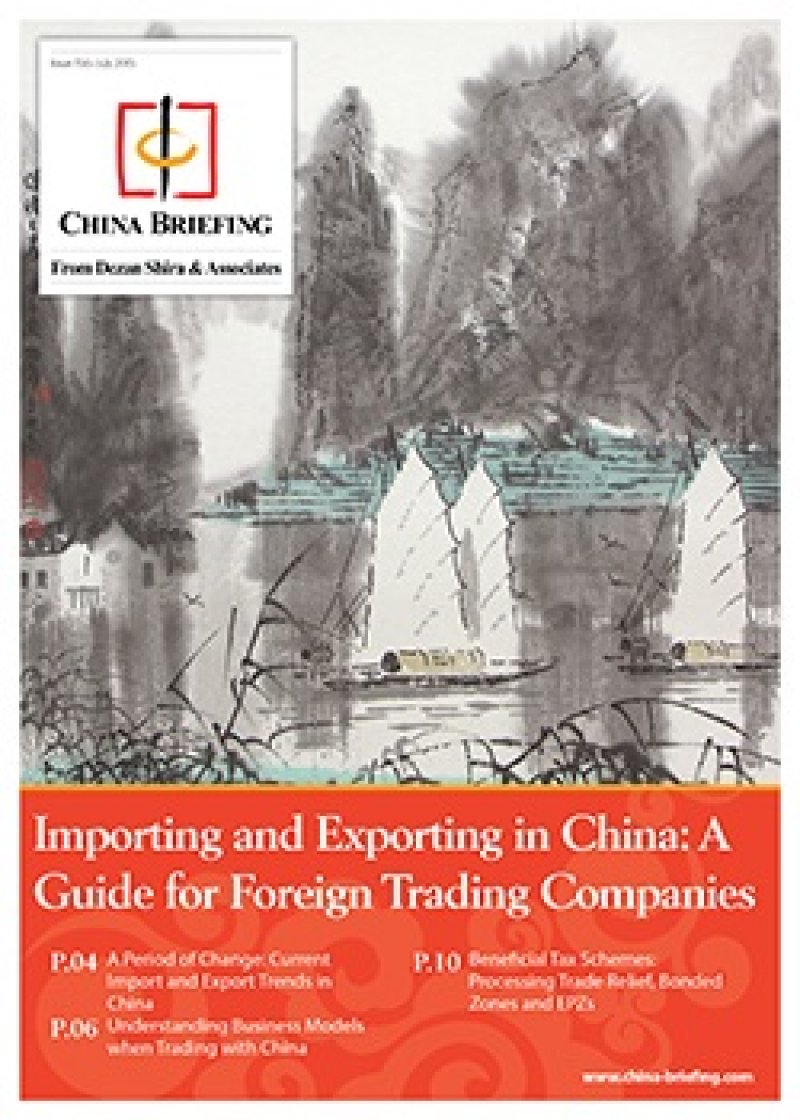 Importing and Exporting in China: a Guide for Trading Companies
In this issue of China Briefing, we discuss the latest import and export trends in China, and analyze the ways in which a foreign company in China can properly prepare for the import/export process. With import taxes and duties adding a significant cost burden, we explain how this system works in China, and highlight some of the tax incentives that the Chinese government has put in place to help stimulate trade.