By Dezan Shira & Associates
Editor: Jake Liddle
A change of address for a business is sometimes a necessary step towards securing long-term gains. A company's address is a core element of registered information (along with its business scope, registered capital, and company name, etc.), and making changes to this information can be a somewhat complex process. In our previous article, we provided a step-by-step guide to changing the registered address of a business in China. However, the application procedure for registering/changing company the address for a foreign-invested enterprise (FIE) has been affected by the country's introduction of the new "three-in-one" business license. This article lays out the simplified procedure for applicants seeking to change their registered company addresses and explores the major changes to the regulation.
The Procedure for Changing the Registered Address
First, the company's registered information must be changed. A fully completed and clearly written application should be filed with the same Administration of Industry and Commerce (AIC) office where the original registration was made. This should be accompanied by the following materials (all original documents unless otherwise stated):
After the change has been approved, the original business license, along with a copy, should be submitted to the registration authority to acquire a new business license.
The ID card of the company's legal representative or an entrusted party.
Certificate for legal use of the domicile.
A resolution or decision on the change of address, made in accordance with the relevant Articles of Association.
The Amendment to the Articles of Association (or Revised Articles of Association) signed by the company's legal representative.
A Chinese translation affixed with the seal of a translation company for all materials submitted in a foreign language.
Any other documents as required by the AIC.
Upon receiving a certificate of relocation from the original AIC office of registration, the company can then apply for a new business license from the AIC at its new location. If, however, the new location is outside the jurisdiction of the original AIC, the company must obtain an official reply and receive approval documents from the new AIC to be submitted to the original registration authority.
RELATED: Business Advisory Services from Dezan Shira & Associates
New 'Three-in-One' Business License
Previously, companies looking to register a change of address would be required to obtain a new national organization code (NOC) from the Bureau of Quality and Technical Supervision and to change tax registration at the Tax Registration Authority after changing information. However, the new 'three-in-one' business license reform streamlines this process by combining the business license, organization code certificate, and tax registration certificate into a single social credit code. The AIC shares updated basic information with the other two bureaus via an information exchange platform.
For applicants wishing to alter address information, a 'three-in-one' business license will need to be obtained before applying. However, before December 31, 2017, a company may choose to keep the three old licenses as long as alterations to core information are not made, or can upgrade to the 'three-in-one' license. For companies looking to correct information regarding general manager, director, or supervisor's name or passport number, etc. that is not stated on the business license, they can either upgrade to the new 'three-in-one' business license, or they must adhere to the old procedure for application. It should be noted that application procedures vary depending on location.

About Us
Asia Briefing Ltd. is a subsidiary of Dezan Shira & Associates. Dezan Shira is a specialist foreign direct investment practice, providing corporate establishment, business advisory, tax advisory and compliance, accounting, payroll, due diligence and financial review services to multinationals investing in China, Hong Kong, India, Vietnam, Singapore and the rest of ASEAN. For further information, please email china@dezshira.com or visit www.dezshira.com.
Stay up to date with the latest business and investment trends in Asia by subscribing to our complimentary update service featuring news, commentary and regulatory insight.
 ‍
Establishing & Operating a Business in China 2016
Establishing & Operating a Business in China 2016, produced in collaboration with the experts at Dezan Shira & Associates, explores the establishment procedures and related considerations of the Representative Office (RO), and two types of Limited Liability Companies: the Wholly Foreign-owned Enterprise (WFOE) and the Sino-foreign Joint Venture (JV). The guide also includes issues specific to Hong Kong and Singapore holding companies, and details how foreign investors can close a foreign-invested enterprise smoothly in China.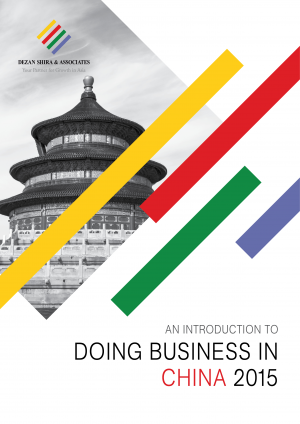 An Introduction to Doing Business in China 2015
Doing Business in China 2015 is designed to introduce the fundamentals of investing in China. Compiled by the professionals at Dezan Shira & Associates, this comprehensive guide is ideal not only for businesses looking to enter the Chinese market, but also for companies that already have a presence here and want to keep up-to-date with the most recent and relevant policy changes.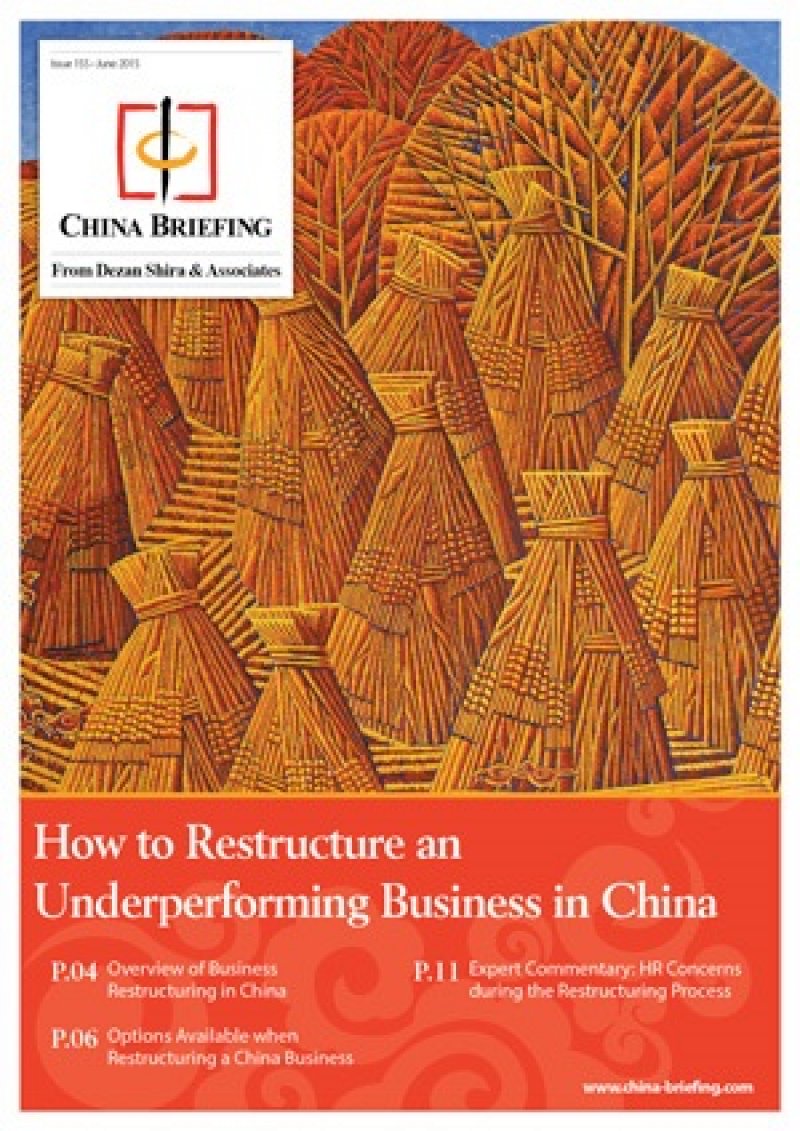 How to Restructure an Underperforming Business in China
In this issue of China Briefing magazine, we explore the options that are available to foreign firms looking to restructure or close their operations in China. We begin with an overview of what restructuring an unprofitable business in China might entail, and then take an in-depth look at the way in which a foreign company can go about the restructuring process. Finally, we highlight some of the key HR concerns associated with restructuring a China business.