A cura dell'Italian Desk di Dezan Shira & Associates
La Shanghai Administration of Foreign Experts Affairs (SAFEA) non accetta più richieste relative al permesso di lavoro. Dal 25 marzo, infatti, tutti i datori di lavoro di Shanghai devono inoltrare la richiesta di permessi di lavoro per lavoratori stranieri mediante la nuova procedura online. La nuova regolamentazione si applica ai lavoratori stranieri che siano già in possesso di un permesso di assunzione e di una foreign expert license – e che possono pertanto richiedere un permesso di lavoro.
La precedente regolamentazione relativa all'immigrazione ed ai visti prevedeva che il detentore di una alien expert license dovesse richiedere un alien expert certificate per poter lavorare legalmente in Cina, mentre chi già possedeva una licenza all'assunzione di lavoratori stranieri dovesse richiedere un permesso di lavoro per stranieri. Tuttavia, ora non sono più richiesti due permessi differenti. L'amministrazione statale ha infatti unificato le due tipologie di permessi in un unico "permesso di lavoro per cittadini stranieri", che è entrato in funzione dall'1 aprile 2017.
La nuova disposizione varata dalla SAFEA è volta a facilitare il nuovo programma unificato relativo ai permessi di lavoro.
I seguenti passaggi illustrano il processo e la documentazione richiesta ai detentori di una licenza all'assunzione di cittadini stranieri o un alien expert certificate, e ai loro datori di lavoro, ai sensi della nuova regolamentazione sui visti.
Primo passo: La richiesta online
Il primo step deve essere svolto dal datore di lavoro in Cina. Per assumere un dipendente straniero, egli dovrà inoltrare una richiesta allegando i documenti sul sito indicato. Qualora il datore di lavoro disponga già di un account su tale sito, potrà saltare la procedura di registrazione e inoltrare la richiesta di un permesso di lavoro per il suo dipendente straniero.
Secondo passo: verifica della richiesta del datore di lavoro
Dopo aver inoltrato la richiesta online, il datore di lavoro dovrà recarsi presso l'alien employment service counter per verificare di persona le informazioni inserite. Se la richiesta inoltrata dal datore di lavoro soddisferà le richieste, il suo account sul portale verrà rettificato dall'organo preposto. La lista dei local employment services counters è disponibile sul sito della SAFEA.
Terzo passo: richiesta online per il nuovo permesso di lavoro unificato
Dopo aver ricevuto l'autorizzazione dall'organo preposto, il datore di lavoro potrà completare la procedura di richiesta. Per i dipendenti stranieri, sarà richiesta la seguente documentazione:
Modulo di richiesta del "permesso di lavoro per stranieri della Repubblica Popolare Cinese", con timbro della società e firma del richiedente;
Attestato di occupazione, con tanto di contratto di lavoro o lettera di nomina (tutte le copie devono essere scritte in cinese, con timbro della società, firma del richiedente e data);
Attestato del livello di formazione (la documentazione di supporto include certificati emessi da esperti del settore, attestati professionali, ecc.);
Dimostrazione di precedente esperienza lavorativa in materia o curriculum (sono richiesti i timbri ufficiali del corrente datore di lavoro)
Foreign Expert License o Alien Employment License in corso di validità (dovrebbe essere allegata sotto la voce "ulteriore documentazione");
Certificato medico;
Fototessera (formato passaporto) non più vecchia di sei mesi;
Passaporto o altro documento di viaggio; e
Documentazione per eventuali accompagnatori (come i membri della famiglia), tra cui: passaporto o altro documento di viaggio del membro della famiglia, foto, certificato medico (solo per gli adulti con più di 18 anni), testimonianza di parentela, il tutto corredato da copie tradotte in cinese.
Quarto passo: revisione e decisione finale
Dopo aver verificato la richiesta, l'organo decisionale procede al controllo finale della documentazione. La durata di tale processo non è definita. Se il richiedente soddisfa le richieste, riceve il permesso di lavoro per cittadini stranieri entro dieci giorni lavorativi.
In particolare, ai detentori di una Foreign Expert License o di una Employment License, in caso di approvazione, viene rilasciato un permesso di lavoro di livello B. A partire dal primo aprile, la Cina ha infatti adottato un sistema di classificazione relativo ai lavoratori stranieri articolato in livello A, B e C.
Tale sistema di classificazione considera il livello di formazione, il salario, l'età, il tempo lavorativo trascorso in Cina e la padronanza della lingua cinese. Al di sopra degli 85 punti, il candidato rientra nella fascia A, da 60 a 85 nella fascia B, e al di sotto di 60 nella fascia C. Per coloro i quali rientrano nella prima fascia, il datore di lavoro può caricare la documentazione sotto la voce "ulteriore documentazione" a supporto alla richiesta.

Chi Siamo
Asia Briefing Ltd. è una controllata di Dezan Shira & Associates. Dezan Shira & Associates è una società di consulenza specializzata nell'assistenza agli investimenti diretti esteri per le società che intendono stabilire, mantenere e far crescere le loro operazioni in Asia. I nostri servizi includono consulenza legale e strategica all'investimento, costituzione e registrazioni societarie, tenuta contabile con redazione di bilanci periodici ed annuali, consulenza fiscale e finanziaria, due diligence, revisione contabile, gestione tesoreria, libri paga e personale, transfer pricing, consulenza IT, sistemi gestionali, deposito marchi e servizio visti. Per maggiori informazioni vi invitiamo a contattarci al seguente indirizzo: italiandesk@dezshira.com o a visitare il nostro sito: www.dezshira.com.
Per rimanere aggiornati sugli ultimi trend degli investimenti e del business in Asia, iscrivetevi alla nostra newsletter per ricevere notizie, commenti, guide e risorse multimediali.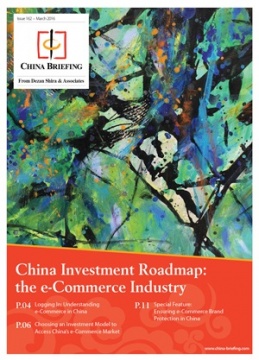 China Investment Roadmap: the e-Commerce Industry
In this edition of China Briefing magazine, we present a roadmap for investing in China's e-commerce industry. We provide a consumer analysis of the Chinese market, take a look at the main industry players, and examine the various investment models that are available to foreign companies. Finally, we discuss one of the most crucial due diligence issues that underpins e-commerce in China: ensuring brand protection.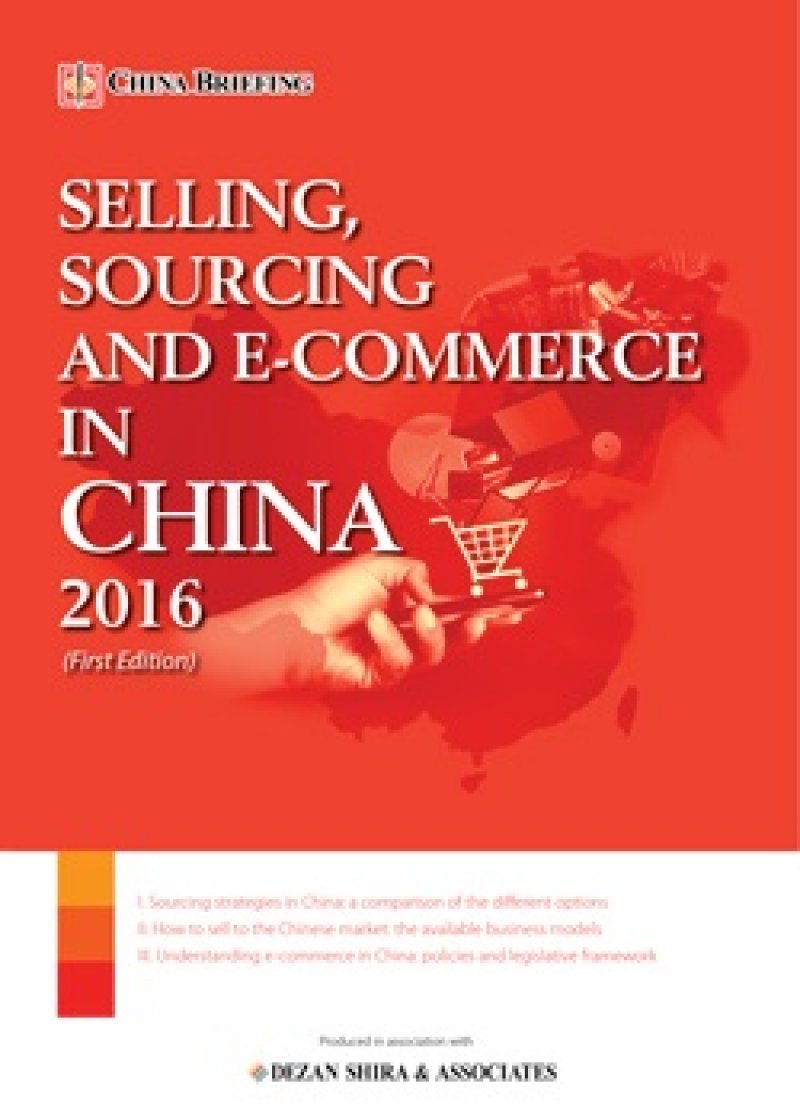 Selling, Sourcing and E-Commerce in China 2016 (First Edition)
Selling, Sourcing & E-Commerce in China 2016, produced in collaboration with the experts at Dezan Shira & Associates, provides a comprehensive analysis of all the aspects of commerce in China. It discusses how foreign companies can best go about sourcing products from China; how foreign retailers can set up operations on the ground to sell directly to the country's massive consumer class; and finally details how foreign enterprises can access China's lucrative yet ostensibly complex e-commerce market.
La Cintura Economica della Via della Seta
In questo numero di Asia Briefing presentiamo le principali caratteristiche della Cintura Economica della Via della Seta, evidenziando nel dettaglio il percorso via terra in Asia Centrale e quello via mare nel Sud-Est Asiatico. Nei prossimi decenni, la Cina avrà investito centinaia di miliardi di dollari in quella che potrebbe essere definita come la maggiore impresa diplomatica ed infrastrutturale mai realizzata. Si prevede che la Cintura Economica della Via della Seta avrà una certa influenza su tutte le tipologie di business in Cina ed è perciò giunto il momento di riflettere accuratamente sulle possibili implicazioni e opportunità per gli investitori stranieri.