A cura dell'Italian Desk di Dezan Shira & Associates
Il nuovo sistema Cinese per i permessi di lavoro stranieri è entrato in vigore a livello nazionale il 1 Aprile di quest'anno, introducendo un sistema di valutazione dei talenti stranieri basato su 3 livelli. Gli stranieri sono inseriti nelle categorie A, B o C, a seconda del punteggio ottenuto sulla base di un sistema di punteggio, oppure soddisfacendo alcune condizioni, che comportano l'inserimento automatico in una determinata categoria.
Le autorità hanno condiviso col pubblico le informazioni riguardanti il nuovo sistema di classificazione in maniera completamente trasparente, in modo da aiutare i datori di lavoro e gli stranieri a comprenderne i requisiti di idoneità. Sulla base delle informazioni ufficiali rilasciate, l'International Payroll & Human Resources team della Dezan Shira & Associates ha sviluppato un calcolatore per aiutare datori di lavoro e stranieri a comprendere i requisiti di idoneità prima di fare richiesta.
Sebbene questo calcolatore sia stato creato facendo riferimento alle informazioni rilasciate, e sia stato verificato e testato da professionisti del settore HR situati in Cina, ci teniamo ad avvisare che il calcolatore dovrebbe essere usato solamente a scopi informativi. Infatti, non è assicurato che un individuo rientri necessariamente nella stessa categoria assegnatagli dal calcolatore; è dunque consigliabile che datori di lavoro e stranieri richiedano la consulenza di un HR professionista, per avere informazioni aggiuntive riguardo il visto o il permesso di lavoro e le relative procedure di richiesta.
Esperienze con la Procedura di Richiesta
Uno straniero, che ha ottenuto il nuovo permesso di lavoro, così come le versioni precedenti, è stato in grado di fornire dei commenti riguardo al processo di applicazione. Il manager, situato a Shanghai, ha spiegato "non sono andato attraverso il sistema di punteggi diretto, ma sono stato assegnato in una categoria, indicata sul permesso di lavoro (simile alla carta di identità Cinese) che ho ricevuto."
Nei suoi commenti su quanto trasparente fosse la procedura, e se fossero state chiare o meno le ragioni per cui era stato assegnato a quella categoria, ha affermato: "sebbene intricato, la procedura di richiesta del permesso di lavoro è stata trasparente. Il sistema di classificazione si basa su una serie di qualifiche, come la conoscenza del Mandarino, esperienze lavorative passate, il ranking a livello mondiale della tua università, brevetti depositati a tuo nome, e via dicendo."
Tuttavia, l'intervistato ha fatto notare che, per certi versi, la procedura di fare richiesta, e ricevere, un permesso potrebbe essere diventato più severo e dispendioso in termini di tempo: "il processo richiede un'autenticazione notarile del titolo di laurea; allo stesso modo è richiesto anche per la fedina non penale. Ciò potrebbe rappresentare un problema per gli Americani che fanno richiesta dalla Cina, visto che, da quel che ho potuto constatare, il consolato Americano in Cina non rilascia autenticazioni di certificati accademici. Devono infatti fare richiesta presso gli uffici di competenza negli Stati Uniti, oppure richiederlo attraverso il Ministero Cinese dell'Educazione."
Ciò conferma che, con l'introduzione delle nuove riforme, i richiedenti e i datori di lavoro dovrebbero concedersi maggiore tempo per preparare tutta la documentazione necessaria, e discuterne con un consulente HR.
Servizi correlati: Gestione Libri Paga e Servizi di Gestione del Personale
Valutare il nuovo sistema
il nuovo sistema è ancora nella sua fase iniziale. Tuttavia, è possibile trarre alcune prime conclusioni sulla base dell'attuale direzione intrapresa.
Thibaut Minot, Senior Associates della Dezan Shira & Associates per Servizi di Consulenza Aziendale, sostiene che il nuovo sistema rappresenti un cambiamento positivo che semplifica per i nuovi candidati la procedura di richiesta del permesso:
"Storicamente, per molti stranieri il sistema dei permessi di lavoro cinesi ha sempre rappresentato un mare scuro e tempestoso in cui navigare, con linee guida e tempi di lavorazione delle richieste spesso non chiare. Il nuovo sistema invece, che cerca di introdurre un approccio più sistematico per la revisione delle richieste, porta una maggiore chiarezza e dovrebbe rendere più semplice per i candidati comprendere, in base al proprio profilo, i requisiti e la documentazione necessaria da fornire a supporto".
Minot ha inoltre fatto notare che alcuni dei candidati di serie A e B potrebbero beneficiare dei vantaggi che il nuovo sistema porta. Minot, infatti, afferma "per i fortunati di serie A, le loro abilità e l'importanza che rivestono per la Cina saranno premiati con processi più rapidi, e potenzialmente con minori tempi di elaborazione. Per la più larga maggioranza invece, appartenente alla categoria B, un minor numero di documenti richiesti dovrebbe comunque rendere la procedura meno tediosa da completare."
Teoricamente, il nuovo sistema potrebbe apportare benefici anche per le imprese che intendono assumere stranieri. Vivian Mao, Senior Manager presso la Dezan Shira & Associates per Servizi di Consulenza Aziendale, afferma: "il nuovo sistema aiuta, de facto, gli HR a farsi un'idea più chiara riguardo ai criteri e alle modalità con cui gli stranieri vengono classificati, e dei relativi requisiti e procedure per la richiesta del permesso di lavoro."
Tuttavia, lancia anche un avvertimento: "dal momento che questi nuovi cambiamenti sono entrati in vigore di recente, nell'Aprile di quest'anno, il sistema di richiesta online per le aziende appare a volte instabile. Inoltre, alcune agenzie per il lavoro non si sono ancora messe in contatto per fornire regole unificate al fine di visionare e approvare il rilascio dei permessi lavorativi. Pertanto, ciò a cui ci troviamo di fronte, è una situazione in cui l'effettivo periodo di approvazione è più lungo di quello accordato." Rassicura, tuttavia, che questa situazione sarà solamente temporanea: "crediamo che, con ancora qualche mese di tempo, la procedura di richiesta online e le relative politiche di competenza funzioneranno in maniera più fluida ed efficiente."
Sebbene possano sussistere delle complicazioni e difficoltà per i datori di lavoro che stanno attualmente cercando di ottenere dei permessi, le nuove riforme mostrano quanto la Cina sia determinata ad attrarre talenti stranieri. È solo una questione di tempo prima che la nuova regolamentazione venga implementata in maniera più stabile. Eventuali incomprensioni verranno appianate e i problemi risolti, permettendo così alla Cina di poter procedere nell'intento di attrarre e agevolare l'ingresso nel paese ai talenti stranieri.

Chi Siamo
Asia Briefing Ltd. è una controllata di Dezan Shira & Associates. Dezan Shira & Associates è una società di consulenza specializzata nell'assistenza agli investimenti diretti esteri per le società che intendono stabilire, mantenere e far crescere le loro operazioni in Asia. I nostri servizi includono consulenza legale e strategica all'investimento, costituzione e registrazioni societarie, tenuta contabile con redazione di bilanci periodici ed annuali, consulenza fiscale e finanziaria, due diligence, revisione contabile, gestione tesoreria, libri paga e personale, transfer pricing, consulenza IT, sistemi gestionali, deposito marchi e servizio visti. Per maggiori informazioni vi invitiamo a contattarci al seguente indirizzo: italiandesk@dezshira.com o a visitare il nostro sito: www.dezshira.com.
Per rimanere aggiornati sugli ultimi trend degli investimenti e del business in Asia, iscrivetevi alla nostra newsletter per ricevere notizie, commenti, guide e risorse multimediali.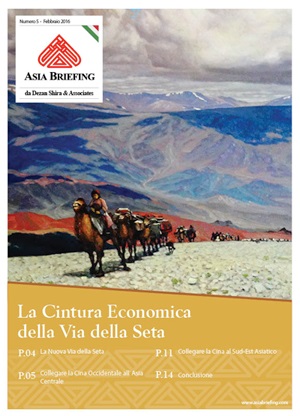 La Cintura Economica della Via della Seta
In questo numero presentiamo le principali caratteristiche della Cintura Economica della Via della Seta, ambizioso progetto infrastrutturale concepito da Pechino. Oltre a evidenziarne il percorso via terra in Asia Centrale e quello via mare nel Sud-Est Asiatico, questo numero propone diversi spunti di riflessione sulle possibili implicazioni e opportunità per gli investitori stranieri.
---
An Introduction to Doing Business in China 2017
Dezan Shira & Associates´ Silk Road and OBOR investment brochure offers an introduction to the region and an overview of the services provided by the firm. It is Dezan Shira´s mission to guide investors through the Silk Road´s complex regulatory environment and assist with all aspects of establishing, maintaining and growing business operations in the region.
---
New Considerations when Establishing a China WFOE in 2017
In this edition of China Briefing, we guide readers through a range of topics, from the reasons behind foreign investors' preference for the WFOE as an investment model, to managing China's new regulations. We discuss how economic transformations have favored the WFOE, as well as the investment model's utility, and detail key requirements that businesspeople need to examine before initiating the WFOE setup process. We then walk investors through the WFOE establishment process, and, finally, explain the new and idiosyncratic "Actual Controlling Person" regulation.