Chinese President Xi Jinping spoke at the Boao Forum for Asia today, in a much-anticipated speech on China's economic plans amid increasing trade tensions with the US.
Xi made clear that China stood for open global markets and the lowering of tariff barriers despite growing protectionism among its Western peers.
While US President Donald Trump appears intent on triggering a trade war with "little to lose", Xi adopted a more cautious and consistent approach.
 RELATED: The 2018 Two Sessions Meetings: Economic Growth, Reform Targets Set
Speaking at the Forum, dubbed as the Asian Davos, Xi assured foreign investors that China will remain open for business, irrespective of geopolitical headwinds.
In line with this, he addressed the government's intent to strengthen China's intellectual property rights protections and raise the foreign ownership limit in the automobile, shipbuilding, and aircraft sectors.
Despite being old pledges, Xi hinted that China would permit foreign automakers to establish wholly-owned factories and will reduce tariffs on auto imports – foreign players currently enter the industry by way of joint ventures. The tariff reductions could extend to other imports as well, which is part of a wider campaign to stimulate domestic consumption.
In other remarks, Xi referenced the opening up of China's financial market: overseas investors will soon be able to hold a majority stake – up to 51 percent – of any joint ventures in the securities, fund management, and futures industries. Again, this echoes a reform announced last November, although Xi called for it to be expedited.
In fact, the Forum mostly endorsed past commitments rather than introducing anything new. Observers widely expected Xi to tout the Free Trade Port plan and pilot reforms in Hainan province, but these subjects were barely touched upon.
Yet, Xi's tone has been interesting – his speech made sure to address key American concerns and puts the onus back on Trump. Xi doesn't face any of the domestic pressures looming in front of Trump – a midterm Congressional election this year and pandering to a vocal agricultural and industrial vote base.
Business Intelligence from Dezan Shira & Associates
On China's approach to the so called 'trade war', market watchers may not hedge bets any time soon – China is known to propose liberalization, only to very gradually implement it or not at all.
Meanwhile, the American position will remain directed by domestic concerns – elections, creation of jobs, trade imbalance, and the growing budget deficit.
What is noteworthy, however, is the abundant confidence displayed by China on the global stage – despite the vague and conciliatory approach, Xi's speech at the Boao Forum showcases China's strategic understanding of international politics and willingness to lead diplomatically.
About Us
China Briefing is published by Asia Briefing, a subsidiary of Dezan Shira & Associates. We produce material for foreign investors throughout Asia, including ASEAN, India, Indonesia, Russia, the Silk Road, and Vietnam. For editorial matters please contact us here, and for a complimentary subscription to our products, please click here.
Dezan Shira & Associates is a full service practice in China, providing business intelligence, due diligence, legal, tax, accounting, IT, HR, payroll, and advisory services throughout the China and Asian region. For assistance with China business issues or investments into China, please contact us at china@dezshira.com or visit us at www.dezshira.com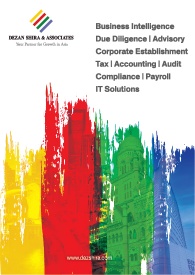 Dezan Shira & Associates' Service Brochure
Dezan Shira & Associates´ brochure offers a comprehensive overview of the services provided by the firm. With its team of lawyers, tax experts, auditors and consultants, it is Dezan Shira´s mission to guide investors through Asia´s complex regulatory environment and assist with all aspects of establishing, maintaini..
---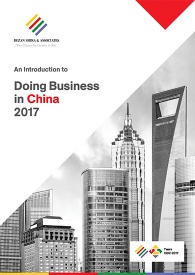 An Introduction to Doing Business in China 2017
Doing Business in China 2017 is designed to introduce the fundamentals of investing in China. Compiled by the professionals at Dezan Shira & Associates in January 2017, this comprehensive guide is ideal not only for businesses looking to enter the Chinese market, but also for companies who already have a presence here ..
---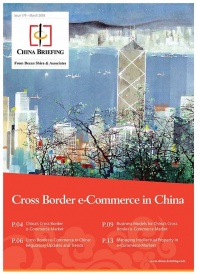 Cross Border e-Commerce in China
While cross border e-commerce (CBEC) is an attractive channel for foreign businesses to sell to China, misunderstandings over how CBEC in China works frequently end in costly disappointments and retreats from the market. In this issue of China Briefing magazine, we offer foreign investors a practical guide to selling t..
---