Chinese President Xi Jinping has announced plans to transform the entire southern island province of Hainan into a free trade zone (FTZ).
According to a guidance issued by the Communist Party and the State Council, China aims to establish the Hainan FTZ by 2020 and build a Hainan free trade port by 2025. By 2035, Hainan's free trade system should be completely developed.
Hainan will benefit from relaxed rules for setting up medical institutions, importing medical equipment and pharmaceuticals, and allowing foreign doctors to practice.
Additionally, limited forms of gambling – namely horse racing and sports lotteries – will be permitted in Hainan, as previously rumored. Macau is currently the only jurisdiction in China that allows gambling.
RELATED: China Announces Sweeping Overhaul of Government Institutions
In his announcement, Xi specifically referred to Hainan's strategic positioning near ASEAN, which makes it an important location for trade with Southeast Asia. "Hainan has the advantage of being on the front line with ASEAN countries," Xi said. "It should be a pioneer in opening up."
Xi made the announcement days after his speech at the opening ceremony of the Boao Forum for Asia – which was held in Hainan – where he touted China's new phase of reform and commitment to free trade and globalization. In his speech, Xi pledged to further open China's markets to foreign investment and lower tariffs, but many observers were disappointed that he did not announce pilot reforms for Hainan, which were widely expected.
The announcement of the Hainan FTZ was made in celebration of the 30th anniversary of Hainan's designation as a special economic zone (SEZ). Hainan, which is often referred to as China's Hawaii due to its tropical climate and large tourism industry, was one of China's first SEZs and among the first to benefit from the country's reform and opening up.
China's first FTZ, the Shanghai Pilot FTZ, was launched in 2013. In 2015, China announced the Fujian, Guangdong, and Tianjin FTZs. China announced seven more FTZs in 2016 – in Chongqing, Liaoning, Henan, Hubei, Shaanxi, Sichuan, and Zhejiang – to bring the total to11.
Business Intelligence from Dezan Shira & Associates
FTZs in China benefit from a number of incentives, such as reduced tax rates, expedited administrative procedures, and relaxed investment restrictions. Many FTZs also promote specific industries, allowing investors to benefit from cluster effects.
China's FTZs are also known as testing grounds for policy experimentation, before reforms are expanded nationwide. As Hainan is an island province, an FTZ there allows the Chinese government to test reforms on a wider scale than other FTZs, yet still in a contained setting.
About Us
China Briefing is published by Asia Briefing, a subsidiary of Dezan Shira & Associates. We produce material for foreign investors throughout Asia, including ASEAN, India, Indonesia, Russia, the Silk Road, and Vietnam. For editorial matters please contact us here, and for a complimentary subscription to our products, please click here.
Dezan Shira & Associates is a full service practice in China, providing business intelligence, due diligence, legal, tax, accounting, IT, HR, payroll, and advisory services throughout the China and Asian region. For assistance with China business issues or investments into China, please contact us at china@dezshira.com or visit us at www.dezshira.com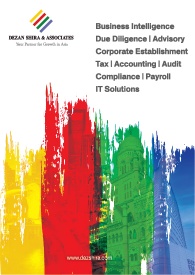 Dezan Shira & Associates' Service Brochure
Dezan Shira & Associates´ brochure offers a comprehensive overview of the services provided by the firm. With its team of lawyers, tax experts, auditors and consultants, it is Dezan Shira´s mission to guide investors through Asia´s complex regulatory environment and assist with all aspects of establishing, maintaini..
---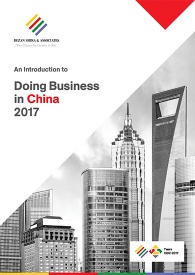 An Introduction to Doing Business in China 2017
Doing Business in China 2017 is designed to introduce the fundamentals of investing in China. Compiled by the professionals at Dezan Shira & Associates in January 2017, this comprehensive guide is ideal not only for businesses looking to enter the Chinese market, but also for companies who already have a presence here ..
---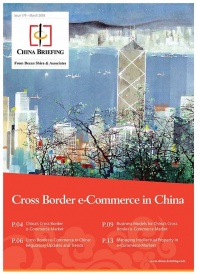 Cross Border e-Commerce in China
While cross border e-commerce (CBEC) is an attractive channel for foreign businesses to sell to China, misunderstandings over how CBEC in China works frequently end in costly disappointments and retreats from the market. In this issue of China Briefing magazine, we offer foreign investors a practical guide to selling t..
---