Shanghai will promote the development of its green manufacturing sector as a top priority, municipal government officials announced on June 5.
Green manufacturing refers to the use of environmentally-friendly practices throughout a product's life cycle, from design, production, and packaging to application and recycling.
By 2020, Shanghai will ensure that 100 green factories, 20 green industrial parks, and 10 green supply chains will be set up. Further, by that year, Shanghai will create a mechanism for green manufacturing-related standards and assessment.
In addition, the Shanghai municipal government will take measures to strengthen clean manufacturing processes and improve resource and energy use in the manufacturing sector.
The announcement was made in anticipation of the Shanghai Energy-saving Publicity Week, which begins on June 11. The event, which is hosted by various Shanghai government departments, seeks to encourage the development of a sustainable economy.
Under the leadership of President Xi Jinping, China has made combating pollution and encouraging the development of green industries an increasing priority. In his speech at last year's 19th Party Congress, Xi said that China had become a "torchbearer in the global endeavor for ecological civilization."
Pre-Investment, Market Entry Strategy Advisory Services from Dezan Shira & Associates
However, Shanghai and the surrounding Yangtze River Delta region – one of China's most manufacturing-dense regions – have a ways to go in improving environmental conditions.
Despite the nationwide campaign to reduce air pollution, concentrations of PM 2.5 particulate matter in Shanghai increased by 1.9 percent year-on-year through the first four months of 2018.
In 2017, China released guidelines to boost industrial output in the green manufacturing sector in the Yangtze River Delta – where Shanghai is located – to reach RMB 5 trillion (US$742 billion) by 2020.
China's ongoing campaign against pollution also includes a new environmental protection tax, which went into effect at the start of this year, as well as unannounced factory inspections by environmental regulators, among other measures.
About Us
China Briefing is published by Asia Briefing, a subsidiary of Dezan Shira & Associates. We produce material for foreign investors throughout Asia, including ASEAN, India, Indonesia, Russia, the Silk Road, and Vietnam. For editorial matters please contact us here, and for a complimentary subscription to our products, please click here.
Dezan Shira & Associates is a full service practice in China, providing business intelligence, due diligence, legal, tax, accounting, IT, HR, payroll, and advisory services throughout the China and Asian region. For assistance with China business issues or investments into China, please contact us at china@dezshira.com or visit us at www.dezshira.com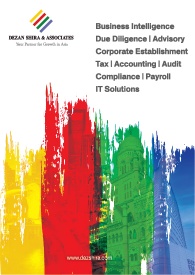 Dezan Shira & Associates' Service Brochure
Dezan Shira & Associates´ brochure offers a comprehensive overview of the services provided by the firm. With its team of lawyers, tax experts, auditors and consultants, it is Dezan Shira´s mission to guide investors through Asia´s complex regulatory environment and assist with all aspects of establishing, maintaini..
---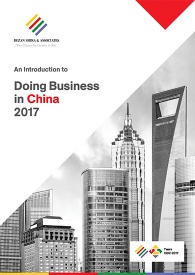 An Introduction to Doing Business in China 2017
Doing Business in China 2017 is designed to introduce the fundamentals of investing in China. Compiled by the professionals at Dezan Shira & Associates in January 2017, this comprehensive guide is ideal not only for businesses looking to enter the Chinese market, but also for companies who already have a presence here ..
---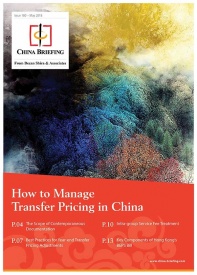 How to Manage Transfer Pricing in China
Countries across Asia have been amending their transfer pricing legislation to come into alignment with the OECD/G20 Action Plan for Tax Base Erosion and Profit Transfer Projects – or the BEPS Action Plan – since it was unveiled in 2015. China and the Hong Kong Special Administrative Region are no exceptions to thi..
---