Asia Briefing Relocates from China to India
Nov. 24 – A number of Asia Briefing's China-based staff temporarily relocated from Shanghai to Delhi recently on a 10-day assignment to develop a better understanding of the Indian market and improve communications with Dezan Shira & Associates' India offices. Asia Briefing, which is a wholly owned subsidiary of the Dezan Shira practice, publishes foreign investment titles for China, India, Vietnam, Russia and Mongolia, and has other Asian expansion plans in place, keeping in line with the continuing growth of the firm.
"It is important for businesses growing out of China to maintain standards of consistency in other countries as well. This includes issues such as corporate image, marketing, IT systems compliance and unification as well as developing better communications," explains Chris Devonshire-Ellis, the firm's founding partner. "We have learned that the fastest way to accomplish this across borders is simply to relocate staff for a while and allow them to make face-to-face connections."
"Having a group of our China-based colleagues all over at the same time in India has enabled us to accomplish a great deal in a relatively short period," stated Olaf Griese, the firm's India Partner. "We've been able to fine-tune our international working procedures and put forth a coherent strategy for future content contributions to our various Asia Briefing publications. Also, having a better working relationship and understanding between offices in different countries will allow us to fully leverage the technical skills and unique regional abilities that we offer at Dezan Shira & Associates."
The Asia Briefing staff concerned, all of whom are based either in Shanghai or Beijing, had some illuminating experiences concerning their first impressions of India.
"India is truly a country of sensational colors covering all spectrums; and these colors come to you not just visually, they affect you spiritually and emotionally as well. So when examining the country as a writer or a speaker, one must decide in which hue and in which shade they'd like to dissert their views – much like how a painter uses their pallet. If you want to focus on filth, poverty and corruption, they are there. However, if you want to focus on wealth and decadence, beauty and culture, development and progress, these are there too and, in my opinion, dominate the scene. I also believe that as some of those negative attributes continue to fade through a developing India, the country's positive qualities will be able to shine even more brightly," says Christian Fleming, Managing Editor at Asia Briefing.
"I've been quite impressed by the surprisingly high quality of service, and the infrastructure, such as the metro, was far better than I originally anticipated," says Samantha Jones, Managing Editor at Asia Briefing. "In fact, the experience as a whole placed the spotlight on common misconceptions about India."
"This experience has given me a new perspective into India and the opportunities it presents to the international investor," said James Du, Marketing Manager at Asia Briefing. "I have found that simply comparing India and China does not do justice to an interesting dynamic in which an open mind should both embrace and examine."
"I feel very blessed to have this opportunity to have a short immersion into India. One of the most memorable experiences here so far has been watching the preparation of an Indian meal. It was mesmerizing and made me realize that even a simple-looking curry dish involves a lot of time as well as elaborate steps and procedures. The complexity of the cooking provided me with a glimpse of the countless years of civilization that stand behind India," comments Eunice Ku, Technical Editor at Asia Briefing.
"I've been most struck by how colorful and vibrant everything is in the country – from the clothing to the architecture, the food, and even the patterns on the walls. If you randomly take a photograph on the street, you have the potential to capture something truly beautiful," says Chris Wei, Head Designer at Asia Briefing.
"India, unlike I previously imagined, has so much for you to explore," says Yao Lu, Assistant Editor at Asia Briefing. "Each of the amazing bookstores, exquisite shops and delicious restaurants you find up on the third or fourth floor of buildings lining the streets of Delhi offer you a completely new experience. And in each instance, you can never imagine what you will bump into at the end of the stairs; it is like an adventure for fun! This trip to India has inspired me greatly and I am already India-addicted!"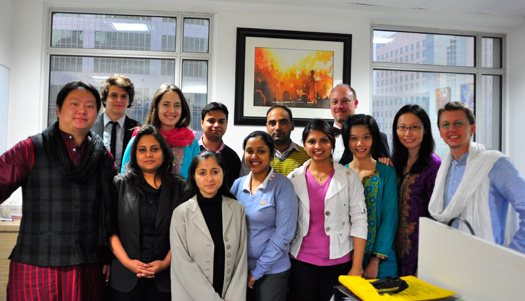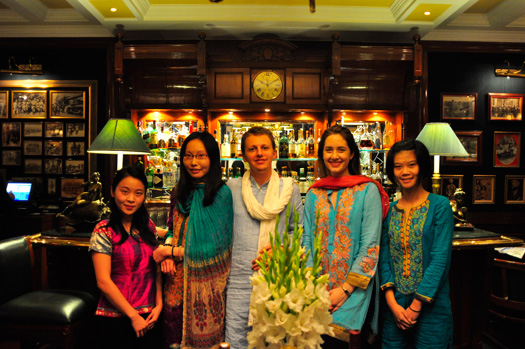 China-India bilateral trade is increasing, with Dezan Shira & Associates handling an impressive roster of Indian clients in China, as well as working on Chinese investment into India. Bilateral trade between the two countries is steadily growing, reaching US$74 billion in 2011 and expectations that it will pass US$100 billion by 2015.
Dezan Shira & Associates service foreign investors into China, India, Vietnam and across emerging Asia. Please contact the firm at asia@dezshira.com or visit the practice website at www.dezshira.com.
Related Reading
India Briefing News
Our magazine and regular news service about doing business in India. We cover topics relating to the Indian economy, the market in India, foreign direct investment and Indian law and tax.
2point6billion.com
2point6billion.com is a media outlet providing business news, investment commentary and geopolitical analysis concerning the emerging Asian markets of China and India. We are dedicated to covering the most important contemporary geopolitical developments of the international policy landscape affecting foreign investment in these two rising superpowers, and the impact the emerging Asian region is having on the global business community.

An Introduction to Doing Business in India
In this guide, we introduce the basics of setting up and running a company in the country and some of the key issues investors should pay attention to. This issue is currently available as a complimentary download on the Asia Briefing Bookstore.
Minimum Wage Comparisons Between China and India
Report: China Top Economy in 2020, India in 2050