Meet Yong Bao, and His Impact on Child Product Sales to China
Op/Ed by Chris Devonshire-Ellis
The news that the beloved children's series "Thomas the Tank Engine" is to include new characters is an interesting aside to how MNC's and marketing are reaching out to attract new customers. The series, originally a set of books written by the Reverend Wilbert Awdry for his young son Christopher in 1945, has subsequently developed over the years – including a successful BBC TV series voiced by Ringo Starr, and more recently by the Japanese voice actor Kumiko Higa. It is also a successful global franchise in the form of the "Thomas & Friends" TV franchise, which has been sold to over 121 countries in a business worth over US$1 billion.
It's not surprising then that HIT Entertainment the American-British owned subsidiary of Mattel want to further expand Thomas's potential – the franchise is a serious business. In doing so, HIT have plumped for introducing several new characters as trains into Thomas's Railway World. In addition to the Chinese Yong Bao, there is also Raul, a Brazilian train, Carlos, a Mexican train, and Ashima, an Indian one. HIT have just added a sizable chunk of China's, India's, Mexico's, and Brazil's combined children's populations to Thomas's own readership.
That's a total market of approximately 650 million children – roughly double the entire population of the United States. Thomas isn't stopping there either, another ten new friendly trains are set to be introduced, all from different countries. That's quite a coup, and something that other manufacturers and owners of children's brands will be paying attention to. In China, just book sales to this market are booming in an industry worth some US$8 billion in sales. While publishing in China is rarely profitable for foreign investors into the country due to strict Chinese controls over content and educational materials, such exposure can be highly valuable marketing for other products, such as apparel, toys and games, which is where the real money is.
With China having also recently relaxed its one child policy, a new generation of parents and children will be clamoring for the latest. Yong Bao is based on an early 1960's steam engine built by the Sifang Locomotive Works in Qingdao, and is almost guaranteed to become a well known figure in China. He will presumably develop, in time, to have his own adventures and friends and it will be interesting to note whether HIT will franchise out, under story guidelines, plot devises to allow him to develop his own identity beyond Thomas purely for the Chinese market. With a target market of some 250 million children in China, he represents a character destined to become a billion dollar business in his own right. Selling toys, apparel and games to children in franchises sold off by HIT would be a savvy investment – with eyes and ears open for the next beloved and proven children's stories to develop Chinese, Indian and other national themes as part of their global rebranding.

Chris Devonshire-Ellis is the Founding Partner of Dezan Shira & Associates – a specialist foreign direct investment practice providing corporate establishment, business advisory, tax advisory and compliance, accounting, payroll, due diligence and financial review services to multinationals investing in emerging Asia. Since its establishment in 1992, the firm has grown into one of Asia's most versatile full-service consultancies with operational offices across China, Hong Kong, India, Singapore and Vietnam, in addition to alliances in Indonesia, Malaysia, Philippines and Thailand, as well as liaison offices in Italy, Germany and the United States. For further information, please email china@dezshira.com or visit www.dezshira.com.
Chris can be followed on Twitter at @CDE_Asia.
Stay up to date with the latest business and investment trends in Asia by subscribing to our complimentary update service featuring news, commentary and regulatory insight.

Selling, Sourcing and E-Commerce in China 2016 (First Edition)
This guide, produced in collaboration with the experts at Dezan Shira & Associates, provides a comprehensive analysis of all these aspects of commerce in China. It discusses how foreign companies can best go about sourcing products from China; how foreign retailers can set up operations on the ground to sell directly to the country's massive consumer class; and finally details how foreign enterprises can access China's lucrative yet ostensibly complex e-commerce market.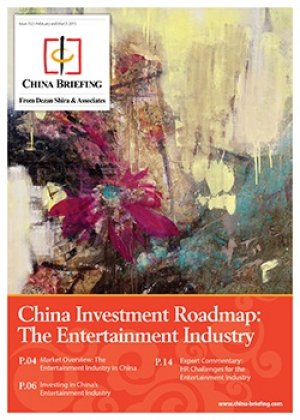 China Investment Roadmap: The Entertainment Industry
In this special edition China Briefing Industry Report, we cast our gaze over the broad landscape of China's entertainment industry, identifying where the greatest opportunities are to be found and why. Next, we detail some of the most important issues for foreign investors to be aware of, including legal, regulatory, and tax considerations specific to the industry. Lastly, we provide an insider analysis of the sector's unique HR & payroll challenges.
Selling to China
In this issue of China Briefing Magazine, we demystify some complexities of conducting business in China by introducing the main certification requirements for importing goods into the country; the basics of setting up a representative office; as well as the structure and culture of State-owned enterprise in China. Finally, we also summarize some of the export incentives available in several key Western countries.