Die chinesische Stadt Zhongshan, benannt nach ihrem landesweit berühmten Revolutionär und politischer Leitfigur Dr. Sun Yat-sen (Sun Zhongshan), liegt im südlichen Teil der Provinz Guangdong und ist somit nur einen Katzensprung von Macao und Hongkong entfernt. Bedingt durch ihre geographisch vorteilhafte Lage fungiert die Stadt als internationales Handelszentrum und stellt einen von Chinas größten Produktionsstandorten dar. Der Größendimension einer bezirksfreien Stadt zum Trotz, ist Zhongshan die ökonomisch fünftstärkste Stadt in Guangdong und verzeichnet das dritte Jahr in Folge den größten Produktionszuwachs in der Region des Perlflussdeltas.
Die Wirtschaft im Überblick
Im Jahr 2014 erreichte Zhongshan ein BIP von 232,8 Mrd. RMB, was einem Anstieg von 8 Prozent gegenüber dem Vorjahr entspricht. Dazu trug die Primärindustrie der Stadt mit 7,09 Mrd. RMB bei. Der sekundäre Sektor machte 156 Mrd. RMB aus – umgerechnet mehr als 63 Prozent der Gesamtwirtschaft. Internationaler Handel und Investitionen sind Zhongshans Hauptantriebskraft. Das gesamte Handelsvolumen der Stadt war 2014 mit 37 Mrd. USD zu beziffern. Davon waren 4,78 Mrd. USD Exporte in die Vereinigten Staaten, ein Plus von 10 Prozent im Vergleich zum Jahr zuvor. Die Wirtschaft der Stadt ist wesentlich von regionalen Kollektivunternehmen den sog. TVE (Township and Village Enterprises) geprägt.
Zhonshan National Torch High-Tech Industrial Development Zone (Zhongshan Torch HTDZ)
Zhongshans Industrielle Entwicklungszone für Hochtechnologie (Zhongshan Torch HTDZ) wurde 1991 vom Staatsrat genehmigt. Auf 90 km² umfasst das Gebiet sieben zentrale Industriestandorte nationaler Ebene, die National Health Technology Industrial Base, China Packaging and Printing Industrial Base, China Electronics (Zhongshan) Base, die National Hi-tech Products Exporting Base, China Hi-tech Industrial Base, Zhongshan (Linhai) Equipment Manufacturing Base und die China Green Food Industrial Base.
Heute sind mehr als 1.000 Unternehmen aus über 20 Nationen in der Region angesiedelt. Im Jahr 2014 erreichte das BIP der Region 40,69 Mrd. RMB (8,8 Prozent Zuwachs). Hauptindustriezweige waren elektronische Informationstechnologien, Biotechnologie und Pharmazie, Verpackungs- und Druckindustrie, chemische Industrie und Autoteile, Geräte- und Anlagenherstellung, Energieeffizienz und neue Energien, Mikroelektronik und Kommunikation und schließlich weitere Biotechnologien. Im direkten Vergleich zu den Entwicklungszonen Shenzhens oder Guangzhous bietet die Zhongshan Torch HIDZ  Anlegern günstigere Arbeitskräfte und Herstellungskosten.
Industriestädte
Zhongshans Wirtschaft unterscheidet sich von anderen Städten und Regionen Chinas dahingehend, dass seine Wirtschaft auf der Entwicklung kleiner Industriestädte fußt. Jede dieser Industriestädte spezialisiert sich auf einen Industriesektor, was Zhongshans Transformation zum führenden Standort der Leichtindustrie ermöglichte. Hauptindustriestädte Zhongshans sind u.a.:
Guzhen im Bereich Beleuchtungsausstattung
Dachong im Bereich Palisandermöbel
Dongfeng im Bereich elektronische Haushaltsgeräte
Xiaolan im Bereich Schlösser und Eisenwaren; elektronische Akustikprodukte
Huangpu im Bereich Lebensmittel
Investitionsmöglichkeiten
Für ausländische Investitionen schafft Zhongshan Anreize durch eine Fertigungsindustrie oberster Klasse, zeitgemäße Dienstleistungen, Infrastruktur, moderne Landwirtschaft und fünf strategische Zweige aufsteigender Industrien, darunter neuartige Materialien, neue Energien, Umweltschutz, pharmazeutische Produkte und elektronische Informationsindustrien. Die lokale Regierung bietet ad hoc gewisse Vorzugsmaßnahmen und steuerliche Anreize für jene Unternehmen, die den oben geschilderten Industrien zuzuordnen sind.
Sonderfonds für kleine Unternehmen im Hightech-Sektor
Die Regierung in Zhongshan leistet finanzielle Unterstützung (von 50 bis 100 Prozent), vorausgesetzt ein Unternehmen qualifiziert sich durch 1) die Registrierung in der Zhongshan HIDZ, 2) die nachweisliche Einzahlung von mindestens 300.000 RMB Registrierungskapital und 3) die Entwicklung von Hochtechnologieprodukten.
Vereinfachte Prozeduren bei Gewerbeanmeldungen
Seit dem 1. September 2015 können Investoren, die in Zhongshan ein Unternehmen aufbauen wollen, den Prozess der Gewerbeanmeldung innerhalb von nur drei Arbeitstagen abschließen. In anderen Regionen Chinas dauert die Beantragung dieser Genehmigungen mehr als einen Monat. Die Lokalbehörde Administration for Industry and Commerce (AIC) ersetzte die drei bisherigen Registrierungsnummern, indem sie diese im Rahmen des neuen Business Registration Code zusammenführte. Infolgedessen müssen Investoren von nun an nicht mehr den Registrierungsprozess des Finanzamtes oder der Qualitäts- und Technologieaufsichtsbehörde durchlaufen.
China-Plus Strategien: Indien, Thailand, Indonesien, Kambodscha: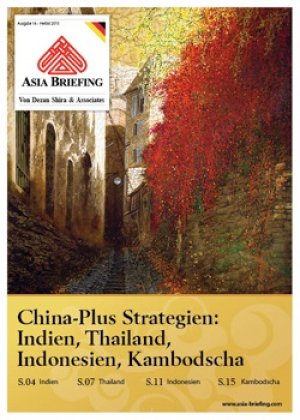 In unserer Serie "China-Plus Strategie", stellen wir Ihnen die Möglichkeiten und Notwendigkeiten einer Expansion innerhalb Asiens vor. In dieser Ausgabe von Asia Briefing, legen wir die allgemeinen Handelsmerkmale Indiens, Thailands, Indonesiens und Kambodschas mit China bereit. Dazu stellen wir die signifikantesten Importe und Exporte dar und vergleichen bestimmte Kostenfaktoren. Ferner, präsentieren wir Ihnen einen Überblick gängiger Unternehmensstrukturen.
Bestimmungen zu Verrechnungspreisen in Asien: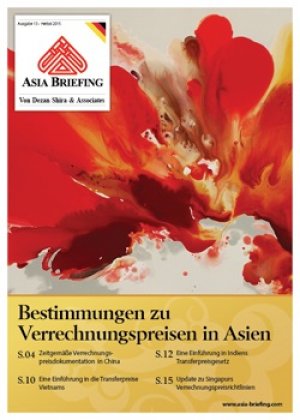 Die ökonomische Bedeutung von Verrechnungspreisen ist unangefochten. Das Ziel der Steuerbehörden lautet deshalb, die Interessen des jeweils eigenen Landes zu schützen und zu verhindern, dass Konzerne mithilfe der Verrechnungspreise sich Steuervorteile einräumen. Ein verstärktes Augenmerk wird deshalb auf eine detaillierte Dokumentierung von Transferpreisen gelegt, damit diese nachvollzogen und überprüft werden können, da letztlich nur so ein "faires" Steuersystem möglich ist