Statutory annual leave
Statutory annual leave is generally granted based on an employee's work tenure, as demonstrated in the below table:
Statutory Annual Leave

Work Tenure

Days Leave

Less than one year

No leave

1-10 years

5

10-20 years

10

Over 20 years

15
Employees whose work tenure is less than one year will have no statutory annual leave. However, it is important to note that the work tenure is not limited to the length of time that an employee has worked for their current employer, but rather refers to their cumulative work years with all previous and current employers.
Employers can calculate annual leave for newly hired employees as follows:
THE AMOUNT OF STATUTORY ANNUAL LEAVE (THE NUMBER OF DAYS THEY WILL BE WORKING FOR THE CURRENT EMPLOYER IN THAT YEAR ÷ 365) x THEIR TOTAL STATUTORY ANNUAL LEAVE IN THE SAME YEAR
In addition, paid annual leave does not include the country's statutory rest days, public holidays, and other additional holidays (e.g., maternity leave and paternity leave). Based on Chinese Labor Law, employees are entitled to at least one rest day per calendar week, which can be any day of the week. Saturdays and Sundays are generally rest days in China. However, employers may arrange rest days according to their operation and production plan.
Employees may not take paid annual leave under the following circumstances:
Where an employee is legally entitled to a summer and/or winter holiday and the number of these holidays exceeds the number of the employees' annual leave;
Where an employee takes at least 20 days of paid personal affairs leave as per the regulations of the employer;
Where an employee whose accumulated working time is more than one year, but less than 10 years, takes sick leave of at least two months;
Where an employee whose accumulated working time is more than 10 years, but less than 20 years, takes sick leave of at least three months; and
Where an employee whose accumulated working time is at least 20 years takes sick leave of at least four months.
How to deal with employees' unused annual leave
The employer should pay the employee 200 percent of the employee's average daily wage for each day of unused annual leave, in addition to the employee's regular daily wage, in the event the employee has not used all of their paid annual leave in the year and declines to carry the unused leave over to the following year.
Employers can calculate an employee's daily wage as follows:
Employee's daily wage = Employee's average monthly salary ÷ 21.75 days
Note that the average monthly salary does not include overtime payments.
Many foreign companies in China provide additional annual leave for their employees as a benefit. As this part of annual leave is not specified in Chinese labor laws, employers have the right to make internal HR rules about compensation schemes.
Employers are advised to write down these rules in the employment contract or the employee handbook to avoid any possible future labor disputes.
The amount of annual leave= (the number of days they will be working for the current employer in that year ÷ 365) × their total annual leave in the same year
Child-related leaves and benefits
Child-related leaves in China include prenatal check-up leave, maternity leave, paternity leave, and childcare leave for both female and male employees until their children reach a certain age. The exact number of days of child-related leaves vary from one province to another. By law, employees are entitled to be paid as normal for these leaves, or even higher in the case of maternity leave.
Below, we explain the current child-related leave system in China and the payment of maternity allowances.
Prenatal check-up
A pregnant employee is entitled to paid leave for an increasing number of prenatal check-ups beginning in the 12th week of pregnancy. Employers are not permitted to limit prenatal check-up times in any way.
Protective measures for pregnant employees include:
No termination: It is illegal to terminate a pregnant employee during her pregnancy, maternity leave, or breast-feeding period (which lasts until the infant is one year old). Further, if an employee gets pregnant during the term of her fixed-term contract, and the contract ends during the pregnancy, the contract shall be automatically extended (through a renewed end date or a second contract) until the end of the breast-feeding period.
No overtime or night hours: Starting from the seventh month of pregnancy, employers may not have a pregnant employee work overtime or night hours. This requirement continues as long as she is breastfeeding a baby that is not yet one year old.
Maternity leave
Maternity leave in China is divided into two parts: basic maternity leave granted by the State Council as stipulated by the Provisions on Female Labor Protection under Special Circumstances (State Council Decree No.619), and extra maternity leave granted by local governments under the local population and family planning regulations.
For normal childbirth, the basic maternity leave is 98 days, which can be extended by 15 days under special circumstances. In the case of a multiple birth, an additional 15-days maternity leave shall be granted for each infant. Employees can begin their leave 15 days before the expected date of childbirth. In the event of a miscarriage or abortion, a female employee may be granted 15 days of maternity leave for a pregnancy lasting less than four months, and 42 days of maternity leave for a pregnancy lasting more than four months.
While the basic maternity leave uniformly applies to all female employees across the country, the extra maternity leave could vary from city to city.
Maternity allowance
During basic maternity leave, the female employee will receive a maternity allowance in lieu of salary, as long as the employee has participated in maternity insurance for a certain period, as required by local maternity insurance scheme. This allowance, together with certain amount of the medical expenses for delivery, will be borne by the local social security bureau.
To determine the maternity allowance, the social security bureau will generally use the below formula:
MATERNITY ALLOWANCE = COMPANY AVERAGE SALARY OVER THE LAST 12 MONTHS ÷ 30 × MATERNITY LEAVE DAYS
If the employee is not enrolled in the maternity insurance scheme for required period, the employer would need to pay the employee's average salary during her maternity leave.
Foreign employee's participation
Expatriates working in China can enjoy the basic maternity leave granted to all female employees. However, they are not entitled to the extra maternity leave, which applies to Chinese citizens only.
Paternity leave
Paternity leave is granted to male employees whose wives have given birth, as long as they are legally married. There is no unified paternity leave legislation - municipal or provincial population and family planning regulations implement paternity leave policies.
Childcare leave
Childcare leave (or parental leave) refers to a period of paid or unpaid leave granted to employees for the care and/or support of their children under a certain age. Like many other child-related leaves, childcare leave is managed by local governments and varies by region.
Sick leave
Employers usually have considerable autonomy in deciding how many paid sick days they would like to give employees in a year. However, there are stricter rules when it comes to the recuperation period, a specific type of sick leave in which the employer cannot terminate the employee suffering from non-occupational sickness or injury and is responsible for paying a proportion of salary by law. The regulations on recovery period are made at the local level, which vary from one province to another.
Marriage leave
Newly-wed employees are entitled to marriage leave – extra days of paid leave. Although there is no clear law on how many days of marriage leave an employee can get on the national level, every region in China offers employees who get married at least three days of leave, by referring to the marriage leave requirements to the state-owned enterprises.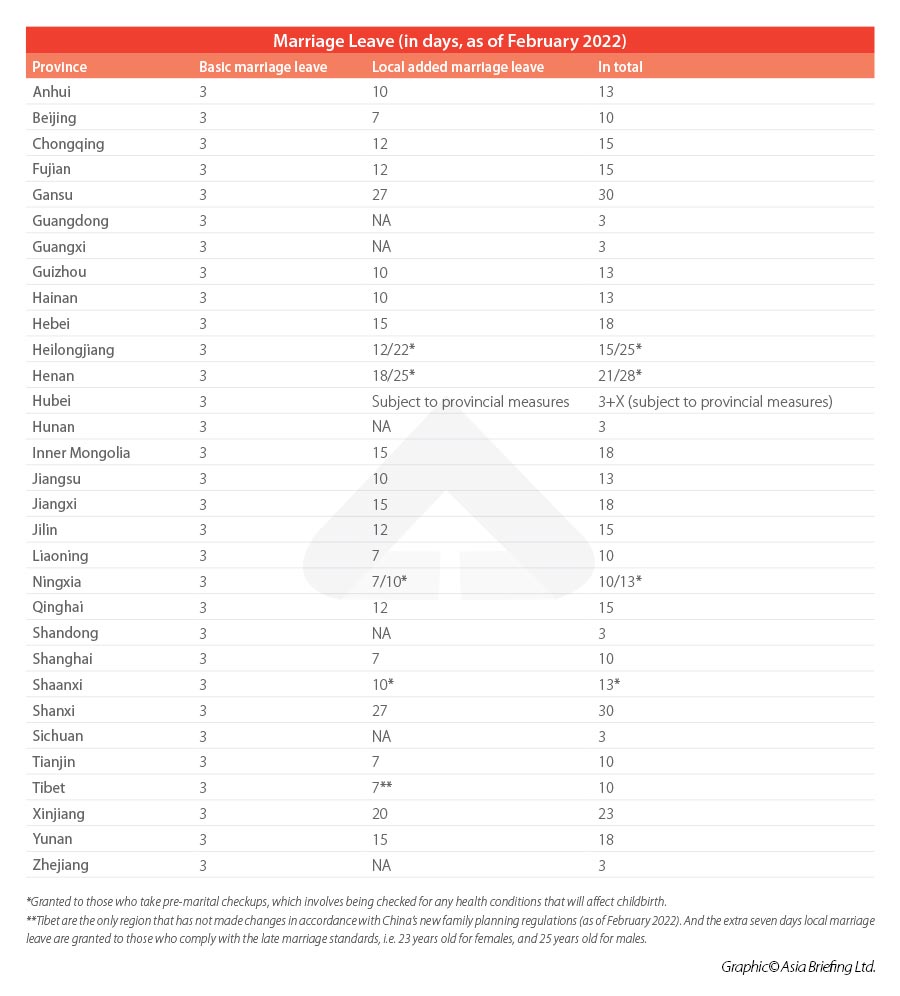 Public holidays
The General Office of the State Council releases the official holiday schedule for the next year in December.
As is traditional, the holiday schedule features two major week-long holidays: Spring Festival (also known as Chinese New Year) and the National Day holiday.
Employers should note that Saturdays and Sundays are often connected with the national holiday to make it longer, or marked as additional official work days to compensate for adjusted longer breaks around the national holidays.
The triple pay for working on national holidays can only be granted to the original national holiday days stipulated by law, such as one day for the New Year and three days for the Chinese New Year. When employees work during the adjusted breaks they will only be granted double pay for overtime.
Private companies, however, have the right to determine their own schedules. They can allow for additional days off as long as the official holiday calendar is maintained.
Official national holiday schedule for 2023
China Public Holiday 2023 Schedule

Date

Name

Type

December 31, 2022

Saturday

New Year's Holiday

National holiday

January 1, 2023

Sunday

New Year's Holiday

National holiday

January 2, 2023

Monday

New Year's Holiday

National holiday

January 21, 2023.

Saturday

Spring Festival Holiday

National holiday

January 22, 2023

Sunday

Spring Festival Holiday

National holiday

January 23, 2023

Monday

Spring Festival Holiday

National holiday

January 24, 2023

Tuesday

Spring Festival Holiday

National holiday

January 25, 2023

Wednesday

Spring Festival Holiday

National holiday

January 26, 2023

Thursday

Spring Festival Holiday

National holiday

January 27, 2023

Friday

Spring Festival Holiday

National holiday

January 28, 2023

Saturday

Adjusted working day

Working day on weekend

January 29, 2023

Sunday

Adjusted working day

Working day on weekend

March 8, 2023

Wednesday

International Women's Day

Half-day holiday for female employee

April 5, 2023

Wednesday

Tomb Sweeping Festival

National holiday

April 23, 2023

Sunday

Adjusted working day

Working day on weekend

April 29, 2023

Saturday

Labor Day Holiday

National holiday

April 30, 2023

Sunday

Labor Day Holiday

National holiday

May 1, 2023

Monday

Labor Day Holiday

National holiday

May 2, 2023

Tuesday

Labor Day Holiday

National holiday

May 3, 2023

Wednesday

Labor Day Holiday

National holiday

May 6, 2023

Saturday

Adjusted working day

Working day on weekend

June 22, 2023

Thursday

Dragon Boat Festival

National holiday

June 23, 2023

Friday

Dragon Boat Festival

National holiday

June 24, 2023

Saturday

Dragon Boat Festival

National holiday

June 25, 2023

Sunday

Adjusted working day

Working day on weekend

September 29, 2023

Friday

Mid-Autumn Festival

National holiday

September 30, 2023

Saturday

Mid-Autumn Festival

National holiday

October 1, 2023

Sunday

National Day Holiday

National holiday

October 2, 2023

Monday

National Day Holiday

National holiday

October 3, 2023

Tuesday

National Day Holiday

National holiday

October 4, 2023

Wednesday

National Day Holiday

National holiday

October 5, 2023

Thursday

National Day Holiday

National holiday

October 6, 2023

Friday

National Day Holiday

National holiday

October 7, 2023

Saturday

Adjusted working day

Working day on weekend

October 8, 2023

Sunday

Adjusted working day

Working day on weekend