China's regional business norms present investors with unique incentives and challenges – with varying infrastructure, different governance styles, and breadth of incentives creating a diverse investment environment.
Choosing a location to set up your business
Choosing a location is one of the first decisions that companies must make when entering a new market. Location and a strategic site selection plan can have a major impact on the success of the business, affecting production, operation, and sales.
Where to invest in China depends on what factors influence an enterprise's decision to relocate as well as the enterprises' specific needs. There is no one-fits-all solution for all enterprises and in practice, certain places are more likely to be selected when businesses consider market entry into China.
Regions with free trade zones
Free trade zones (FTZs) are a specific type of special economic zone (SEZ) where authorities can experiment with pro-business regulations. FTZs benefit from a number of incentives, such as relaxed investment restrictions, reduced tax rates, and expedited administrative procedures, among others.
So far, China has established 21 FTZs.
Industrial clusters
Industrial clusters are attractive to many enterprises, especially those in manufacturing sectors. An industrial cluster is an interconnected system of like-minded businesses in a geographically centralized location. They share industry characteristics and benefit from collective growth.
Clusters look to create an environment with clear communication that allows them to bridge operational gaps and create a more efficient ecosystem for design, production, and distribution.
An effective industrial cluster does not begin with product development, but leverages local resources, educational institutions, and complimentary services. A well-established cluster offers a business network that is an easily navigable system for suppliers, buyers, and R&D facilities.
China has established various industrial clusters, such as automotive, machinery and equipment manufacturing, electronics, shipbuilding, nonferrous metals, petrochemical, new energy, and new material.
The automotive industry serves as an example. Many automotive manufacturing enterprises have ties or are located in one of the six automobile clusters.
Inland China
Manufacturing in China has steadily crept inland as companies seek not only to lower their costs, but also to take advantage of government incentive programs aimed at developing the country's central and western provinces.
China started to prioritize increasing foreign direct investment (FDI) into central and western China as early as 2000. The State Council circulars outlining how the central government planned to increase FDI into central and western provinces and granting local governments in these regions greater autonomy to offer incentives and adopt preferential policies.
Take Chongqing as an example. In addition to its comparatively low operational costs, well-established infrastructure, and pool of skilled labor, Chongqing's preferential policies are one of the most appealing among the central and western provinces.
Many leading multinational enterprises, including Hewlett-Packard, Foxconn, Inventec, Acer, IBM, Honeywell, CISCO, and HP have set up their businesses in Chongqing. In June 2017, Ford made headlines when it announced that it would base its new production center in Chongqing Liangjiang New Area instead of Mexico, the originally planned destination.
Areas with less regulatory scrutiny
Industries characterized by high levels of pollution face stringent environment impact inspections, and often seek to relocate to areas with less strict regulatory guidelines.
Generally speaking, environmental inspections in urban, developed, and coastal areas are more stringent in comparison to rural, underdeveloped, or inland areas. The chemical industry serves as a good example.
Originally, most businesses in the chemical industry were located in coastal cities. Later, when environment protection was prioritized by the government, the industry first moved to industry zones surrounding cites or in rural areas close to cities.
After authorities increased the depth of environmental inspections, the industry began moving to even more remote areas, such as in central and western China.
Tips for location selection
Besides preferential policies, there are multiple considerations for companies when choosing a location, including real estate availability, infrastructure, supplier and customer market, cost, operating environment, legal and regulatory environment, and human resources.
Enterprises may find some directions overlap with each other. For example, Chongqing can not only be categorized as an FTZ, but also an inland province, as well as a province with attractive industrial parks. However, it doesn't mean Chongqing is the best option for all enterprises. Whether a site is suitable or not depends on many factors.
Establish search metrics
Depending on the enterprise's business priorities and goals, businesses usually consider the below metrics during location selection:
Cost metrics – real estate (such as rental or purchasing cost or site and building amenities), utilities (water, gas, or power), labor costs (including social insurance);
Supply Chain – number of upstream and downstream enterprises, number of competitors;
Connectivity – major infrastructure, transportation options, ease of access to customers and suppliers;
Work force – availability of skilled workers, labor productivity;
Legal environment – industry permit or certifications, special requirements on targeted industries; and,
Incentives – tax, financial supports, visa.
Analyze your shortlist
Enterprises can conduct an in-depth analysis of their search findings and choose the most suitable options based on the business priorities and goals set at the beginning.
After collating information based on the search metrics, a business will likely get several potential options. The final step is to conduct a due diligence check on the shortlisted properties or preferred destination. This is particularly important for businesses entering a new region.
For example, an industrial park might have wonderful promotion brochures for marketing, but the infrastructure or the facilities are nothing like those printed on paper. The property option might not have the proper landowner certifications. In worst-case scenarios, the incentives promised by the authority-in-charge might not be in compliance with the national policies.
Given these risks, a due diligence check in advance is not a simple procedural step but serves as necessary and important measures to save investors from potential troubles. Enterprises are advised to seek professional services for at least this step, to take advantage of the insight of independent advisors.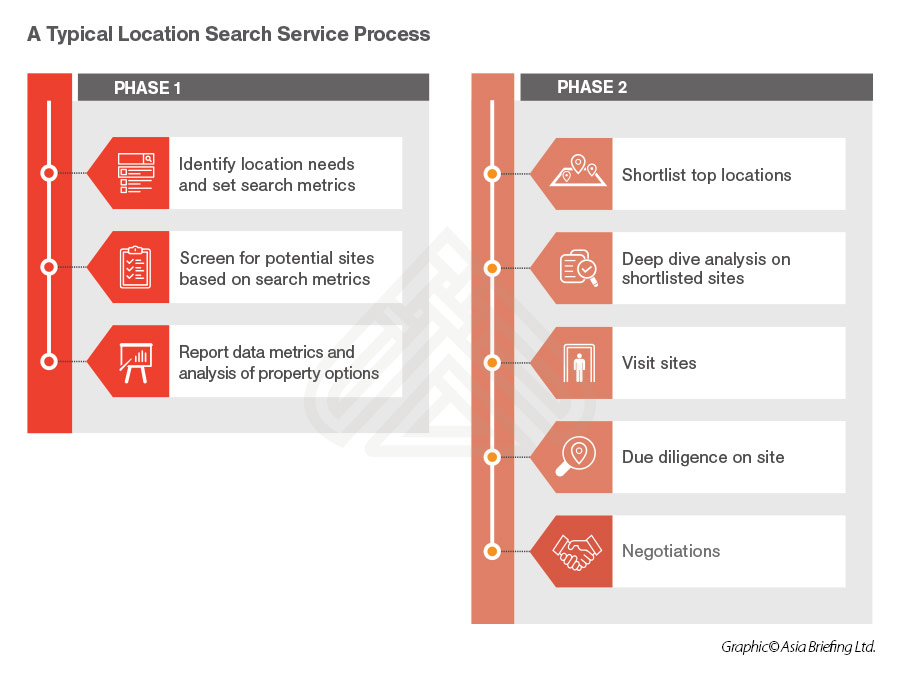 Regional incentives for doing business
The regional catalogue has added or expanded relevant items catering to the specific advantages of China's central, western, and northeastern regions, such as labor force availability, distinctive resources, and need for investment. For example:
To give full play of human resource advantages in inland China, labor-intensive processing trade related industries was added as encouraged items in Jiangxi, Anhui, Henan, Guizhou, Gansu, Ningxia, Guangxi, etc.
To take advantage of the strong traditional manufacturing basis, encouraged items such as equipment manufacturing have been added in Chongqing, Sichuan, Hubei, Hunan, Shaanxi, etc.
Items related to agricultural and livestock products processing have been added to the regional catalogue in Heilongjiang, Jilin, and Liaoning, etc., due to their rich agriculture resources.
To improve the level of export-oriented economic development in the border areas, items such as commercial logistics and tourism and leisure businesses have been added to the regional catalogue in Tibet, Xinjiang, Yunnan, etc.
To promote green transformation in resource-based areas, relevant industries have been added as encouraged items in Shanxi, Inner Mongolia, etc.
Where to invest guides